'Not only will Peter, Indrani, Sanjeev be making twice monthly trips to the sessions court for many years, so will their family, their lawyers and the journalists covering the case, becoming almost like bittersweet friends, as large portions of their lives play out there.'
Rediff.com's Vaihayasi Pande Daniel reports from Courtroom 51.
Illustration: Dominic Xavier/Rediff.com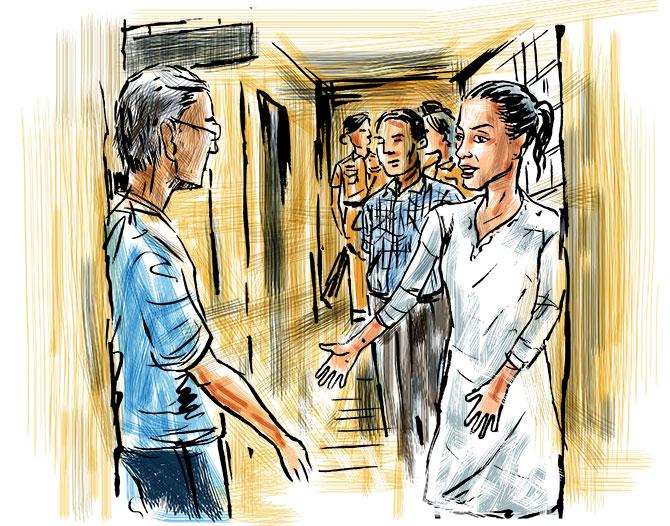 I reached the sessions court at Kala Ghoda, south Mumbai, a little late, on Friday, May 5, morning, for the Sheena Bora murder trial.
It would likely be a long hearing. I wasn't worried I'd miss anything. The trial was meant to start up again.
The court building's X-ray machines weren't working -- even if the lifts were, singing some bizarre Cat Stevens tune -- and umpteen people streaming in were displaying the contents of their bags to the police officers.
As I took the stairs to the third floor to Courtroom 51, where the trial is being heard by Judge H S Mahajan, I bumped into Peter Mukerjea.
He was in his usual white shirt and khaki trousers, escorted by three policemen, one holding a rifle.
There was no Sanjeev Khanna.
As I walked ahead, I contemplated what his thoughts must be as he walked up these flights of stairs every 15 days.
Was he seized by dread? Foreboding? Anger? Rage? Despair? Frustration? Resignation? Guilt? All?
Or would his spirits be mildly uplifted, each trip, as he anticipated meeting his family. Be it brother Gautam or son Rabin or whoever.
Today it was sister Shangon, with a dabba of mangoes and a steadfast friend with a box of tea.
Or was there that sense of being part of a bad dream, that you never wake up from.
The trial is inching painstakingly along, so there is yet no revelation or understanding of his role -- if there is one -- in the crime.
Till such time, as another journalist pointed out, seeing alleged murderers in 'real life' doesn't make them feel that different from any of us.
Coming to terms with the agonising time taken by a trial would probably require the greatest yogic effort it would seem.
From a fast moving world at the court's doorstep, as one crosses this threshold, one is catapulted into a world where time puzzlingly comes nearly to a halt.
So it was when I reached the third floor.
The trial, which has been in limbo for 71 days awaiting an opinion from the Bombay high court, should have resumed, because the high court's view came in on Wednesday, May 3.
But no. The order, in this era of the Internet, had not been actually received by the CBI special court, which is located a few streets away from the high court. So the trial would recommence on May 22.
Indrani Mukherjea, wearing demure white from head to toe, including her bindi, was already there, sitting on a bench outside the courtroom, with her lady lawyer, radiating smiles.
But no Sanjeev Khanna? Why was he missing? Even his lawyer, who comes infrequently, was absent.
Adding another dimension of complexity to the proceedings was the news that Judge Mahajan, who came to the CBI special court in June 2014, had been transferred to Aurangabad by an April 27 order.
May 22 will be the judge's last hearing in the Sheena Bora murder case, which he has been presiding over for approximately more than a year.
For over two months, this headline-grabbing murder trial has awaited an opinion sought from the Bombay high court.
Proceedings came to a standstill on February 23 over the testimony of Khar police station Constable Ganesh Dalvi on what the Mukerjeas' driver Shyamvar Rai had confessed to him.
Rai has turned approver in the case, so that part of Dalvi's testimony was not considered acceptable.
Since the high court has given its ruling in favour of the defence, the case was once again on track to move ahead, except the order had not reached yet.
With Judge Mahajan now moving out of the court, he ruled in the five minute hearing on Friday that he planned to hear Dalvi's testimony -- the part that does not involve Rai's statement -- on May 22 and wrap up the first witness in the case.
Then the next judge will take over. Who that will be is not clear; the appointment has not been made public yet.
Perhaps it is this peculiar sense of being together in a situation that may go on for many years that strangely melts the boundaries in the corridors outside the courtroom.
Between defence and prosecution.
Between the accused and accusers.
Between the police and the imprisoned.
Between lawyers and the media.
There was plenty of evidence of that on Friday as Sanjeev Khanna and the woman who was once his wife chatted in a drawing room fashion with the prosecution team, about the long delays, among other topics.
In these conversations, Indrani always sparkles, showing off her charm, often throwing high voltage smiles at Sanjeev too.
Sanjeev, wearing blue, looked cheerful (he had three friends to see him) as he finally made an appearance in court.
He was late, because he had missed the prison bus.
In a humorous, self-deprecating way -- he has a low voice -- he recounted to the assembled company about how he always gets ready quickly and was down with the police guards bright and early, waiting at the jail gate on Arthur road, central Mumbai.
But Peter always takes his time.
The guards lost their tempers. They apparently took Sanjeev and moved away from the prison gate.
Meanwhile, Peter showed up at the gate, or maybe it was another gate, and not finding Sanjeev, the police took him on a bus to Kala Ghoda.
Sanjeev was bussed in later, only after it was discovered that Peter had left.
"Sanjeev is a garib, bechara," someone from the prosecution remarked. "Peter paisawallah hai..." He didn't complete his sentence. Implying wealth explained much.
Discussion again commenced about Indrani's hair dye. And the number of questions that had been asked about it.
If I heard right, Sanjeev said even he was asked how Indrani was able to dye her hair and he hadn't seen her till then.
Indrani, in a lively fashion, informed the CBI party that hair dye is available in the prison shop and so are all kinds of cosmetics that a woman might need.
She did not say why she had chosen to dye her hair again though. Or maybe she did, out of earshot.
Not only will Peter, Indrani, Sanjeev be making twice monthly trips to the sessions court for many years, so will their family, their lawyers and the journalists covering the case, becoming almost like bittersweet friends, as large portions of their lives play out there.
So do the CBI officers, even the out-of-town ones, showing up from wherever they are now posted, at the court every 15 days.
That, someone from the prosecution team said, with a sad shake of his head, was a sentence of its own.
Bharat Badami, the good humoured CBI prosecutor, showed up only after Judge Mahajan had set the new date and the matter had concluded for the day.
As Badami entered the courtroom, he spoke about a CBI team being in London for the Vijay Mallya extradition case.
Peter exited the courtroom with an inscrutable smile, respectfully bowing to Judge Mahajan who will not deliver the judgment in this case.
Peter and Indrani exchanged no greetings. No nothing. Like they had never met.
EARLIER IN THE TRIAL...
DON'T MISS the features in the RELATED LINKS BELOW...