'I want them to stand up against abuse, inequality and create a safe, equal world where men and women respect and value each other beyond caste and gender.'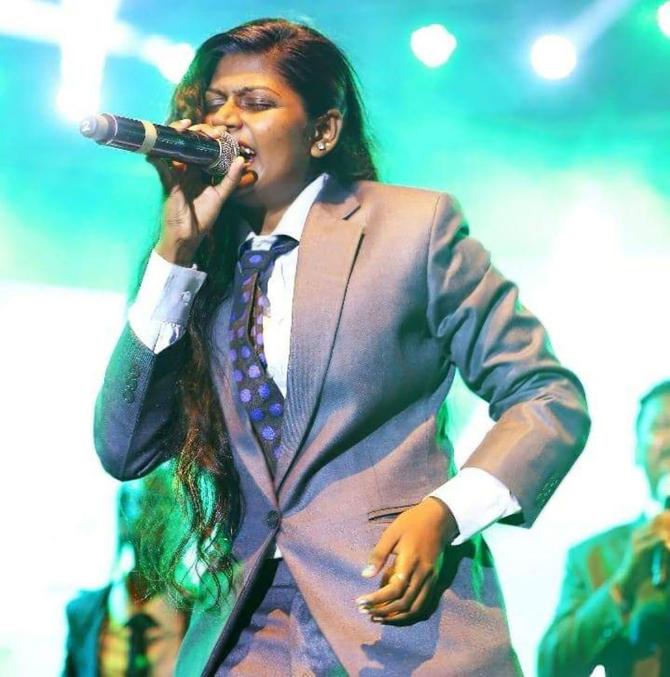 The BBC this week announced its list of 100 inspiring and influential women from around the world for 2020.
The impressive list of change makers includes four interesting women from India -- Shaheen Bagh protestor Bilkis, para badminton champ Manasi Joshi, climate activist Ridhima Pandey and gaana singer Isaivani.
Wondering how a folk singer from Chennai made it to global list of inspiring achievers?
The BBC describes Isaivani as a 'distinctive gaana singer in India.'
For the uninitiated, gaana has over the years evolved as socio-political music genre highlighting key social issues from the slums and working class neighbourhoods of Northern Chennai.
Isaivani, a former orchestra singer, who has been singing from the age of six, is one of the first few female singers to perform in this genre that was once dominated by men.
'To perform on the same stage as other popular male singers can be considered an achievement by itself. Isaivani has successfully broken an age-old tradition, which has led other young female gaana singers to come forward and express themselves,' the BBC further notes about the singer.
Divya Nair/Rediff.com speaks to the spunky 24 year old about her gritty journey from little known orchestra singer who quit her studies to make ends meet to an inspiring artiste who uses her voice and music to question society, break stereotypes and create an equal world for all.
Congratulations on making it to tHe BBC's 100 Women 2020. What does this honour mean for you?
Romba perumaya irikku (I am feeling extremely proud), sister. The fact that they (the BBC) acknowledged a female singer for this honour is very heartening.
I hope it will inspire other girls and women across the country.
Did you always want to be a singer?
My father is a singer and I grew up listening to music at home.
I could never afford to go to a music school. I never took training in classical music. But I've been singing since I was six.
Our financial condition wasn't so great so I had to quit my studies after Class 12. I took up odd jobs and continued as an orchestra singer.
How did you get introduced to The Casteless Collective band?
I was on my way to office when I got a call asking me to record a gaana.
(Tamil rapper, lyricist) Arivu Sir was looking for a female singer.
The person was recording it convinced me saying it will be a good opportunity for me.
That day, I did a U-turn. I skipped office and went to the studio.
I am glad I took that decision.
After I recorded the song, Sir told me he loved my rendition.
Basically, I am a false voice singer. But it was (film director) Pa Ranjith Sir and Jenny (Dolly, lyricist) akka who convinced me to sing in open voice.
I never expected this kind of feedback and appreciation for my voice.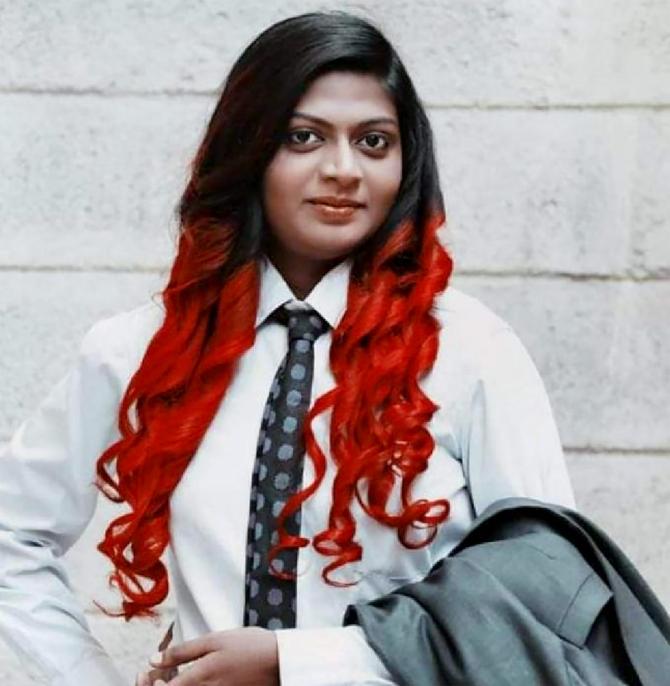 Was your family supportive of your decision to do gaana?
My father is a musician and I have trained under him.
Still when I chose to do gaana songs, my father objected initially. Even he felt that, as a female, I shouldn't be singing gaana songs.
See, that is the stereotype our society has set for us.
But eventually when he saw me on stage, and how people received it, he was very happy. Since then he has only encouraged and supported my decision.
What kind of feedback did you receive from the audience?
My 'Beef' song (which talks about lynching, from the album Magizhchi) became so popular that people started noticing me. But not all comments were in my favour.
Out of the 100 comments, 99 would be negative. Naturally, I used to get affected.
But slowly, I realised that the negative comments and trolls are because of individual mindsets and thoughts.
I told myself that I shouldn't let this mindset stop me from working for the larger good – I want my voice and message to reach the world.
I stopped replying to negative comments. Instead, I channelised all my energies into singing more songs.
Today I see more people appreciating my music and at the same time, I have learned to ignore negative people and their feedback.
What do you aim to achieve through your music?
A lot of women have been breaking stereotypes these days. No matter how much we talk
Several people have talked about gender equality and equal rights for men.
There are countless laws too. But in reality, women are still suffering and are being oppressed.
I want to use my voice and music to reach out to people and inspire them to come out and stand up for their basic rights.
I want to see women stand as equal as men in society. It's only when I see it will I believe it.
Who inspires you?
My all-time inspiration is Ambedkar aiiya (Dr B R Ambedkar).
Was it challenging to be the only female gaana singer?
I was the first female member in the band. But today there are lots of female artistes. So things are changing.
Someone has to start. I am happy I could do it.
Similarly, I want to break all boundaries and barriers.
Do you have a message for our readers?
Every day when you open the newspaper to read, you will see several stories of women being tortured to death by rape, domestic abuse, honour killing due to inter-caste marriages.
My concern is that these reports and incidents that are equally important are hidden away from the main headlines and national debates.
I want society to open its eyes and ears, I want them to see, read and react.
I want them to stand up against abuse, inequality and create a safe, equal world where men and women respect and value each other beyond caste and gender.
When girls see me or read about me, I want them to be inspired to dream.
I want them to break free from stereotypes and set new benchmarks for others.
I'll be happy and proud to see more women accomplish in every field, not just music.
What's next for you?
For someone who comes from a middle class family, this is a huge achievement. So I am happy and proud. But the way I see it, it's just a small step. I have a lot to see and achieve.
Sister, my dreams are too big. And I don't want to stop dreaming.