Make The World Wonderful, an NGO founded by Meghana Dabbara in 2015, is on a mission to set up 2,500 child adoption programme centres by 2023.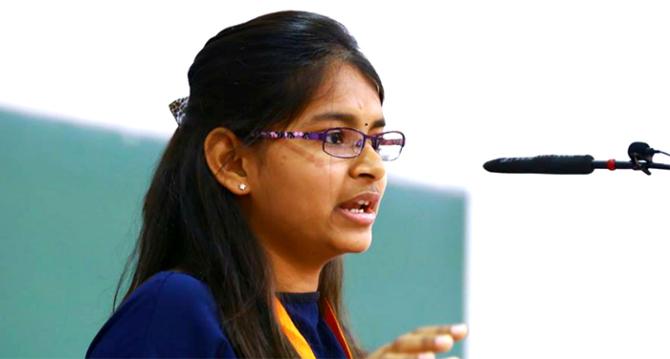 All photographs: Courtesy Your Story
On the fringes of Hyderabad in south India, an egalitarian realm exists for about 50 children, who were previously in need of help, but are now being trained to be the ones administering it.
The wounds from their distressed backgrounds are being nursed through -- believe it or not -- education.
But it is no ordinary kind of education -- for this programme instills a conscience alongside science, helps one unlearn bigotry as they master geometry, and fills their lives with not only music, but also harmony.
Basically, a 19-year-old from Hyderabad may have 'invented' a course that first and foremost, intends to make you a good human being.
And the model she has crafted -- a residential schooling shelter for the underprivileged that consciously and subconsciously teaches gender equality, secularism, and equality across caste, class, creed and colour -- is scalable to the rest of the world.
Meet Meghana Dabbara, who wants to make the world wonderful.
A mirage
Raised in Guntakal, a small town in the Anantapur district of Andhra Pradesh, Meghana grew up on her mother's stories about the harmonious life back in her village.
"Her stories played a huge role in making me what I am today. When I realised people weren't actually helping each other in today's world, I decided to bring that harmony into the world," she says.
She clung on to that hope and as soon as she became a teenager, her quest for a better world began.
Since she needed some guidance, she applied to a mentorship programme at the iB Group that taught her the importance of value-based education.
A couple of years later, when she was around 17, she decided it was time to start her own organisation, in order to attain her vision of harmony.
iB Group's iB Hubs, a 'startup hub', then began to search for a suitable team for her, and together, they connected with Khyathi from Hyderabad, Saumya Katuri,18, from California, and Pranita Garimella, 20, from New York.
Age was no object -- Meghana felt it was the right opportunity, and the right people had come along, so, naturally, it was as good a time as any to start.
"Age was just a number to me -- the clarity of my vision and change I wanted to create made me feel that I was ready to start up," she says.
But her decision was definitely at loggerheads with societal expectations.
"When I decided that I was going to do this, society did ask me a lot of questions. But I had a clear reason, and had a lot of support from my parents and iB Hubs as well," she says.
Saumya and Pranita moved back to India about five years ago.
The four are doing a distance-learning course in Bachelor of Business Administration.
"Working towards our passion at the NGO, full-time, is actually advantageous to us, as we practically learn most of the things our textbooks teach us," she says.
A world of our own
Meghana realised that the first step in building harmony was perception management.
Broadly speaking, perceptions are how you look at yourself and the world around you -- how your form your beliefs, prejudices, biases, and opinions.
And these perceptions -- which children develop unconsciously -- pretty much determine how they lead their lives.
"We realised that perpetuating positive values and attitudes of children was the key to a sustainable future. And perception management could be the solution.
"If the children had this awareness from a young age, they'd grow up to become socially responsible," she says.
This was the germination of Make The World Wonderful in 2015, which is now on a mission to set up 2,500 CAP centres by 2023.
"Through our Child Adoption Programme (CAP), we aim to raise a generation of children in a harmonious and empowering culture.
"We decided to start a pilot, develop it into a model and wish to expand it to the rest of the world," she says.
This scalable pilot project is a centre that takes complete responsibility of underprivileged children -- including food, accommodation, education and everything in between.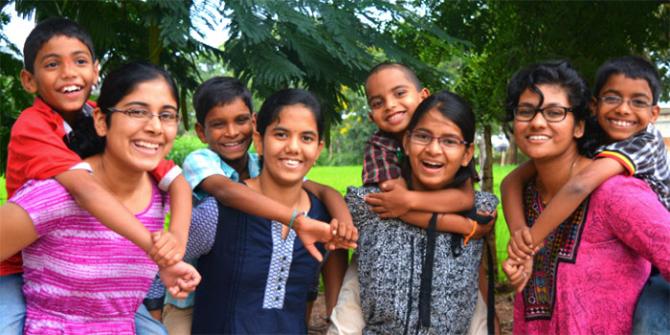 The four co-founders of Make The World Wonderful.
Situated in Medchal, Hyderabad, the campus is a three-storeyed structure taken on lease and consisting of study rooms, a library, a hall, computer labs, two dormitories, four bedrooms, a kitchen, a garden honed by the children, and open grounds for outdoor activities.
Each child has a cot, bed, study table, chair, etc.
"The funds for the campus are from our close circle and a network created by iB Hubs of individuals who have an interest in social causes," says Meghana.
They follow the NIOS (National Institute of Open Schooling) programme -- which is a nationally certified board equivalent to CBSE and ICSE.
"The curriculum structure for the children has been designed to ensure the all-round development of each child and equip them with the necessary 21st century skills.
"We mould the children to become broad-minded and global citizens, instilling the right attitudes in them through value-based education," she says.
The curriculum designed by the MTWW team with the help of students from top institutes of India, has perception management as its core, and can also be implemented in other schools and colleges.
"In this programme, we try to create strong awareness of perceptions, not only improving their relationships with others but also themselves. We also encourage broader thinking, personal growth, better self-confidence, self-management and emotional intelligence," she says.
Their children currently study from Grade 3 to 12.
They wake up at 5:30 for yoga, and study from 9 am to 4 pm in the evening with a lunch break in between.
They have several extracurricular activities such as dance twice a week and Kung Fu thrice a week, and garden and play daily from 4-6 pm.
"We also have mentors for each child. Towards the end of the day, the children will have personal development sessions, story-telling sessions, affirmations, and visualisations before they sleep," explains Meghana.
As far as the meals provided to the children go, MTWW follows a diet plan prepared by a certified dietician to ensure the children get a nutritious fare consisting of fruits, porridge, brown and white rice, dal, chapatis, etc.
"We monitor the BMI, i.e. height and weight, of each child on a monthly basis," she says.
Change that can be measured
While they have made international ripples, what is most important are the lives they are directly trying to impact.
Maina, who hails from a small village known as Nalgonda, was raised by a single mother who struggled to pick up the pieces after her divorce.
She managed to get a job as a nurse, and later set up a small road-side shop to sell vegetables and would run it in the evenings, earning around Rs 50 a day.
Maina had a strong desire to attend school, but out of concern for her mother, she stayed at home and helped run the grocery shop.
Meghana met Maina when one of her relatives approached her.
Deeply moved by Maina's plight, they took her into their Child Adoption Programme.
She moved in as a short-tempered and anxious child; but MTWW's environment and education with 'acceptance' at its core, as well as the personality development sessions they conducted everyday, quickly transformed her into a calm and cheerful person.
'Taking a child from such a rough background, understanding her, trusting and caring for her, helping her reach the level of awareness and confidence -- that's what we've done.
"Like Maina, we've taken the full responsibility of 50 underprivileged children, and each child has their own story of evolution/transformation," she says.
The lessons imparted in giving and accepting are a way of life for the 50 harmony agents.
At a national college festival the students of MTWW attended recently, for example, they disbanded a fight that broke out between some of the kids from another NGO, understood that the root cause was a shortage of blankets, and immediately volunteered their own while calmly approaching the authorities to make more arrangements.
"This is the kind of generation we want to create; one in which the individuals are not only empowered, but set great examples and empower those around them too," says Meghana.
The four of them represented the country and organisation, nationally as well as internationally -- including the Youth Assembly at the United Nations, New York.
Locally, they have spoken at various fora, like BIT Mesra, IIIT RK Valley, NIT Raipur, and IIT Kharagpur.
Several notable personalities including Amitabh Kant, CEO, NITI Aayog, Dr TGK Murthy, former Program Director, ISRO, KT Rama Rao, IT Minister Telangana, Anurag Sharma, DGP Telangana have interacted with the young girls and supported their campaign.
They are documenting each and every step of the journey, to create a blueprint and make it easier to replicate.
"We are also working on creating metrics to quantify harmony, based on certain core qualities such as Gratitude, Sharing, Optimism, and so on," she says.