'Like every other job, if you do it enough, you get practice.'
'If you don't, things get rusty.'
Most of you will be familiar with Aditi Mittal's brand of humour. If you haven't had a chance to see her perform live, you should.
This in-your-face Mumbai-based comic, who is arguably one of the best 'female' comics, is back to performing stand-up live, post the pandemic.
Her fans love her frank, unapologetic, opinions about life, which have often got unwanted attention from trolls on social media.
Her first stand-up special Things They Would't Let Me Say, which is on Netflix, followed up with her second special Girl Meets Mic -- which is touted as the best Indian stand-up online -- will leave you in splits.
Aditi has been a pioneer in her space where she has been one of the firsts to pick on tabooed topics like bra shopping, sanitary pads and even vagina tightening!
In an interview with Anita Aikara/Rediff.com, she opens up about doing comedy during a pandemic in the first part of a fun conversation.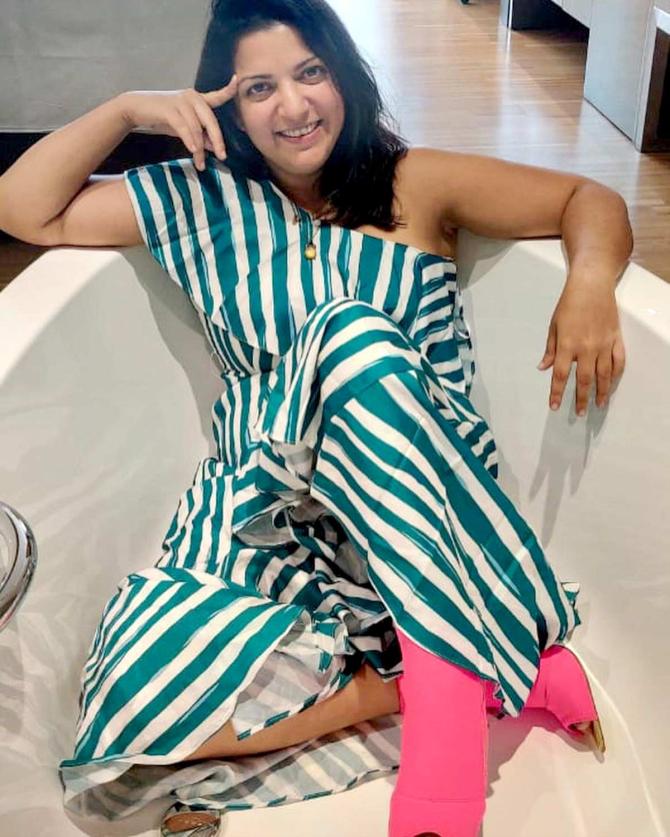 How great to hear about a comedy show amid all this drama. What's your show about?
The name of the show is Unreliable Narrator.
When the world realised a pandemic is happening, the first thing everyone did was to talk about it.
We heard so much in the beginning. Some of the things we felt were facts, were later dismissed as nonfactual.
Not only about the pandemic, but everything around it as well. We were suddenly dependent on the people who talked.
This show is all about talking -- who says what and how we perceive it, depending on what we want to hear.
How has COVID-19 been for the comedy industry in India?
The Indian comedy industry was 10 years into stand-up.
There were multiple rooms where live stand-up comedy would take place.
Indian comedians had a substantial online following. However, Covid put a pause on everything.
Suddenly we had to pivot and move to Zoom shows, and that was a completely different experience.
Stand-up is like a muscle in your body.
Like every other job, if you do it enough, you get practice. If you don't, things get rusty.
I'm performing on stage after 8 months. I'm quite excited, but very, very, nervous.
I am really worried that I'll start thinking I'm on a Zoom show, and I'm going to be like, 'Hello! Is everybody on mute?'
During the pandemic, for me, one of the greatest things was doing Zoom shows at 1 am. That was really cool.
We were able to reach an audience that we wouldn't have conventionally be able to reach with stand-up.
I did a bunch of shows in Australia and UK. Shows that would take me months to get ready for -- from applying for the visa, booking the tickets, travelling -- I could do in my pajamas from my house.
Emotionally as a performer, I missed the crowds. This is the longest time in the last 10 years that I have gone without doing stand-up.
I missed the energy of sitting in a room where everyone laughs at the same time and the whole room fills with laughter.
I'm excited to see how the 8 months have changed me and the audience as well.
What's the best part about going solo? What's the worst?
The best part about going solo is being able to humanise yourself.
A lot of times, when you see a 15 second video or read a tweet, you don't see the human being behind the joke.
But when one goes solo, you are allowed to be THAT person behind the joke.
It also gives you the time to explore yourself as an artist.
The worst part is that stand-up in general is a solitary art form -- you write it, you perform it, you edit it and put it up.
What's cool is that gaaliyan aur taliyan bhi tumhari hoti hai (the praise as well as the criticism will be yours). That's the best and worst part of going solo.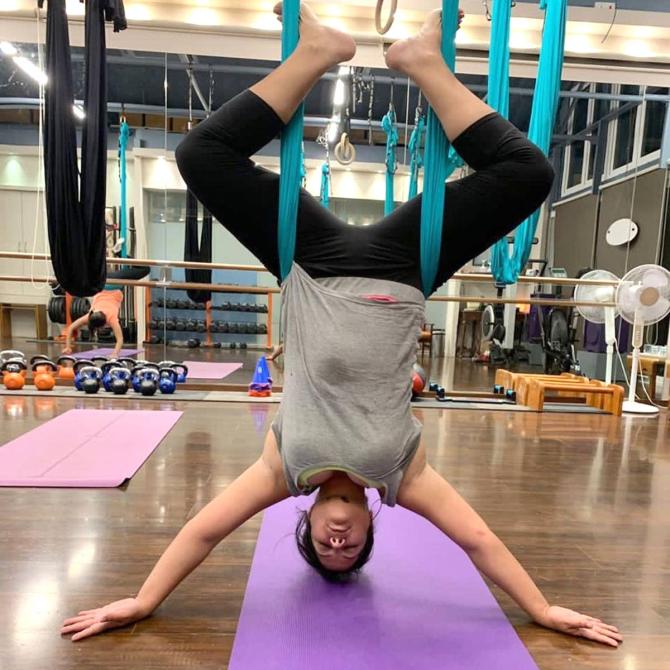 How has 2020 been for you? Personally and as an artist?
The year has been deeply introspective. Aerial yoga has been a skill I picked up post the lockdown opening up.
Sitting at home for 8 months I missed going for walks, looking at birds.
I decided I wanted to fly and wanted to feel the weight come off my feet.
Whenever we were tired as kids, we could say, 'godhi le lo (carry me).'
Aerial yoga is like telling the universe 'godhi le lo' and you can mess around in this silk and hang upside down. It is good fun.
Now that you are back, how do you plan to stay safe and Covid-free during live show?
Thanks for asking that because this is something so important to talk about right now.
There is so much about Covid that we don't know yet, because it is new.
I think I have washed my hands so much this year that it looks 900 years old and my face looks 35 years old.
My mother is so irritated because the soap budget at home has increased. Everyone is going crazy washing their hands.
Whether it is wearing a mask, washing or sanitising my hands, not touching my face or not messing around with too many surfaces, I will be keeping everything in mind.
I have come to realise that Covid is a game of chance and nobody can confidently say, 'I will be safe. Mujhe kuch nahi hone wala hain (Nothing will happen to me).'
Life has taught us otherwise in 2020. Mother Nature has given us a huge slice of our humble pie.