Akhilesh Yadav doesn't need Bollywood stars to power his campaign for the UP election when he has a charming campaigner like his missus, says Monali Sarkar.
Dimple Yadav's appearance on the campaign trail a couple of days before voters in Western Uttar Pradesh queue up at polling booths evoked memories of Samajwadi Party road shows with celebrities.
'Our campaign was dull so far because unlike his father Mulayam Singh Yadav, Akhilesh was against using Bollywood actresses,' an SP leader told Kolkata's The Telegraph newspaper.
'But Dimple can make a difference.'
The SP MP from Kannauj addressed three rallies in Agra on Wednesday, February 8.
Photograph: Kind courtesy Samajwadi Party/Facebook.com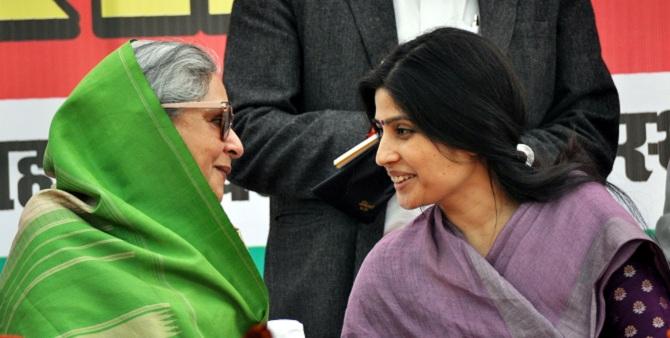 Giving Dimple company was an SP member of the Rajya Sabha, a certain Jaya Bachchan.
Despite Badi Bahuji's presence -- Jayaji didn't apparently like the way one MC introduced her as 'Mahanayak Amitabh Bachchan ki biwi' -- at the rallies, Chotti Bahuji stole the show, media reports said.
Dimple drew hordes of women and young girls to the rallies.
She didn't say much. Each speech was about 10 minutes long.
Dimple spoke of providing pensions and pressure cookers to women and smartphones to students if the SP returns to power.
Ending each speech with a plea that the crowds vote Bhaiya -- her husband Akhilesh Yadav, UP's chief minister -- back to power.
Photograph: Kind courtesy Samajwadi Party/Facebook.com
The Hindustan Times reported that a group of two dozen girls arrived on a tractor from Udhanpura village, and said they wanted Dimple to play an active role in politics and focus on girls' education.
In its conversations with 'a cross section of women at the rallies', The Times of India found girls who had skipped classes to catch a glimpse of Dimple and women who 'had a good word for both the 'bhaiya' and the 'bhabhi'.'
Agra is one of the 15 districts which votes in Phase 1 of the seven-phase UP polls on February 11.
The SP has fielded women candidates in 3 of the 9 constituencies in Agra district.
Across the state, the SP has given 12 per cent of its seats to women candidates.
Photograph: Kind courtesy Samajwadi Party/Facebook.com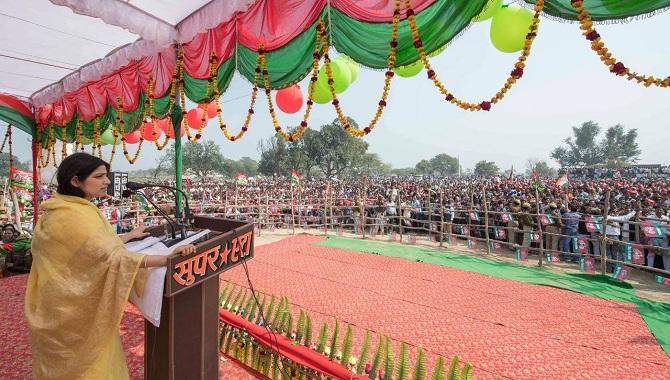 As Dimple moves on to campaign in districts that will vote in the second and third phases -- she campaigned in Kanpur and Unnao, both third phase districts, on February 9 -- voters hope she will appear at rallies with Priyanka Vadra.
Dimple and Priyanka -- Congress Vice-President Rahul Gandhi's younger sister -- are reported to have worked out the nitty-gritty of the SP-Congress alliance for the UP assembly election, and they are said to have got on well with each other.
Photograph: Kind courtesy Dimple Yadav/Facebook.com