In an all Dalit village in Muzzaffarnagar, Uttar Pradesh, three girls who do mazdoori after finishing the day's chores, will vote for the first time.
Opening their home and heart to Rediff.com's Archana Masih they say all they want is a high school, a vehicle to take them to the main road and a sewing machine.
Photographs: Seema Pant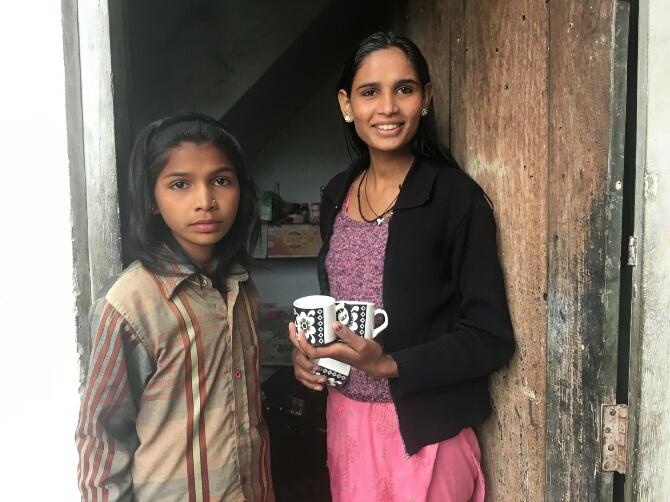 IMAGE: Nisha Rani outside her kitchen. A first time voter, her vote is for Mayawati Behenji.
Shahid Kapur shares space with Dr Bhimrao Ambedkar and Sant Ravi Das in a small house with a mud paved floor and a half broken roof in Bibipur village in Muzzaffarnagar, western Uttar Pradesh.
"We are all Shahid Kapur fans," giggles Nisha Rani.
"No, we are fans of all three of them," corrects Usha Rani in a measured voice, a shawl covering her composed face, looking at Dr Ambdedkar and Sant Ravi Das.
"I reached from school to college, but did not learn much about Babasaheb Ambedkar. I actually came to know of him after the village pradhan started telling us about him every Sunday," says Nisha, who is pursuing an BA in a college nearby that she travels to by local bus.
"We celebrate Ambedkar and Ravi Das Jayanti with great fanfare. There is a skit and we dress up. There is music," adds Usha, who discontinued her studies after Class 12 because an extra hand was needed for the family's earnings
The three young girls in the house are going to cast their vote for the first time.
They belong to families of labourerers in an all Dalit village. "Yaha sab chamaar hai," says Nisha.
"You can make out the ones who work in government jobs. They have better looking homes."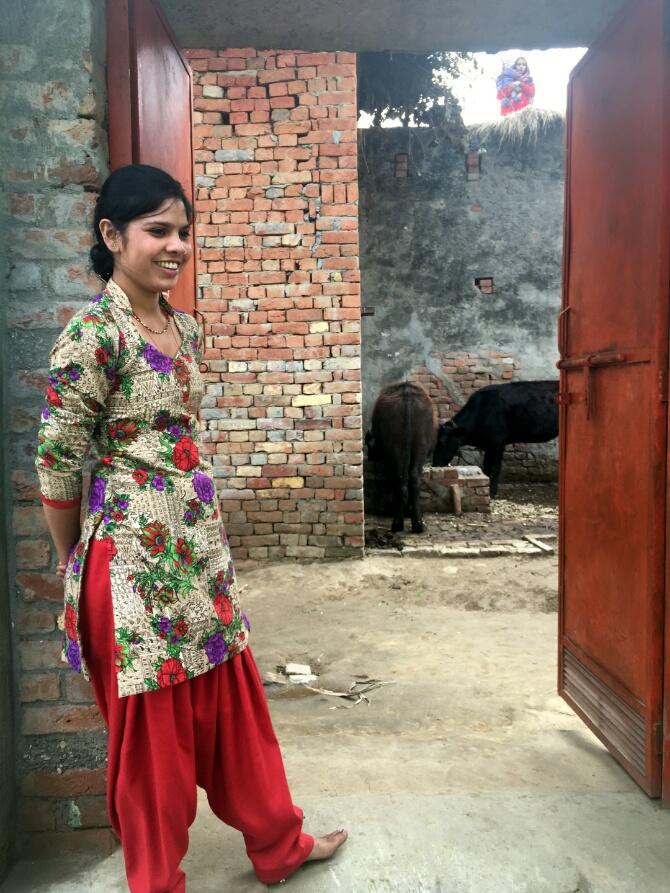 IMAGE: Nisha Rani, who shares the same name as the girl above, is doing a BA. She says the village needs a high school and transport for girls to the main road.
From the Bhim community centre named after Dr Ambedkar, which provides free coaching to children after school and is used for celebratory events, the girls' home is a minute's walk.
It is down a concrete village road. A buffalo is tied outside the door.
Usha Rani tries to scrape the fresh dung away so that it doesn't show in the photograph and drops the shovel when I tell her it's alright and she doesn't need to hide it.
"Ha, yeh to puja hai (Dung is sacred)," she says, "Isi se toh hum apna ghar ke chulhey chalatey hai (We keep our home fires running because of this)."
Just past the door is a hand pump and a cutting machine to cut cattle feed.
The two sisters, Usha and Nisha Rani (the third girl is their friend, also called Nisha Rani, who I will call Nisha in this report to differentiate between the two), take turns to cook the meals.
Buffalo-dung cakes or wood collected from the jungle are used as cooking fire for the chulha kept on the part of the roof that is not broken.
There is a gas stove, but it is used sparingly because it costs over 600 rupees to get it refilled.
No gas agency sends the cylinder here; their brother straps it onto his cycle and takes it to the filling station.
"The gas is used during an emergency or when it rains because the chulha can't be used if it gets wet. We try to make the cylinder last for at least 3 months," says Nisha Rani, Usha's younger sister, making two cups of tea.
They ask the cost of a gas cylinder in Mumbai, I tell them about piped gas. They haven't heard about it and marvel at the fact that gas can reach a home just like electricity does.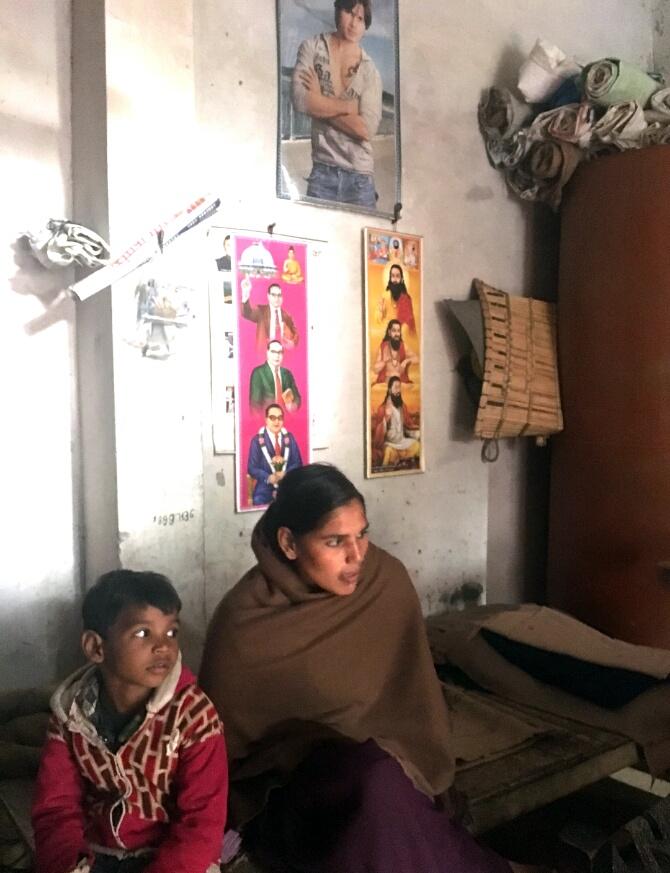 IMAGE: Posters of Shahid Kapur along with Dr B R Ambedkar and Sant Ravi Das inside the home.
After finishing the day's chores, the girls go looking for mazdoori.
From painting houses to cleaning sugarcane -- they take up whatever comes their way, and make anything between Rs 100 and Rs 250 on the days they get work.
Their father drinks, their mother has been sick for a year. One brother died, another was sick and just about survived.
Alcohol is a problem. At Rs 50 for a pauua, the men drink it like water, says Nisha Rani.
"Jab Bhagwan ne hame gareeb bana hi diya hai, toh kya sharam. Jaha kaam milta hai vahi khade ho jate. Usko vote de jo garibi kam kare (When God has made us poor, what is the shame? I would like to vote for someone who can alleviate my poverty)," says Usha Rani, sitting on a charpoy.
"The situation has become worse now," she continues and her friend Nisha explains that she is alluding to chhed-chhad (eve-teasing) by boys. "Like it happens in all villages where boys from outside the village come and misbehave with the girls -- Yaha par bhi wohi haal hai (it is the same here)."
"We need transport for girls to the main road and a high school," says Nisha, the girl doing a BA, who walks for half an hour on the deserted village road, flanked by fields, to reach the main road to take the bus to college.
"Bahut dar lagta hai akele chalne mein... bahut... dopahar mein bhi (I feel scared to walk alone, even in the day)."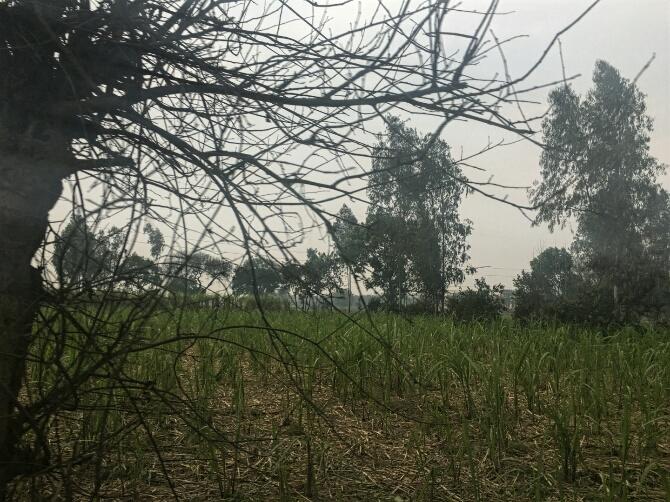 IMAGE: The village path leading to the main road is lonely and flanked by trees and fields.
The girls say what they need most in their village is a high school.
The local school is up to Class 8. Around 100 girls go to schools nearby, says Suraj Pal, a local BSP worker, but the girls later inform us that most girls just sit at home after that because they are too poor to go to the nearest school for higher studies.
"When I was in Class 5, I used to hope this school will become till 10 or 12, but it wasn't to be. Some of us have learnt stitching and could earn 300, 400 making salwar suits, but who has 3,500 to buy a sewing machine?" asks Nisha.
"It is not easy to take Rs 100 from my father who makes around 300 as a labourer for stitching clothes. It is because of him that I am in college. My mother was against it," she says with a confident smile.
On the door of the room are stickers of candidates in the electoral fray this year and from the past. Some BSP flags flutter from home tops. The girls say they have seen Mayawati on television; while at the Bhim community centre, Suraj Pal, the local BSP worker, says that people from the village travel as far as Lucknow to attend Behenji's rallies.
"Are you paid for it?" I ask. They deny it vehemently and proudly say they attended Mayawati's last rally in January.
Inside Usha and Nisha's home, it is heartening to see a boisterous discussion about who to vote for.
There are no men, only a cluster of girls who have come to see what is going on.
"Hamein toh Mayawati acche lage hai par sab neta ek saman hai, koi hamare bare mein na soche hai (I like Mayawati, but all politicians are alike, no one thinks about us)," says Nisha.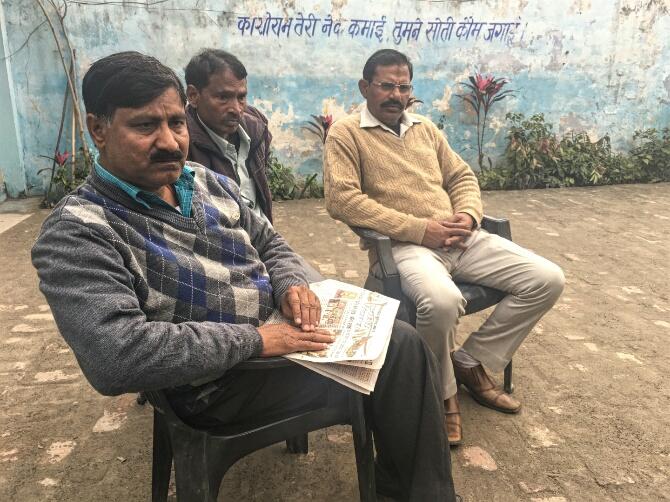 IMAGE: BSP supporters in the office in Muzzaffarnagar. It is painted blue with photographs of Dr Ambedkar, Mayawati and the election symbol, the elephant.
In the BSP office in Muzzaffarnagar, bonny blue in the party colours, sitting across the election symbol of the elephant, Subhash Bharti, a district BSP member, is confident that Mayawati Behenji is one her way back to power.
"Bahut sari khubiya hai Behen Mayawati mein (She has many good qualities)," says Bharti, explaining that the Samajwadi Party's misrule -- crimes against women and communal riots -- will be the reason for the people's return to Mayawati.
Voters look back at her tenure as one which upheld law and order, the BSP workers reason.
"Aur Modi ka asar ek dum beasar hai (Modi's effect has no effect now)," adds Bharti in an oratorical voice. "Pehle number pe ayengi Behenji, dekh lijiyega (Watch out, Behenji will be number one)."
Mayawati's framed picture hangs on the blue-painted wall of the office. Dr Ambedkar's silhouette adorns another wall, the BSP flag flies above the office as more and more party workers throng into the sunlit courtyard.
Sitting in a semi circle, they say that Muzzaffarnagar has an old association with the BSP because this was Mayawati's karya chhetra (area of work) when the party started.
Pointing to the Muslims sitting around them, he says say the fact that she has given more tickets to Muslims than the SP which has the stamp of being a pro-Muslim party, shows Behenji's intention.
"Even Muslims who say they will vote for the SP are saying it of fear. They will support Behen Mayawati," says his Muslim colleague, Imtiaz Rana, sitting beside him.
"Modi UP haasil karne ke liye kuch bhi karenge (Modi will do anything to win UP) ,:" says Rana. "But people have seen his true colours while on the other hand they are fed up of the SP."
"The riots have taken Muzaffarnagar back by 20 years," he argues.
The BSP has been out of power for five years and Mayawati is fighting for her political future.
Even though people in the BJP and SP say that her Dalit vote bank remains loyal, she needs the Muslim and OBC vote plus upper class votes to come through in this election.
IMAGE: The girls share a hearty laugh. Bibipur is a village of labourers. Girls also go out looking for work as daily wagers.
Intact as her core Dalit vote base must be, in the house with the three girls who are first time voters in Bibipur -- a healthy political banter is on among the girls.
"I will vote for Mayawati," says Nisha.
"Abhi toh Modi upar chal raha hai," says Usha, "Yeh Rahul Gandhi kaun hai??"
"Rahul Gandhi ko na jaane hai, kya?," laughs Nisha, slapping Usha's shoulder and the girls laugh together.
Deprived of proper education and unable to venture out without their heads covered with a dupatta, the girls shed their inhibitions and speak confidently.
"If we are seen with our heads uncovered, the villagers will say 'She was roaming with her dupatta around her neck'," says Nisha Rani, who also gave up studying after Class 8.
She has been trying to look for newspaper ads for government jobs for elder sister Usha, who has passed Class 12.
I ask her why she doesn't complete her Class 10 too.
"All I want is for my sister. I just hope we can find a job and she can get married. I'll vote for someone who gives money for my sister's wedding," she says with a gentle smile.
On the way out of the village, she walks alongside, crossing a mound of garbage at the entrance of the village.
The homes have toilets and water, but the garbage is dumped right at the entrance, she says.
"This is your first time, who will you vote for?" I ask.
"Meri toh Mayawati hai, kasam se," she says with a laugh.