As Samajwadi Party chief Akhilesh Yadav criss-crosses Uttar Pradesh to drum up support, the ruling party's hi-tech 'war room' in Lucknow is working round-the-clock as his "eyes and ears" to breathe life in his hectic electioneering by updating him on all key developments.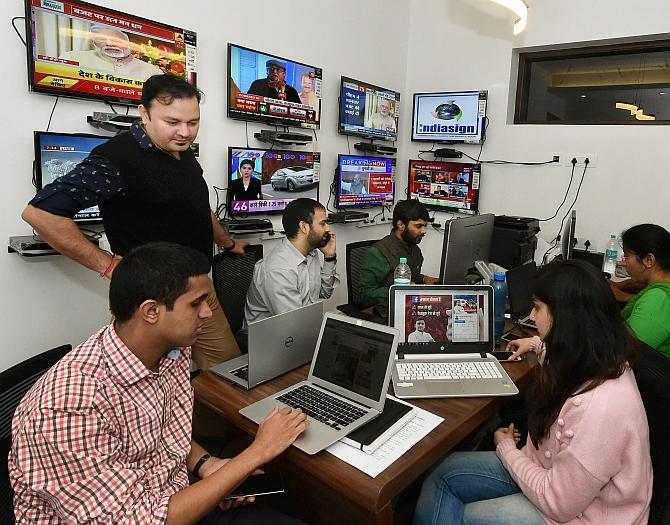 "We are synchronising the entire campaign with the tagline of 'kaam bolta hai' highlighting the works done by the CM," Aashish Yadav, in-charge of the war room that has been set up on the first floor of Janeshwar Mishra Trust office in the state capital, said.
"We have designed a 360 degree campaign to reach people at booth level from all possible ways including mass media, social media and door-to-door campaign," he said in an interview with news agency Press Trust of India.
He said the war room has been divided in four main sections led by separate heads, who are experts in their own fields and have been doing the job voluntarily as they themselves "support Akhilesh". The four sections are news monitoring, research, creative and digital campaign.
These work as "eyes and ears" of the CM giving him relevant updates including on local issues as and when they unfold so that the chief minister can speak on those issues in his rallies, said Aashish, a communication expert.
Ahmed Aftab Naqvi, in his early 30s, who runs one of India's largest independent digital agencies from Mumbai, heads the digital section. He says that with penetration of Internet in rural areas "social platforms like Twitter, Facebook and WhatsApp are best ways to propagate our work".
"90 per cent of youths in UP are on WhatsApp. We are focusing on targeted reach by providing contents that they not only see or read, but also share and like making our campaign go viral," he said.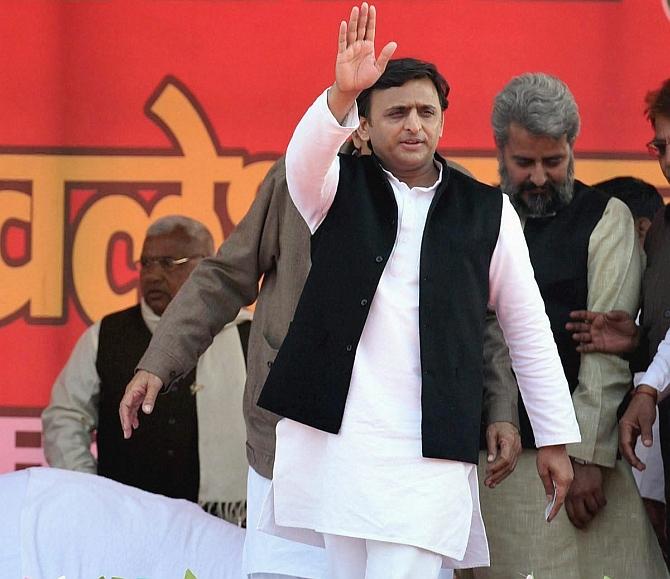 Citing an example, Naqvi said Akhilesh's Republic Day message on youtube reached over 22 crore people and with "our catchy content, we are succeeding in attracting youths".
Heading one of the most important research sections of the war room is Anshuman Sharma, a Harvard pass out, who with his call centres reaches out to people for their feed back and collects data and also updates candidates on their "weak points".
"We have gathered data of all constituencies and are working to feel the pulse of people. Before CM's rally, we try to feel pulse of people and get to know local issues and update him so it can be addressed in his address," he said.
"Besides the manifesto, when the CM talks about local issues and assures people it ensures better connect. We also take feedbacks after his rallies," Sharma, who is also working for extensive door-to-door campaign, said.
Bollywood lyricist Manoj Yadav, who shot to fame with the World Cup anthem in 2011 and wrote songs of movies like Nil Battey Sannata, Piku, Son of Sardar, is the creative head giving colour to the SP campaign.
He is also the main behind the the slogan "Kaam Bolta Hai".
"If we have prepared 'Alha' for Bundelkhand region, we have 'sohar' for eastern UP. For connecting people this is the best way. We war not glorifying the CM, we are only highlighting his work and giving message 'Mujhme bhi Akhilesh hai' so people connect with him", said Manoj, who hails from Azamgarh.
The entire team of the war room comprises 30-40 people who directly report to Akhilesh.
"We don't expect anything. We are already established in our fields and are here to make Akhilesh CM again. This is a voluntary work we are doing for welfare and development of our home state," he said.
IMAGES: (Top) Samajwadi Party President Akhilesh Yadav's war room setup at Janeshwar Mishra Trust office to handle his election campaign for the upcoming assembly polls, in Lucknow. Photograph: Nand Kumar/PTI Photo. (Above) Akhilesh waving at a crowd at a public meeting near Aligarh.