'There has never been a problem between Hindus and Muslims in Kairana.'
'We are a people that smoke from the same hookah.'
Once the seat of an influential tradition of Indian classical music, Kairana has become a metaphor for the exodus of Hindus.
Rediff.com's Archana Masih visits the town in Western UP to discover there is more to Kairana than palayan (Hindu exodus).
Photographs: Seema Pant.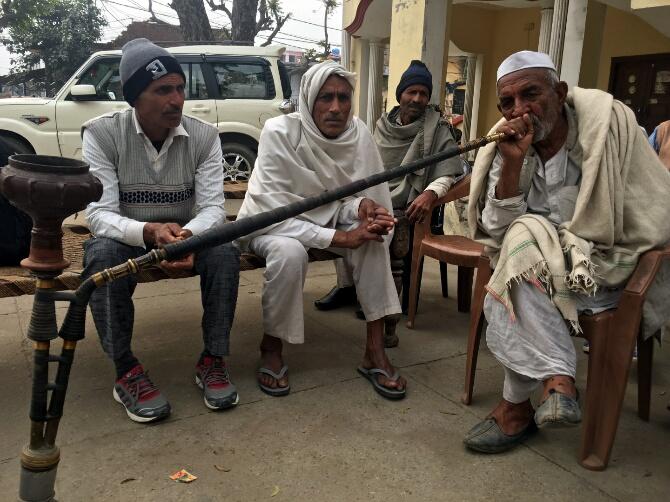 IMAGE: Gurjar farmers smoke the hookah at the Kalsyan panchayat in Kairana.
The Congress election slogans are hurriedly painted over, but the message is still easily visible.
It reads '5 saal UP behaal' -- attacking the Samajwadi Party's five year rule -- and can be spotted on walls and fields while travelling through Western Uttar Pradesh.
Obviously, these must have come up before the Congress-SP alliance was forged -- but the painter given the job to erase them has done some careless brush work because the tag line is easily readable everywhere.
Rahul Gandhi and Akhilesh Yadav came into the UP battle arena as foes, but became friends after that '5 saal UP behaal' slogan was plastered on the walls.
They now call themselves 'UP ke ladke.'
"Akhilesh-Rahul are not fighting for communalism, they are fighting for a better India," says Nahid Hasan, the sitting SP MLA from Kairana, fighting the election for a second term in the state assembly.
"Has the BJP ever talked about any big change here? Every time they make a speech they talk about H-M (Hindu-Muslim) and palayan," the young politician adds.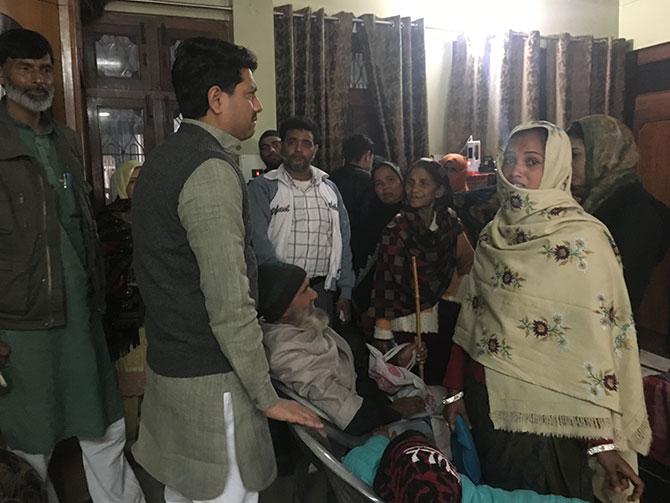 IMAGE: Nahid Hasan, the sitting SP MLA, with constituents at his home in Kairana. Hasan won a 2014 by-election by 1,000 votes against the BJP candidate.
Palayan is a commonly heard word associated with Kairana.
The small town, which is easy to get around in e-rickshaws, costing Rs 10 per person, entered the national news consciousness after BJP MP Hukum Singh raised the issue of the exodus of Hindu families.
Yogi Adityanath, the BJP MP from Gorakhpur, recently compared it with the exodus of Kashmiri Pandits in Kashmir.
"Hukum Singh gave a list of 346 people. There was an investigation which revealed that only 6 families have left. One or two members from those families are out in other cities for various reasons. Some Muslim families have also left. The main reason is rozgaar (jobs)," says Hasan, 27, who defeated BJP candidate Anil Singh Chauhan, Hukum Singh's nephew, by 1,099 votes in a 2014 by-election.
His grandfather and Hukum Singh, 78, were once good friends.
"In fact, Hukum Singh himself is a case of palayan. He comes here every five years, and cannot be found in between elections," adds Nahid, who spent 7 years as a student in Australia and says he only has Hindu friends.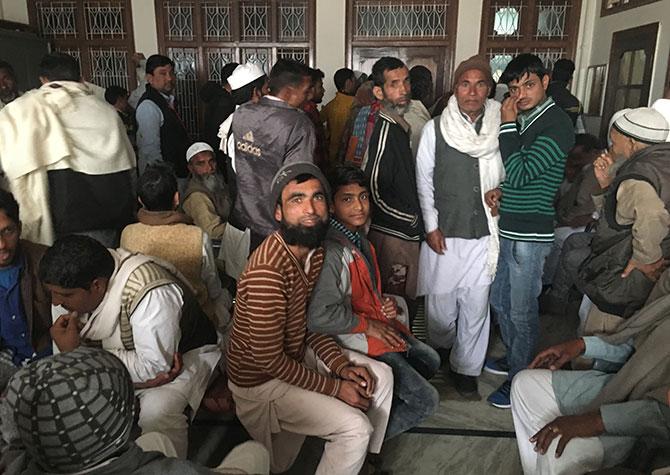 IMAGE: People -- mostly men -- wait in the hall to meet Nahid Hasan at around noon.
We had made our way, past a masjid, through a small gully that led to Nahid Hasan's house. It was 11.30 and there were around 30 men waiting to meet the MLA.
Bidi smoke hung in the air on a dull, cloudy day.
The door behind the hall was locked from the inside and people crowded around it, waiting for it to open. "He is having breakfast," they were told. The door opened periodically to let in certain people and shut again.
Before we were shown through the locked door after waiting in an ante room, a group of men spoke about the young MLA and the Samajwadi Party's report card.
Education is weak in the district and girls are unable to continue their studies because there is no girls' college.
A degree college has already been approved by the state government and now awaits the central government's approval.
At his Kairana election rally, Akhilesh said he would put up a Rs 300 crore to Rs 400 crore factory here.
Kairana has had no history of Hindu-Muslim tension.
"There is nothing like what these politicians have said about Kairana. Hindus and Muslims are living together, they need each other you know, you cannot separate them and live in this country," says Nahid, after listening to the problem of a mother and daughter who had come to see him.
Standing in the room is also his mother, speaking to some women.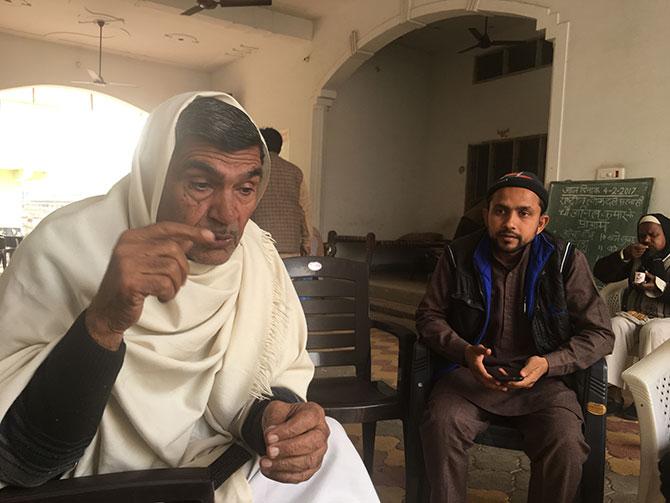 IMAGE: Anil Singh Chauhan is the Rashtriya Lok Dal candidate. His brother Satish Singh, above, is furious that the BJP denied Anil a ticket.
Hasan, whose parents have both been MPs in the Lok Sabha, is locked in a three cornered contest with the BJP's Mriganka Singh, Kairana MP Hukum Singh's daughter, and Anil Singh Chauhan of the Rashtriya Lok Dal.
Chauhan, Hukum Singh's nephew, left the BJP to join the RLD after the BJP chose Mriganka over him. Chauhan had narrowly lost the 2014 by-election to Nahid Hasan.
What is also on display in the Kairana political feud is the Indian political tradition of parivarvad (dynastic politics) among its leading contestants.
Upset that his younger brother Anil Chauhan was denied a BJP ticket, Satish Singh Chauhan is furious.
"My brother was the most deserving candidate, but the BJP leadership has given tickets to the children and grandchildren of its MPs from UP -- Rajnath Singh, Kalyan Singh, Hukum Singh," he says.
"Hukum Singh is an MP from Kairana, he now wants his daughter to be an MLA. Parivarwad se duniya nahi chalti hai (the world does not revolve around dynasty politics)," he says, denying that the uncle and nephew relationship was also tantamount to parivarwad.
Satish Singh Chauhan maintains that Hukum Singh raised the issue of the Hindu exodus to get a ticket for his daughter and asks why he did not bring it up in the state assembly though he was a 7-time MLA.
"There would have been no problem about palayan if Hukum Singh had taken action when 1 or 2 cases had happened in the beginning, but he is never available here," says Chauhan about his uncle.
"The SP's report card on law and order is not good because they give a free hand to their people," he adds, draped in a white shawl, sitting outside the family home.
"There has never been a problem between Hindu and Muslims in Kairana," says the nephew of the BJP MP who made the alleged exodus of Hindus from Kairana an emotive national issue.
"Hum ek hi hookah peene wale log hai (we are a people that smoke from the same hookah)."
IMAGE: The Kalsyan chaupal belongs to both Muslim and Hindu Gurjars, who are almost numerically equal.
In the Kalsyan chaupal, which includes both Hindu and Muslims Gurjars, a group of farmers sit on khatiyas (charpoys), and share a hookah.
"The Samajwadi Party's goondagardi (hooliganism) is the biggest problem here. Both Hindus and Muslim are suffering," says Aashiq, as the farmers sit in a circle in the courtyard outside the panchayat building.
More and more farmers join in to bitterly complain about the SP government and the harassment of SP "goondas." They grumble about not getting money for sugarcane sold to the factories last year.
"Akhilesh is tom-tomming about laptops -- are we going to tie ghungroos on them and make them dance?" asks Munif Khan, another farmer.
The men offer laddoos; the oldest Bhanwar Singh, 80, gets up to offer it personally and does not take no for an answer.
He has exercised his ballot in every election and says, "gareeb ho ya ameer, Hindu ho ya Musalman, this election is a choice between "bhalai and burai (good and evil)."
There are around 35,000 to 40,000 Hindu Gurjars in Kairana; the Muslims Gurjars are almost the same in number.
To demonstrate the cordial relations they share, by way of example, Munif Khan says among the five of them sitting there, three are Muslims. "Aur hum barabar se baithe hai (we are equals)," he says.
Sitting in the centre, Bhanwar Singh is the wise elder. The other defer to him. He takes a puff of the hookah, which has a long pipe with a rotating base that is easily passed from one to the other.
"Suraksha ke liye vote de rahe hai (I am voting for my safety)," he says, "Suraksha hai to vikas hai, surkasha nahi toh vika bhi nahi (there can be no development without the rule of law)," he points out.
Across the road from the panchayat, Ankur Saini, a metal shop owner, says he will vote for the BJP.
Eighty per cent of the town's population is Muslim, 20 per cent are Hindus.
The shop next to his is closed, says Saini, because the shopkeeper left because he was a victim of "rangdari (extortion)".
"I have faced no insecurity or threat," he says and adds that once Hindus and Muslims were almost equal in the town, but now the latter are in larger numbers.
Aman Singh. the senior police inspector at the town's kotwali, says members of the extortion gang -- who preyed on citizens -- are now in prison.
There have been no incidents of communal tension in the last six months since he took over, Aman Singh says, adding that no cases have been registered pertaining to the alleged exodus.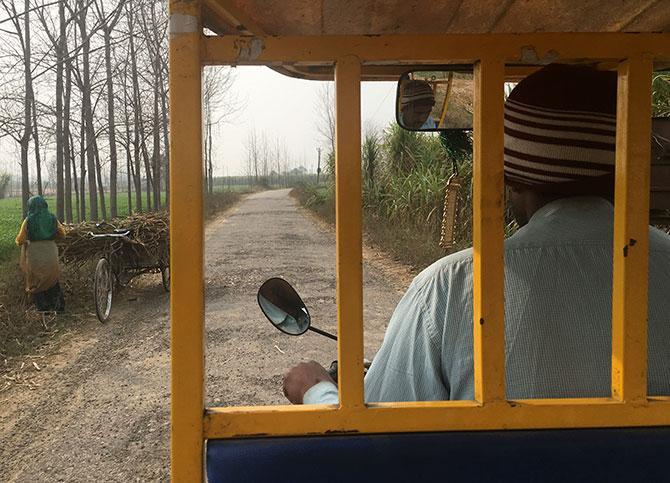 IMAGE: On the way to BJP MP Hukum Singh's farm. His daughter Mriganka Singh is fighting her first election.
At the other end of Kairana, three kilometres from the town and down a lonely stretch surrounded by fields and trees, lies Hukum Singh's farm.
Dharmendra, the e-rickshaw driver, who is going to vote for Akhilesh, is anxious that he might not get a "savari (passenger)" returning from the farm.
He is going to vote for the SP because the e-rickshaw has been provided by the state government. Earlier he pulled a cycle rickshaw and made about Rs 100 a day, now he earns Rs 300.
"My wife is going to vote for the BJP, but I'm voting for Akhilesh," he says.
Past a massively beautiful banyan tree lies Hukum Singh's sprawling farm. His daughter Mriganka Singh is out campaigning and is being helped by her father and children. The family has moved to Kairana to bolster her campaign.
That afternoon, Avantika, one of her daughters, is home and says her mother has been campaigning door-to-door.
Her SP and RLD rivals say Mriganka is an outsider, that she does not live in Kairana. The daughter-nephew battle is seen as an advantage for the SP's Nahid Hasan, who says he will get double the 25,000 Hindu votes he won in the 2014 by-election.
There are 370,000 voters in Kairana.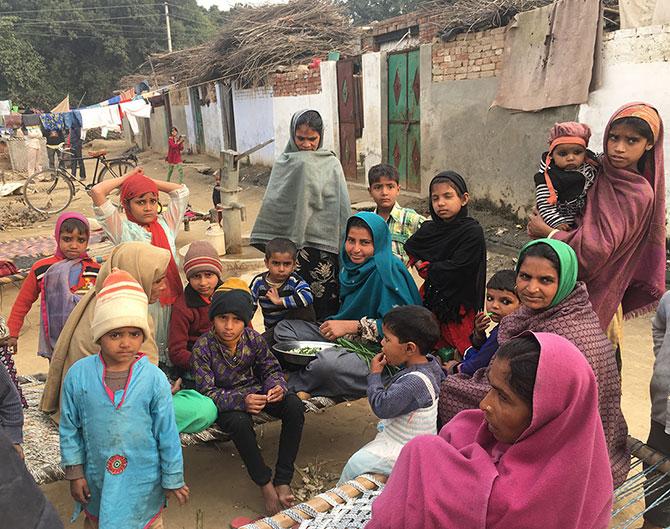 IMAGE: Women outside their 'homes' in a camp for displaced victims of the Muzzaffarnagar riots in the adjacent district.
On the way out of the town, one crosses a resettlement camp of those who escaped the riots in Muzaffarnagar and Shamli districts. Some homes are pucca, some are tents.
A community of daily wagers who earn Rs 300 a day, they say will vote for Akhilesh. "We don't know SP or anyone, we only know Akhilesh," says Furqan Mohammad.
The women sit around in cots and complain about the absence of a school -- but still support the SP.
Most of the 900 plus people come from Fugana, Muzaffarnagar, where only one Muslim family stayed back after the 2013 riots, they say. The rest have all moved out for good.
Sitting outside a house, chopping vegetables, a group of women say they left their homes with whatever they could carry on themselves.
Some say their homes have been vandalised, the bolts have been stolen; the roofs removed.
This is home now. They will not return.
"A new masjid is ready, but the school isn't. The children mostly go to schools nearby.
"Par Masjid se zyada zaroori, kabrastan hai (a cemetery is more important than a masjid)," says Nafisa as she waits for the vegetable seller to decide what to cook for dinner.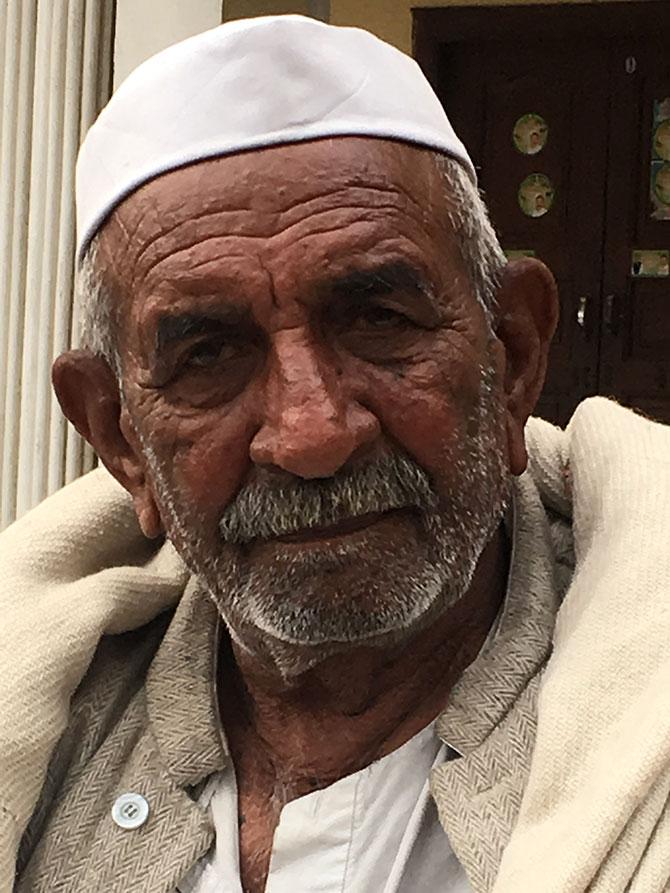 IMAGE: Gurjar farmer Bhawar Singh, 80, has voted in every election. Safety is more important than development, he says.
Who will rule Kairana will determine not only the lives of the displaced but of the town itself, which historically has been more famous for the Kirana Gharana, one of the most influential traditions of Indian classical music.
Bhimsen Joshi, Gangubai Hangal, Sawai Gandharva, Sureshbabu Mane, Roshanara Begum, Begum Akhtar, Hirabai Barodekar and Hindi cinema's gem Mohammad Rafi belonged to this gharana.
There are no signs in Kairana to show that this was once a great school of music. A statue of Ustad Abdul Karim Khan Ali, the doyen of the gharana, apparently stands at the entrance of All India Radio in New Delhi.
"This election is a battle between good and evil," Bhairon Singh had said at the Kalsyan chaupal, "Not between the Hindu and the Muslim."
The town's cultural ties with the Kirana Gharana may have been lost in present Kairana, but perhaps the spirit of the gharana is still alive somewhere in its roots.