O Panneerselvam is the first chai-wallah to become chief minister in the country.
Gujarat's Narendra Modi, the better-known chai-wallah to become chief minister, followed Paneerselvam around a fortnight later in 2001.
The parallel should end there, says N Sathiya Moorthy.
It is the second innings for O Panneerselvam, or 'OPS', to be named 'interim chief minister' of Tamil Nadu -- if that is the phrase -- and under near-similar circumstances.
Whether he completes the chief minister's job until assembly polls become due in May 2016 or not would depend mostly on the future course of the 'disproportionate assets' case against ruling All India Anna Dravida Munnetra Kazhagam chief J Jayalalithaa, and a host of intra-party affairs between now and then.
Whatever that be, Panneer, seen above, with J Jayalalitha, is the first chai-wallah to become chief minister of any state in the country. A graduate, he owned a tea-shop in his native Periyakulam in the hilly and scenic Theni district of Tamil Nadu.
Gujarat's Narendra Modi, the better-known chai-wallah to become chief minister first and the nation's prime minister over a decade later, followed Panneer around a fortnight later in 2001 -- September 23, 1001, and October 7, 2001 respectively.
The parallel should end there.
So should the parallel between the circumstances under which Panneer became CM.
In 2001, the Supreme Court held then governor Fatima Beevi -- incidentally, the first woman judge of the apex court -- swearing in Jaya as chief minister, ab initio void.
The court held that only Jaya's sentence in the TANSI case remained suspended during the bail period, but not the conviction in the corruption case. Her disqualification to continue as a legislator or contest a seat after being sentenced for over two years was cause for disqualification under Section 8 (4) of the Representation of the People Act, RPA.
Independent of this case or any other, the Atal Bihari Vajpayee government would soon amend the RPA. Under the new Section 8 (1), mere conviction in a corruption case would disqualify a legislator, for six years after completing the prison term.
Should the appeals courts uphold Special Judge Michael D'Cunha's four-year prison-term sentence for Jayalalithaa (which commenced with his verdict on Saturday), she would not be able to contest elections for 10 years in all.
For this, the period out on bail would not be considered as the sentence period.
In the normal course, Jayalalithaa thus would not be able to contest the assembly elections in 2016 and 2021. She cannot also contest the parliamentary polls, in 2019 and 2024, the latter falling a few months ahead of the completion of her bar-term under the normal circumstances.
Jayalalithaa would be 78 by then.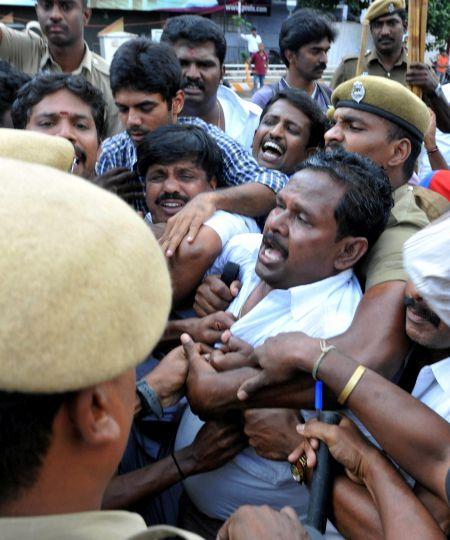 As Panneer becomes CM, it is likely that former Tamil Nadu chief secretary Sheela Balakrishnan, one of the names that were being fleetingly mentioned to take Jayalalithaa's place after the latter's conviction, may continue as an advisor to the state government.
Image: Policemen prevent an AIADMK supporter who tried to immolate himself in Coimbatore in protest over Jayalalithaa's conviction. Photograph: PTI photo
Under the changed circumstances, she may function as the coordinator between Jayalalithaa and the Panneerselvam government, shuttling between a prison in Karnataka and Chennai.
The last time Panneer was CM, Jayalalithaa was out on bail and staying in her Poes Garden residence in Chennai. As reports said at the time, he would visit her morning and evening, discuss government decisions and take 'instructions.'
Under the changed circumstances, it might not be feasible, considering that Jaya might continue in a Karnataka prison until granted bail. Protocol too might demand otherwise.
To be precise, the AIADMK questioned the propriety of then DMK chief minister M Karunanidhi calling on MDMK chief Vaiko, charged under the anti-terrorism law, at the Vellore prison in the state. The circumstances are different, however.
Questions might remain as to how an official of the state government, even if a retired chief secretary functioning as an advisor, could visit the inmate of a prison, that too in another state.
As coincidence would have it, on Sunday, Sheela Balakrishnan could not meet with Jaya at the Parpanahara Agraharam prison in Bangalore owing to technicalities. It might be overcome on Monday, when Sheela/Jaya apply to the authorities concerned for permission for such a meeting.
As an A-Class prisoner, Jaya is also entitled to possible concessions in the time-span and frequency for such meetings.
Yet, it is likely that even if Jaya were to be granted bail, the courts might direct her to stay out of Tamil Nadu, and possibly stay under the jurisdiction of the Karnataka high court.
Sure enough, her defence could be expected to argue that as the party boss, she would have to continue attending to the day-to-day functioning of AIADMK affairs, address rallies and organise conferences, all within Tamil Nadu, particularly during the crucial run-up to the 2016 assembly polls.
Constitutional impasse
Panneerselvam would be sworn in as chief minister by Governor K Rosaiah on Monday, September 29. It is likely that Jaya might want him to retain much of her outgoing government.
With that would end the Constitutional impasse caused by Jayalalithaa's statutory removal from office, as soon as the Bangalore verdict was pronounced.
After all, the Founding Fathers could not have been expected to imagine situations such as this, for them to prescribe instant solutions.
Incidentally, Rosaiah, a former Congress CM of the neighbouring, undivided, Andhra Pradesh, is the only governor nominated by the erstwhile Manmohan Singh government, not to have been sacked by the Narendra Modi government at the Centre.
Loyalist number two all through
After being promoted as chief minister from being the revenue minister after his first successful outing in the assembly polls, Panneerselvam has retained his accidentally thrust-upon number two slot in the party and government, after Jayalalithaa returned to power in March 2002, with a clean-chit from the Supreme Court.
Over the past 12 years, he has remained possibly the only AIADMK leader to have retained his position under the Jayalalithaa dispensation. He is considered both a loyalist, confidant and Jaya's primary trouble-shooter, particularly in district party affairs.
This has given him an aura of being irreplaceable at that second slot, since. His choice as the CM now is also a message to his Kallar sub-sect from within the numerically strong and traditionally militant 'Mukkulathore' community, which has been with the party since the late superstar politician, the M G Ramachandran, founded the AIADMK since 1972.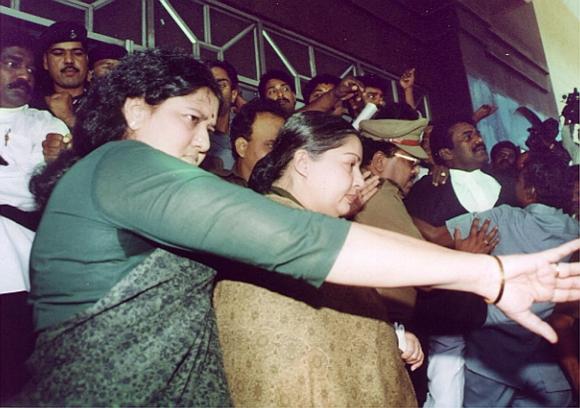 That Jayalalithaa's confidante, Sasikala and the latter's sister-in-law Illavarasi and estranged nephew (who also used to be Jaya's foster son for a time), V N Sudhagaran, belonged to the community cannot be overlooked.
Image: Sasikala Natarajan, left, with J Jayalalithaa
Though in this case, there is nothing to suggest that Panneer was close to Sasikala's controversial husband M Natarajan, who had been sidelined from AIADMK affairs almost completely, if only over a period.
Among the three co-convicts of Jaya, Sudhagaran is the grandson-in-law of the late thespian of Tamil cinema, Sivaji Ganesan. Illavarasi was married to Sasikala's brother. Sasikala has her voter-id card and ration-card entries made at Jaya's 36 Poes Garden bungalow.
Though details of Judge D'Cunha's verdict is not available in full, this might be a factor that could have weighed with the court. Under the amended Section 13 of the Prevention of Corruption Act, any 'public servant' (which Jayalalithaa was) or anyone 'deemed close to a public servant' (which Sasikala's acknowledged address could prove) could be punished under the law....
Thereby hangs a tale.
N Sathiya Moorthy, veteran journalist and political analyst, is Director, Observer Research Foundation, Chennai Chapter.