'If I talk about my parents' sacrifices, this conversation will never end,' says Lieutenant Loveneet Singh, the farmer's son who graduated among the top medal winners at the Indian Military Academy on Saturday.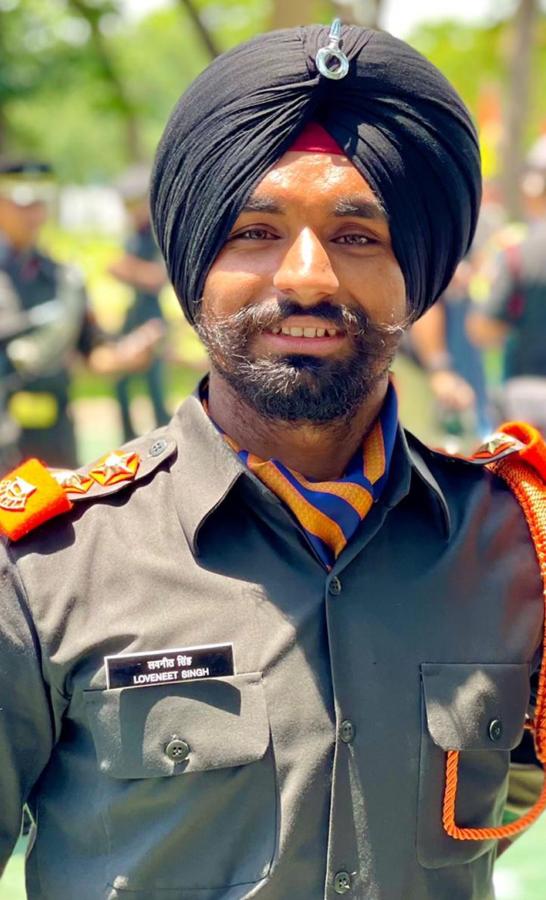 ---
Last weekend, Rupinder Singh, a humble farmer, and his wife travelled from their village in Punjab's Moga district to the Indian Military Academy in Dehradun.
It was their first visit to the IMA, the finishing school for the Indian Army's best and brightest.
The couple had come to witness the passing out parade of their only child, Lieutenant Loveneet Singh.
It was a glorious moment for them to see the four years of military training culminate in their son being awarded the bronze medal for standing third in the overall order of merit.
"There is no one in my family or in my village in the fauj. I wanted my son to study and follow a profession that he liked. I never wanted him to work in the fields like me," says Rupinder Singh, switching between Punjabi and Hindi as he speaks to Rediff.com's Archana Masih over the phone.
A farmer who grows rice, potato, dal and has a few cows and buffaloes, Rupinder Singh never told his son to help him the field or bring lunch for him from home as a boy.
"Had I remained in my village, I would never have been able to join the military. It is only because of the blessings of my mother and sacrifices of my father that I could get exposure through a good education which broadened my horizons," says Lieutenant Loveneet Singh.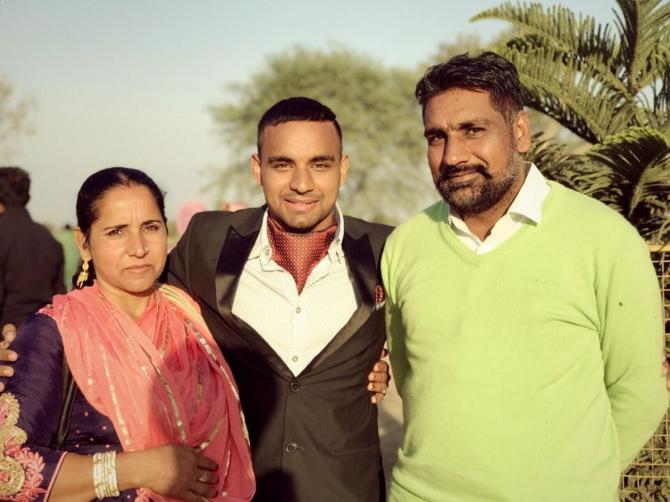 As a school boy, Loveneet competed and secured admission at the prestigious Punjab Public School, Nabha, whose alumni include former army chief General Bikram Singh, Major Anuj Sood, Shaurya Chakra (posthumous) among others.
Loveneet was inspired by the military officers who would come to address the school students and wanted to follow in their footsteps.
"We were not in sound financial condition. My father worked 24/7 -- 4 am to 10 pm in the fields. He gave more than 100% so that I was never short of anything I needed in school."
"If I talk about my parents' sacrifices, this conversation will never end," says Lieutenant Loveneet over the phone, shortly after his passing out parade.
He subsequently competed for a place at the reputed Maharaja Ranjit Singh Armed Forces Preparatory Institute in Mohali.
Twelve of his course mates at the AFPI graduated from the IMA along with Lieutenant Loveneet on June 12.
"There was no looking back after AFPI. It was the National Defence Academy or nothing," says the army officer who has been commissioned into the 7 Sikh Light Infantry and will join his unit in a few months.
General Manoj Mukund Naravane, the present chief of army staff, belongs to the same regiment along with two former army chiefs, General Ved Prakash Malik and General Bikram Singh.
Lieutenant Loveneet Singh plans to spend a few days with his course mates and then go home to his village before joining his unit.
As he prepares to begin his life in the Indian Army, it is a moment he and his parents have been waiting for.
Feature Presentation: Aslam Hunani/Rediff.com