Indian Army officers, serving and retired, will tell you that the one thing that makes the Indian soldier singularly unique is his josh and jazba, reports Archana Masih/Rediff.com.
India's greatest pride are its soldiers. Women and men who defend the country against the enemy in excruciatingly difficult terrain far, far away from home.
Indian Army officers, serving and retired, will tell you that the one thing that sets the Indian soldier apart -- that makes him singularly unique -- is his josh and jazba (motivation and commitment) to India's territorial integrity.
"Our men are battle hardened, well trained and better acclimatised as compared to Chinese troops," says retired Lieutenant General Sanjay Kulkarni.
The General commanded a brigade and a division on the Line of Actual Control and was decorated with the Shaurya Chakra for leading his platoon to unfurl the Tricolour in Bilafondla on the Siachen Glacier.
"China may have a slight edge in terms of ammunition, technology, aircraft and missiles, but the man behind the machine matters in the border dispute."
Remembering his days as a young lieutenant conducting patrols in the Galwan Valley and Depsang Plains, Lieutenant General Somanth Jha (retd) encountered PLA troops for the first time on a patrol to the Karakoram Pass in 1984.
The PLA troops were kitted with superior winter gear to battle the extreme conditions at 18,000 feet, while the Indian troops wore ordinary boots and jute balaclavas in those days.
But what set the Indian troops apart even then was their physical and mental fortitude.
"In spite of their fancy clothing, most of the Chinese men were white in the face. They looked cold and miserable. At the foot of their slope I spotted a vehicle. They had come to the base of the Karakoram Pass in a jeep while we had walked for 5 days to reach there!" recalls General Jha.
"The Indian Army is far superior to the Chinese. Their troops are no match. The PLA troops are poor soldiers," General Jha continues giving an insight into the present Indian soldier who is given far more better training, equipment and clothing compared to the past.
Yet, soldiers serving in Ladakh sometimes at heights of 16,000 feet will tell you that these are the hardest tenures they have served.
"The windchill factor is phenomenal. The area is like a barren desert. You are out in the open with no trees or bushes to take cover," says Colonel Sandeep Kumar (retd) who served four years in Ladakh, including Pangong Tso and Siachen Glacier.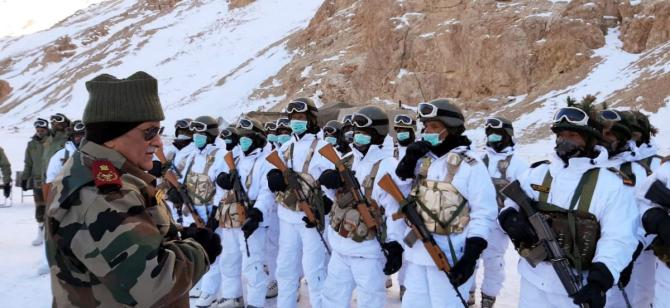 Indian soldiers who stand guard at heights of over 9,000 feet have to be physically fit in order to battle the harsh weather and the enemy.
At times the bigger adversary is the weather.
Soldiers, some as young as 19, brave temperatures as low -45 degrees as they defend the Line of Actual Control in Ladakh.
At altitudes upward of 9,000-10,000 feet, they pitch their tents in the cold, dry, rocky desert, bereft of vegetation. When they step out of the Artic glacier tents, strong blasts of winds welcome them.
If clothed insufficiently, even a minute's exposure to the winds can lead to life threatening health situations
There's the risk of hypoxia due to lack of oxygen, acute mountain sickness, high altitude pulmonary edema when water fills up in the lungs or cerebral edema when it fills up inside the brain.
"Leaving your ears uncovered for 30 seconds results in the icy wind going straight to your head."
"Don't wear gloves and there's a good chance your fingers will fall off because of frost bite!"
"The winds are brutal and the weather unbearable, but soldiers remain at vigil 24x7. In a deployment with the enemy sitting across you, a soldier is never off duty," says an officer who has served both on the Line of Control in Jammu and Kashmir and the Line of Actual Control in Ladakh.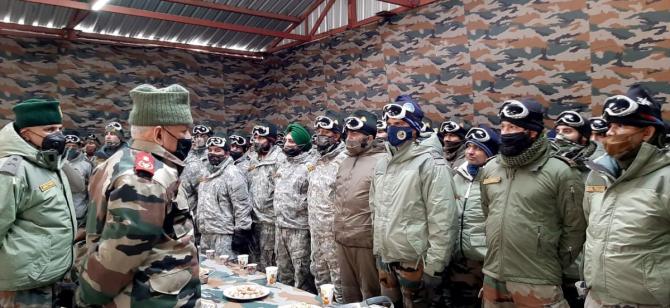 When positioned right on the LAC, 6-8 troops share a circular tent and sleep inside a double layered sleeping bag placed on a specialised sheet that prevents moisture from seeping in from the ground.
Soldiers travel with very light when deployed at such high altitudes. They often carry no more than two sets of uniform and no other belongings.
The uniform consists of layers of clothing including fleece inners, jacket, parka, overcoat, gloves, glasses and specialised boots.
Since water freezes at the sub-zero temperature, chunks of frozen water is heated on a kerosene stove to obtain potable water to drink and for freshening up.
A bath can happen once in two weeks and utmost care is taken to protect the body from exposure.
Food on the frontlines is supplied from a cookhouse some distance away from the border. Sometimes it can be an hour away. The menu is usually roti, vegetable and dal. The soldiers heat the food on a stove before eating it.
They are also provided non-perishable dry snacks like namkeen and peanuts and chocolates. "But how many chocolates can one eat? Food doesn't get digested because of lack of oxygen and you don't feel like eating much," says a soldier who served a high-altitude tenure.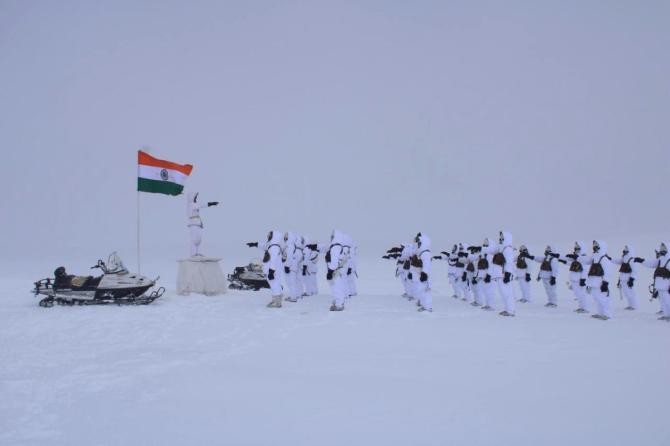 To keep the morale of the men high, officers play cards with them, share jokes, do equipment maintenance work together and share memories of tenures served together in different places.
The officers who command a unit build strong bonds with the men they have trained during peacetime in cantonments where life was more comfortable.
When jawans see that their officer can cope well despite the harsh terrain and weather, they feel they can do the same.
The officers know the men and the men know the officers.
Officers with a decades of field experience across various terrains and weather will tell you that a tenure in Ladakh or Siachen is the toughest.
"In the Kashmir valley, men come back to base after completing a mission which can take 2-3 days. They may have battled on day and night without sleep during counter terrorist ops, but they have a bed to sleep in at the end of it."
"In high altitudes like Ladakh and Siachen, it is not so."
When deployed right in the face of the enemy, the only time a soldier is off duty is when he goes home on leave.
While officers get leave maybe twice a year, the men are rotated every few weeks and sent to posts at lower altitudes.
As one would expect there is no Internet access at those inhospitable heights. The nearest BSNL cell phone connectivity could be 3-4 hours below and there is every possibility that the generator of the radio tower is not working at the time you get there!
The Indian Army has landlines at almost all posts. The men can speak to their families adhering to a system which allows each person a few minutes every other day so that everybody gets a turn to speak with their loved ones.
In the few moments of 'free time' officers and men sing songs, listen to music on I-pods or mp4 players. The passionate music aficionados sometimes carry their guitar along.
In the times of medical help, a nursing assistant is present 5-10 minutes away. In every section, a soldier is trained as a battlefield nursing assistant.
If the case is more serious, a surgical station can be found an hour or so away. In cases of critical illness, soldiers are evacuated to the Indian Army hospital in Leh.
It can take up to 10 hours by road and 15 minutes by helicopter. Air evacuation is also subject to the weather and time of day.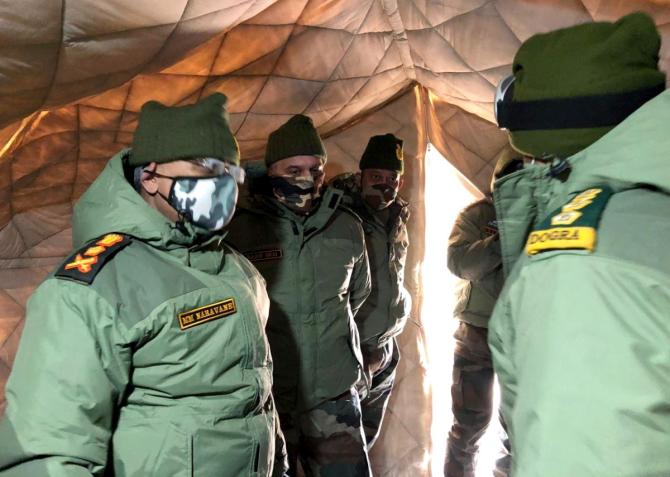 Transporting troops to their high altitudes postings is a mammoth logistical challenge that the Indian Army has put in place. It can take up to a month for officers and men to reach their posts in high altitude deployment because they have to undergo different stages of acclimatisation along the way.
Under the COVID-19 rules, troops have to follow 14-day quarantine in Chandigarh or Delhi before moving to Leh which is the first stage of acclimatisation.
They spend a week or so at this first stage of high altitude acclimatisation at about 9-10,000 feet.
The first two days is complete rest.
On day three, they walk 400-500 metres with some minimal physical exercise.
By day 5-6, the distance is increased to 2.5 kms including uphill climb.
On the 7th day, it is further increased to 5 kms uphill climb with some weight.
The men have to drink enough water and medical check-up is done on a daily basis.
The second stage of acclimatisation is at about 12,000-13,000 feet where the same process is repeated for another 4 days.
The third stage of acclimatisation is at 15,000 feet where the same procedure is followed for another 4 days.
If the medical check-ups are satisfactory, the soldiers are deemed fit for moving to their posts.
In view of the volume of troops, the men are transported in vehicles through the various stages of acclimatisation.
"Due care is taken of their health and wellbeing at every stage because soldiers are a prized asset and the nation has invested a lot in them," says an officer.
"The soldier will never let the nation down."
Feature Presentation: Aslam Hunani/Rediff.com