'Not everybody gets the opportunity of having a working desk inside a helicopter from where you can control torpedoes and weapons.'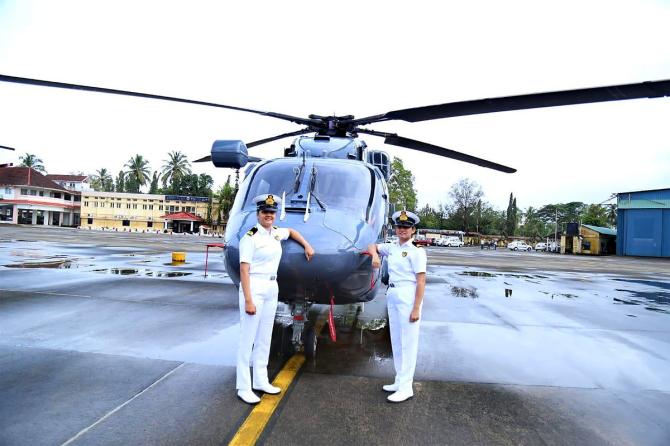 Sub Lieutenant Kumudini Tyagi and Sub Lieutenant Riti Singh will be the first women officers deployed on Indian Navy warships.
Rediff.com's Archana Masih spoke to the trendsetting naval officers.
In the last couple of days, Pravesh Kumar Tyagi has received 20 to 30 phone calls from strangers congratulating him for his daughter's landmark achievement.
"I'm amazed and overwhelmed. It's all because of my daughter," he says over the phone from Ghaziabad, Uttar Pradesh.
"She has made me famous."
Sub Lieutenant Kumudini Tyagi and Sub Lieutenant Riti Singh are trendsetting naval officers who will be the first women observers or airborne technicians/specialists operating from helicopters deployed on Indian Navy warships.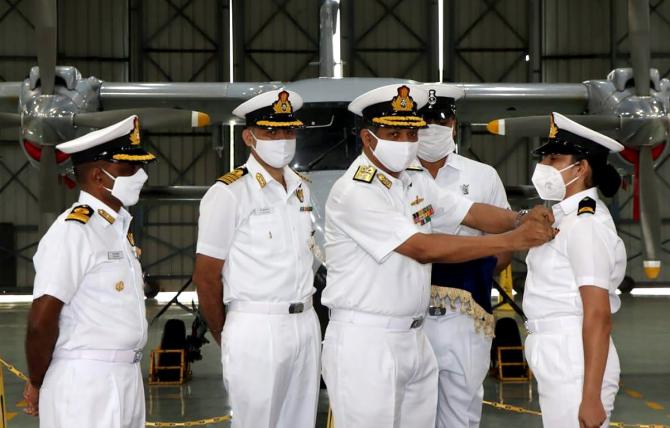 The officers have undergone rigorous training over the past year and received their wings last week. On completion of the next level of training on a specific helicopter, the duo will operate from a warship in a year's time.
"It is exciting and a great responsibility because not everybody gets to make history at such a young age."
"Not everybody gets the opportunity of having their working desk inside a helicopter and controlling torpedoes and weapons," says Sub Lieutenant Riti Singh, daughter of a former naval officer who comes from a family that has served the armed forces for four generations.
Her grandfather served as a signals officer in the Indian Army.
"The family is excited about the sea posting because there is nothing like being at sea. She will be posted in a combat role, which is an additional feather in the cap," says father Commander S K Singh, a retired naval officer settled in Hyderabad.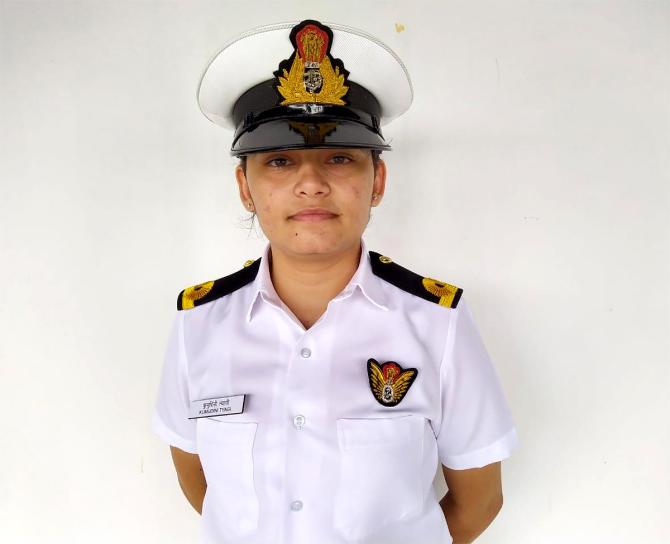 Sub Lieutenants Tyagi and Singh were commissioned in the Navy in 2018. Their tasks will include detecting hostile submarines and ships through the helicopter's on board sensors and provide precise locations to the pilots in the cockpit to fire weapons.
"Observers are the eyes and ears of a fleet. We will be operating sonars, radars, sonics and carrying out combat roles," explains Sub Lieutenant Kumudini Tyagi, who hails from a purely civilian background. Her father runs a security agency and brother has cleared the Combined Defence Services exam as he aims for a career in the armed forces.
Sub Lieutenant Tyagi had resolved to join the Indian Navy after Lieutenant Kiran Shekhawat's tragic death in a crash during a night sortie in Goa in 2015.
"Her martyrdom really pinched my heart and I thought I too must do something meaningful in the service of the nation," she says over the phone from the naval base in Kochi.
"The understanding of the Indian Navy is not very clear in north India compared to the south," says Sub Lieutenant Tyagi who grew up in Ghaziabad, far from the sea, but had set her heart on a seafaring career.
"Many confuse the Indian Navy with merchant navy and I hope I have helped in clearing that doubt from many minds."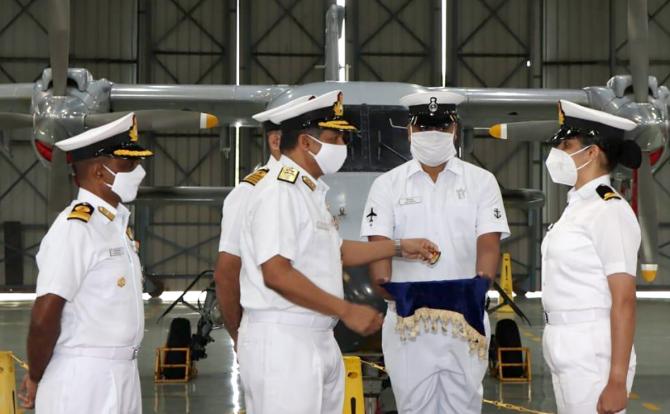 Sub Lieutenant Riti Singh grew up hearing fauji stories from the veterans in her own family.
"Hearing their inspiring stories, this is what I wanted to be and where I wanted to go and I am proud of wearing the naval uniform today," says the officer with a degree in computer science.
"Those who come from an armed forces background are known as the children of officers, but after being selected in the Indian Navy, I went from being an officer's kid to somebody who is serving this nation."
Looking at the media coverage they have received in the past two days, she says, "I think my dad will be known by my name. The tables have turned!"
"As a fourth generation officer, Riti takes the family legacy forward," adds Commander Singh, "Their confidence level to take on the challenge is remarkable. We wish them -'Happy hunting and safe landings.'"
The Indian Navy has steadily enhanced the role of women officers over the years. Last year, Sub Lieutenant Shivangi became the first woman pilot in the Indian Navy.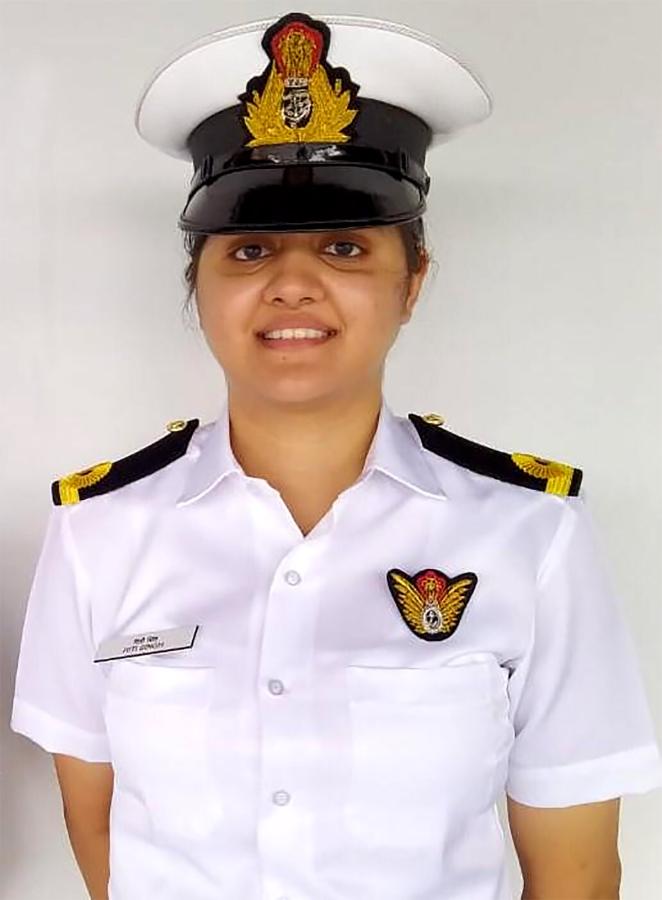 Though women officers served as observers on fixed wing aircraft that took off and returned to naval bases on land, this will be the first time they will operate from warships deployed in the high seas.
The accommodation for crew on a warship is compact and catered for an all-male crew up till now. This will change and the navy will require to provide separate bathrooms and lodging for lady officers.
"The ships that we are building, including aircraft carriers have separate provisions for women and male officers," clarifies Sub Lieutenant Singh.
"Logistically, we are going to be absolutely fine on board Indian naval ships. That is just a misconception that people outside have."
Debunking notions of sexism that arose from the recent film on former Indian Air Force helicopter pilot Gunjan Saxena, she says all officers receive the same training at the Indian Naval Academy and also undergo the ragda.
"As soon as we don the uniform, we're all equal. The gender does not define you," emphasises Sub Lieutenant Riti Singh.
Encouraged by the enormous support received from family, friends and the Indian Navy, the young officers are looking forward to completing their training on helicopters and take on tasks that will be entrusted upon them in the days ahead.
"This is an achievement for the whole nation," says Sub Lieutenant Tyagi's father as he hopes to see his daughter early next year.
"Being the first in any domain is challenging, but I am sure they will perform to the best of their capacity," says Sub Lieutenant Singh's father.
"The best wishes of the country are always with them."
Feature Presentation: Aslam Hunani/Rediff.com