Sandeep Pandey salutes women who have contributed to social transformation in India after 1980.
---
Medha Patkar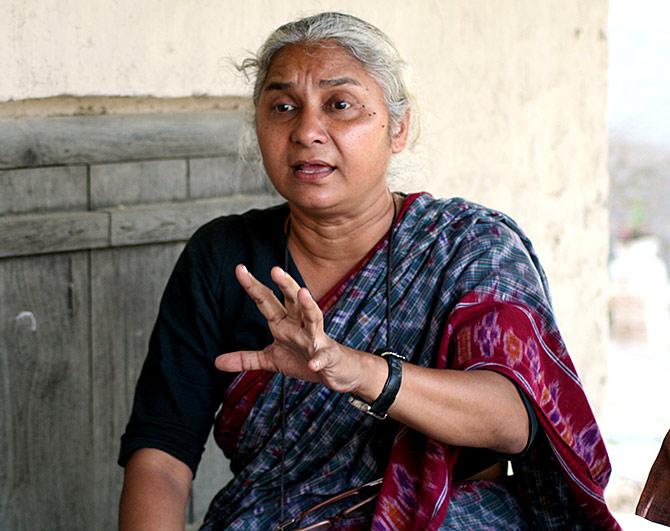 Probably the best known woman activist in India as well as abroad who has spent her life fighting for the marginalised sections of the population.
She is best known for initiating the Narmada Bachao Andolan in 1985 against big dams on the Narmada river in three states -- Madhya Pradesh, Gujarat and Maharashtra.
In addition to questioning the feasibility of the project from the technical, financial, social (rehabilitation) and environmental stand points, her larger contribution has put under review the entire idea of modern development.
Initially, intellectuals and political parties christened the movement as anti-development and because of this some people also accused Medha Patkar of being anti-national.
But when it was seen that in projects after projects the benefits were exaggerated and costs underestimated, that well-off sections of the population or industries were the beneficiaries and poor communities, often tribal, were displaced without proper rehabilitation and environment was adversely affected, people began to change their opinion on the concept of 'development'.
Questions like 'Whose development?' 'At whose cost?' began to be raised.
Jawaharlal Nehru had described these projects as temples of modern India. Hence, these projects acquired a certain degree of sanctity in the sense that they could not be questioned.
It took lot of effort for Medha Patkar and her fellow activists to shake policy makers, intellectuals and larger society out of this parochial mindset.
Her stand was vindicated when she was chosen as one of the two Indian members on the World Commission on Dams. The Commission came out with a report recommending that social and environmental aspects have to be given the same significance as technical, economic and financial, that there should be informed participation of all stakeholders in decision making and most importantly, free, prior and informed consent of indigenous people should be ensured.
Soon, Medha Patkar's role grew larger than the movement and she began to be invited by all victims of various development projects in the country.
She and her colleagues formed the National Alliance of People's Movements to bring all such movements on a single platform.
The platform continues to play an important role and has large number of people's movements on board.
Medha Patkar also initiated the Ghar Bachao Ghar Banao movement in Mumbai for the right of slum dwellers and against demolition of their slums by civic authorities.
NAPM was also behind exposing the Adarsh Housing Society scam in Mumbai by using the Right to Information Act.
Ela Bhatt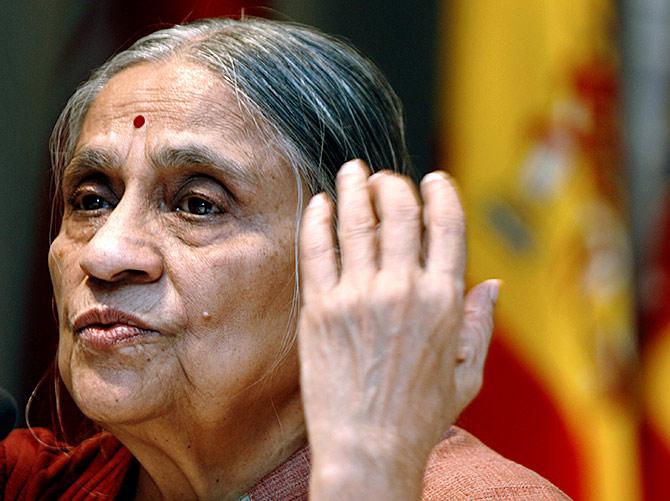 Elaben studied law and then decided to organise the unorganised women workers of Ahmedabad when she realised that the laws only gave protection to industrial workers.
She started by working for the women's wing of the Textile Labour Association, but soon founded the Self Employed Women's Association and remained its general secretary for 24 years till 1996.
SEWA is a trade union with close to 700,000 members in Gujarat and over 1.3 million all over India.
Elaben was invited to be part of 'The Elders' group in 2007 in South Africa which included among others Nelson Mandela, Desmond Tutu, Jimmy Carter to provide leadership to solving some of the world's vexed problems like Israel-Palestine, sustainable development and gender inequality including the issue of child marriage.
Aruna Roy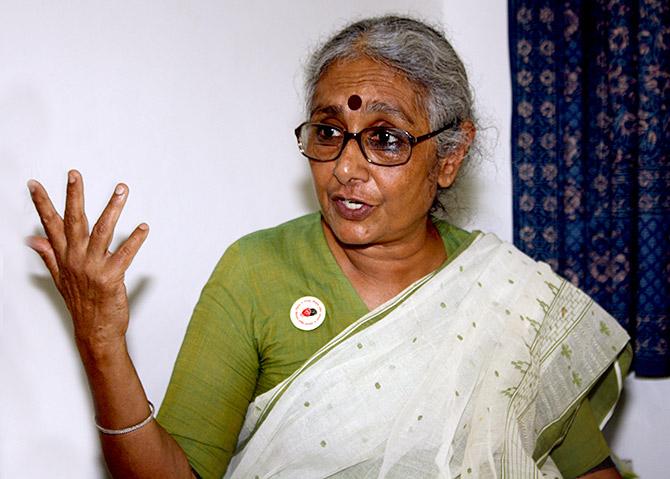 She resigned as an IAS officer in 1974 after six years of service and formed the Mazdoor Kisan Shakti Sangathan in Rajasthan to fight for the rights of rural daily wage workers.
Her movement evolved into a demand for Right to Information regimen and as a member of the National Advisory Council during the United Progressive Alliance government, she was instrumental in getting the Right to Information Act, 2005, enacted.
This Act has played an important role in changing the equation between the bureaucracy and the Indian people and empowered the people to hold their rulers accountable to them as well as brought some amount of transparency in the functioning of government.
The RTI Act has also fuelled a grassroots awakening of a sense of rights among the common people who are challenging the might of the State and other powerful vested interests more than before.
She also got involved with the movement for effective implementation of the Mahatma Gandhi National Rural Employment Guarantee Act by conducting social audits on a large scale covering almost the entire districts.
Currently, she is involved with the Pension Parishad movement demanding universal pension for unorganised sector workers.
She has also formed a National Campaign for People's Right to Information to bring together all activists working on Right to Information in different parts of the country on a platform.
Kavita Srivastava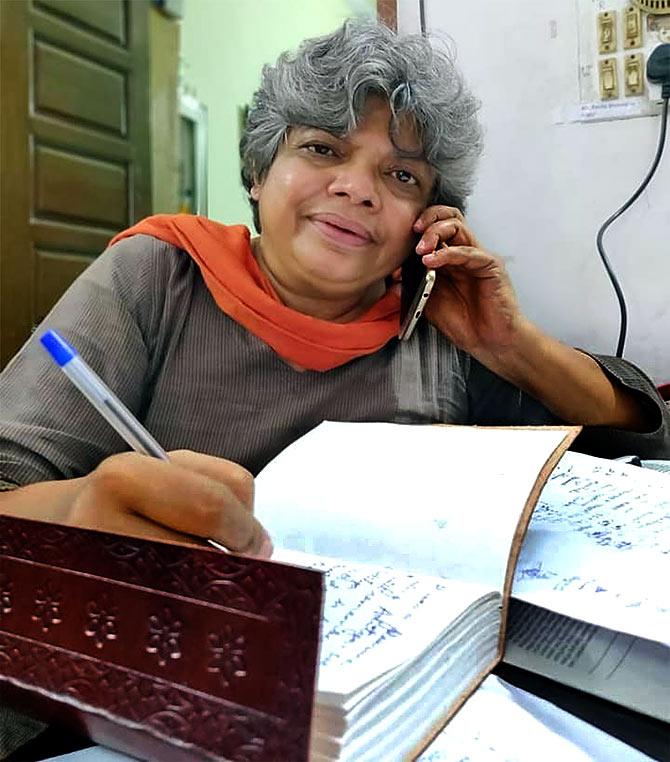 Also based in Rajasthan, She has been working actively as a defender of civil liberties and democratic rights of citizens since 1994.
She is presently the general secretary of the People's Union for Civil Liberties, a human rights organisation founded by the late Jayaprakash Narayan.
She has taken up a number of cases of women subjected to sexual and domestic violence, innocent victims of State terror and people simply suffering because of poverty.
She filed a case on behalf of PUCL, Rajasthan against THE Government of India claiming that denial of food to people was a violation of their fundamental Right to Life. This became the famous Right to Food case in the Supreme Court which culminated with the enactment of the National Food Security Act in 2013.
Bhanwari Devi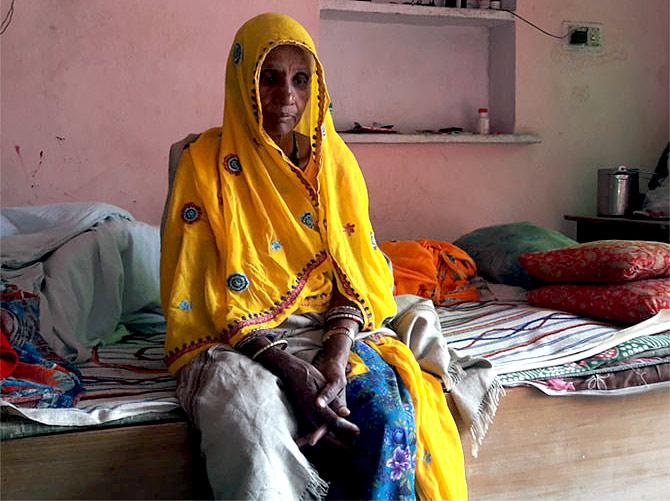 Bhanwari Devi was employed as a grassroots worker -- a sathin -- by the women's development project of the Rajasthan government.
In 1992, when she opposed the marriage of a nine-month-old girl in her village, she was gang-raped by five men belonging to the Gujjar community.
She filed a First Information Report with the police, but all the accused were acquitted by the court.
Bhanwari Devi's case was highlighted by the media and women's organisations.
A Public Interest Litigation was filed by Vishakha and four other women's organisations in the Supreme Court which resulted in the Vishakha Guidelines to prevent sexual harassment at the workplace.
This is a significant landmark in the Indian women's movement.
Irom Chanu Sharmila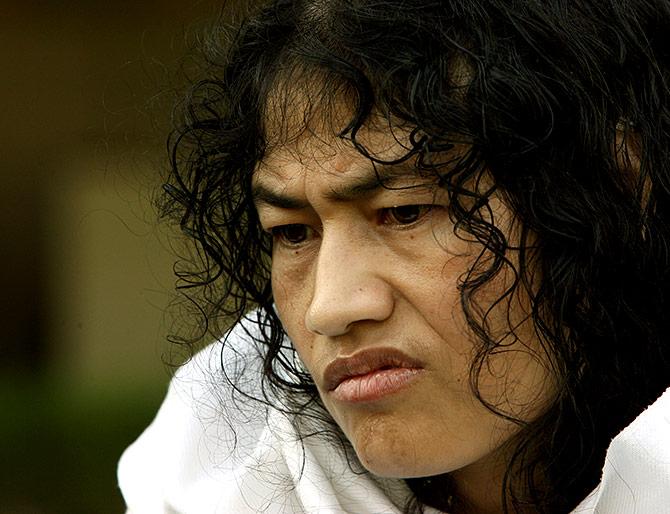 Irom Sharmila started a fast in Manipur on November 5, 2000 after the Assam Rifles shot dead 10 civilians at a bus stop in Malom, a town in the Imphal valley three days earlier.
She demanded repeal of the draconian Armed Forces Special Powers Act to which the government did not agree.
She continued her fast for 16 long years and finally ended it on August 9, 2016.
Soni Sori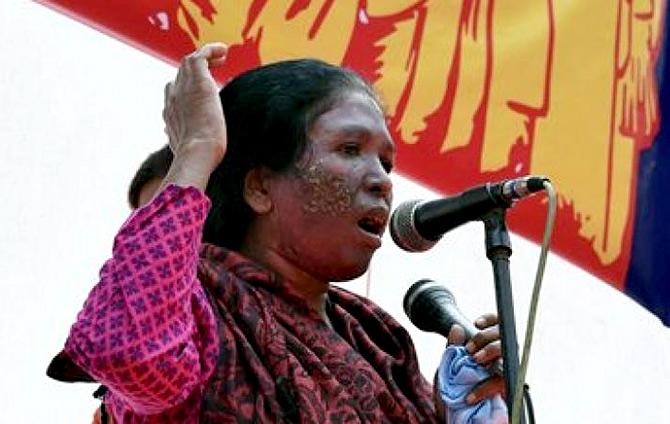 Soni Sori was an Adivasi school teacher in Dantewada, Bastar, Chhattisgarh before she was arrested in 2011 on the charge of being a naxalite supporter.
She suffered atrocity including of a sexual nature at the hands of the police in Chhattisarh.
She has dedicated herself to fighting for the rights of her people.
Sujatha Surepally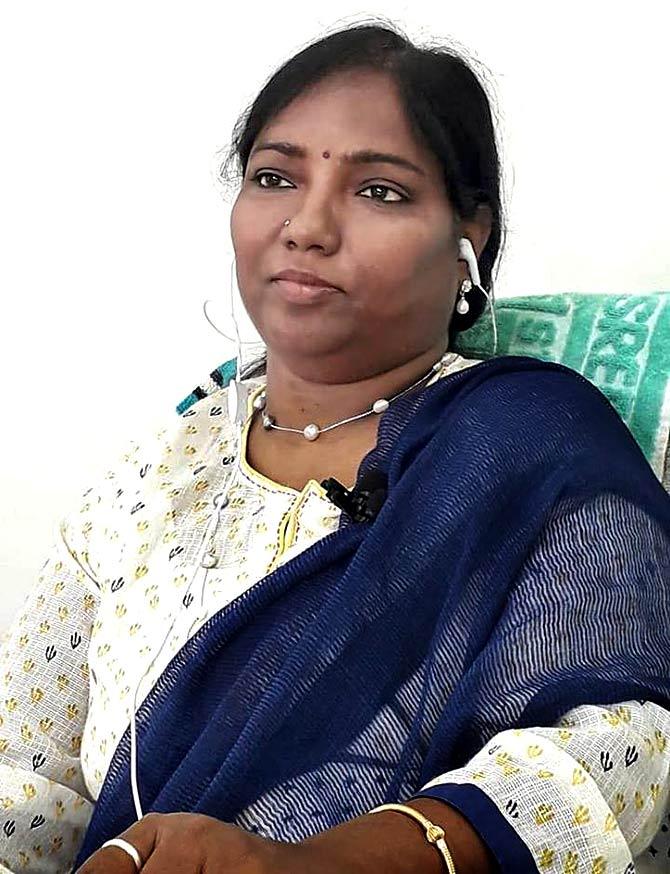 A PhD in Dalit women's empowerment, she has participated in struggles for the rights of women, Dalits, tribalS and also taken part in movvements against projects which are a threat to the environment.
Parveena Ahanger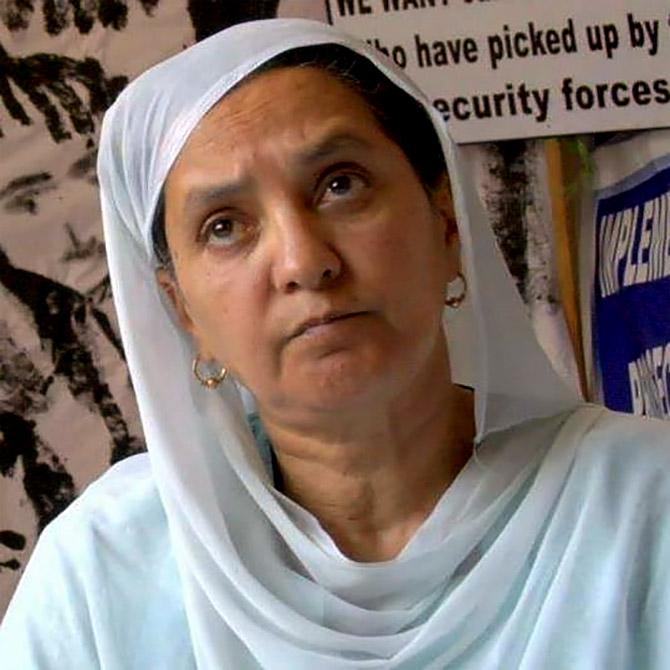 She founded the Association of Parents of Disappeared Persons in 1995 in Jammu and Kashmir to take up the cause of thousands of involuntary and enforced disappearances in Kashmir.
Meera Sanghamitra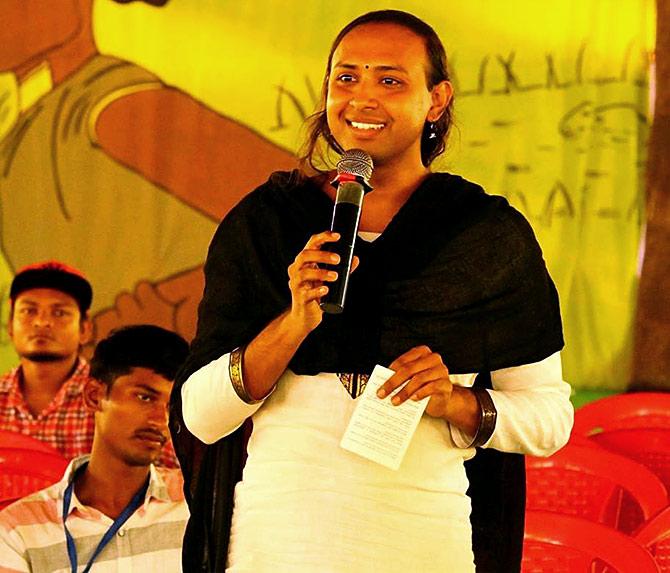 A lawyer and activist who works on a host of issues including human rights including the rights of LGBTQ communities, displaced people from development projects and on pro-people governance.
Nirbhaya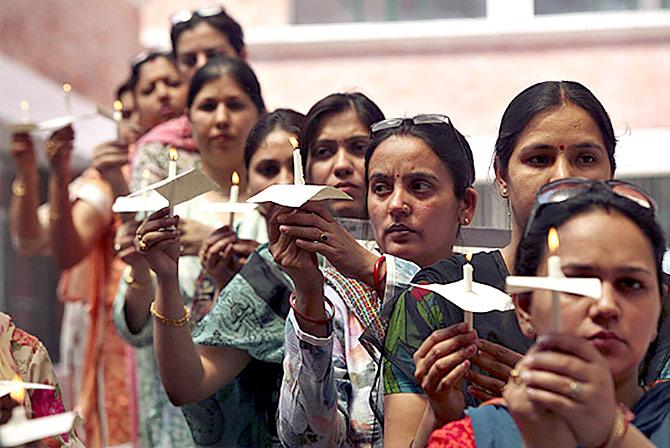 Nirbhaya, whose real name was Jyoti Singh, was gang-raped while travelling in a bus in Delhi on the night of December 16, 2012, and died in hospital 13 days later of injuries she suffered during her rape.
On December 22, a judicial committee chaired by Justice J S Verma, the former Chief Justice of the Supreme Court, was formed to look into amendments required in the criminal law to deal with sexual offences.
The committee submitted its report within 30 days after considering 80,000 suggestions received from the people.
It held the failure of government and police as the basic cause of crimes against women.
Based on this report on February 3, 2013, the Criminal Law (Amendment) Ordinance was promulgated by the President which amended the Indian Penal Code, Indian Evidence Act and Code of Criminal Procedure, 1973 to ensure strict and speedy justice to victims of sexual assault.
Before this horrific crime, rape victims, rather than the perpetrators, were often blamed by the police as well as society.
The tragedy changed public perception. Now more women are coming out in the open to report cases of sexual violence. Indian society also seems more sensitive.
In her death, Nirbhaya changed the thinking of Indian society on rape.
However, even after all the advances made by women in India, it continues to have one of the most distorted sex ratios, low female literacy rates, low female labour participation, low health indices with half the Indian women anaemic, lower percentage in state assemblies and Parliament when compared with even its South Asian neighbours, especially Bangladesh.
---