'The police go into villages, kill villagers, rape women, burn homes, file false cases.'
'They want to empty Bastar of the tribals so that corporate houses can be given a free hand in our land.'
'My father was killed by Naxalites. This is very ironical because the police accuse me of being a Naxalite. If I had been a Naxalite, would I not have been able to prevent my father's death?'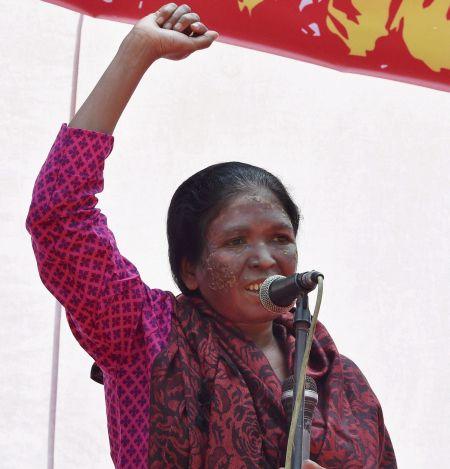 IMAGE: Soni Sori at a demonstration at Jantar Mantar in New Delhi. Photograph: Shahbaz Khan/PTI
Tribal activist Soni Sori spent 13 days at the Apollo Hospital in New Delhi where she was treated for severe burns after three men threw a combination of grease and acid on her face.
Having been released from hospital, this fiery tribal leader has returned to Chhattisgarh to continue her struggle against the state police.
The burn marks on her face have begun to heal, but the healing process is expected to take another few weeks. Sori describes the scars on her face as representing the convulsions happening in Chhattisgarh. She spoke to Rashme Sehgal.
Doctors were apprehensive that you may lose your eyesight following the attack. Fortunately, that has not happened. Despite your life being in danger, you are determined to go back?
After what they have done to me, it would be prudent for me not to go back. But this attack has only strengthened my determination to go back and fight on behalf of the Adivasis of Bastar.
You have alleged that Inspector General of Police Shivram Kalluri is behind the attack.
Yes, my fight is directly against Kalluri. Even though the Supreme Court ordered a CBI (Central Bureau of Investigation) inquiry against him, he continues to enjoy a free hand.
He has been allowed to destroy the homes of villagers with no action taken against him.
We have seen a substantial increase in paramilitary forces. Every two kilometres, the state government has set up posts for paramilitary forces in Chhattisgarh.
Why do you believe you are being targeted?
They do not want any information about their misdeeds and heinous crimes to come into the limelight. That is why they have resorted to their goons to get rid of an independent journalist like Malini Subramanian and lawyers who were speaking out on behalf of the tribals.
I was a school teacher who did not hesitate to speak out against their misdeeds. That is why they resorted to harassing and torturing me.
When Kalluri was senior superintendent of police of Dantewada, he had me arrested on charges of being a Naxalite. He did the same with my husband Arun Kumar. We were both jailed.
My husband was beaten up so severely that he became paralysed. The police released him from jail last month, but he was so frail and sick that he could not survive. He died a month ago.
How long were you in jail and what were the charges?
I was arrested on the trumped up charge that I was a Naxalite. The same trumped up charge was levied against my husband. It was Kalluri who ordered these charges to be levied against us.
I was arrested and tortured for many months. They put current (electrical charges) up my anus. That is a standard torture method.
I was not able to walk for many months. During interrogation, the police put stones in my uterus. I used to be regularly beaten up.
I became so ill and would have died were it not for my activist friends in Delhi who placed a petition before the Supreme Court to have me released on medical grounds.
It was on the direction of the Supreme Court that I was taken to a hospital in Kolkata where these stones were removed. It's a miracle that I came out of jail alive.
It is shocking to hear that the police can act with such impunity.
There is no rule of law in Chhattisgarh.
Two local journalists who spoke out against police violence have been arrested and are in jail.
The police go into villages, kill villagers, rape women, burn homes, file false cases.
The kind of depravities in which they indulge are unimaginable.
I had a job as a primary school teacher and looked after students in a hostel. My nephew Ram Kedopi came to Ghaziabad to do a course in journalism. Kalluri gave a statement that he is a Naxalite and was the mastermind behind the April 6, 2010 killing of 70 jawans.
Prashant Bhushan brought the terrified boy to Swami Agnivesh and he went underground for some time. When he went returned to Chhattisgarh, he was arrested.
Did you receive prior warning that you were going to be attacked?
From the time I am speaking out on behalf of the Adivasis, I have received many warnings that they would kill me. I did not heed these warnings.
When the Hidma encounter incident at Marmud took place on February 15, in which a tribal who is a father of seven children was killed on grounds of his being a Naxalite, I took up his case.
You see, one month before he died, the police did his verification and cleared him and on that basis he was allowed to open a bank account. The man had an Aadhar card, a ration card and all other documents.
I got his family and his children and held a press conference to highlight how the police had killed an innocent man.
I also wanted to get an FIR filed against Kalluri. At 6.12 pm that evening, I received a phone call warning me that plans were afoot to attack me. I told them I was not afraid.
At 10 pm, we were at Geedam on our way to Dantewada when three miscreants stopped the motorcycle on which I was riding and threw this chemical on my face. I know the people who have done it. Their identities are known to me.
I was taken to a doctor in Geedam for treatment and then to Dantewada from where I was brought to the Apollo Hospital. I was in the ICU for 11 days and then kept in a room for three days. But they cannot silence me.
There are many activist women fighting in many states. We need to come together.
Your children are living alone in your village.
I have three children who are living in Chhattisgarh. I have two girls and one boy. My eldest daughter is presently appearing for her board exam.
I have already been warned that 'You must not forget you have a son who is presently studying in school.'
Are you saying there is no one in the state government who is sympathetic to tribals?
Of course not. They know what is going on. The collectors not allowed to speak. Kalluri silences them if they object to what is happening.
The lower rung police officers do not approve of what he is doing, but they are not allowed to speak.
You have had to pay a huge price for speaking out.
That is obvious to everyone who knows me. I am presently out on bail.
I have lost my job as a teacher. I had a home, a husband, parents, children, everything a woman could have asked for.
I lost my husband in a false case. My father was killed by Naxalites.
This is very ironical because the police accuse me of being a Naxalite. If I had been a Naxalite, would I not have been able to prevent my father's death?
The Naxalites came and killed him. The villagers around him saw what was happening, but they were too scared to speak out.
My mother died out of sorrow when I was arrested and put in jail. When my husband was dying, I too was in jail.
I put in a request in Dantewada court if I could meet him once before he died. They refused to give permission.
Look where I have reached. Look at the state to which I have been reduced. I have no money, no assistance of any kind. The villagers help me by giving me rice and dal. But will that bring back my family?
Despite all these adversities, you are ready to fight.
Someone has to speak out. They want to empty Bastar of the tribals so that large corporate houses can be given a free hand in our land in which we and our forefathers have lived for thousands of years.
How do your children cope?
My children have accepted the situation. The two-and-a-half years I spent in jail has made them stronger.
They see so much violence around them, but what can they do?
This is the fate of the tribal children of Chhattisgarh.