YSR Congress MP Goddeti Madhavi, who won from Araku, has declared assets of just about Rs 1 lakh whereas the BJP's Pragya Singh Thakur, at 4th poorest, is worth Rs 4.44 lakh.
Syed Firdaus Ashraf/Rediff.com reports.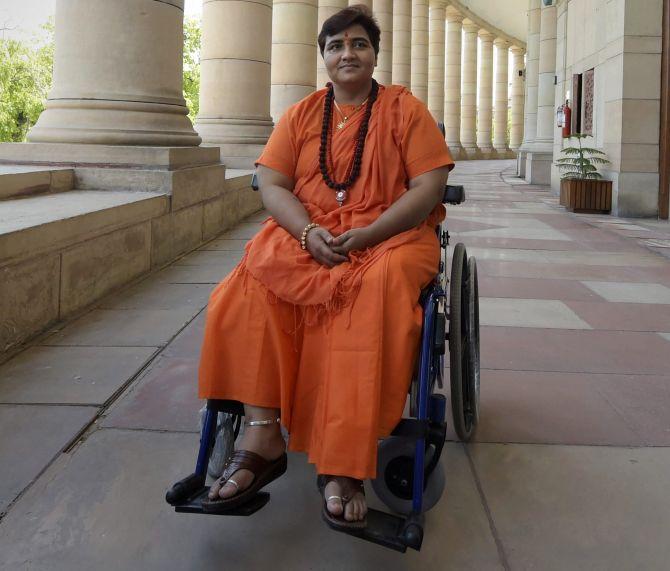 The 2019 Lok Sabha election has been criticised for how candidates used money power to win votes.
However, these 9 candidates have been elected to Parliament despite their lack of funds.
YSR Congress MP Goddeti Madhavi, who won the Araku Lok Sabha seat, has the lowest declared assets among all -- about Rs 1 lakh, comprising cash and deposits.
Pragya Singh Thakur, the controversial Bharatiya Janata Party MP from Bhopal, is the fourth poorest MP -- with assets worth just Rs 4.44 lakh.
According to her poll affidavit, Pragya Thakur owns 85 grammes of gold and 3 kg of silver. She possesses no home or land.
The 9 MPs who are worth less than Rs 10 lakh.
Candidate
Constituency
Party
Education
Total Assets
Goddeti Madhavi
Araku
YSR- Congress
Graduate
Rs 141,179
Chandrani Murmu
Keonjhar
BJD
Graduate
Rs 340,580
Mahant Balak Nath
Alwar
BJP
Class 10 Pass

Rs 352,929

Has Rs 20,000 in cash and deposits of Rs 332,929.

Pragya Singh Thakur
Bhopal
BJP
Post-Graduate

Rs 444,224

Owns no home or land.

Indra Hang Subba
Sikkim
Sikkim Krantikari Morcha
Post-Graduate

Rs 478,817

Has cash in hand of Rs 474,800 and deposits of Rs 4,017. Nothing else.

Pratima Bhoumik
Tripura West
BJP
Graduate
Rs 642,398
Pramila Bisoyi
Aska
BJD
Class 5 Pass
Rs 732,470
Mohammed Faizal
Lakshadweep
NCP
Post-Graduate
Rs 938,641
Owns no house, no land, but owns a motor boat.
Jamyang Tsering Namgyal
Ladakh
BJP
Graduate
Rs 981,904