The founder of the Republican Hindu Coalition first attracted attention in the US as the "Punjabi tycoon" who was a huge supporter of Narendra Modi in the US.
'Trump will be best for India. There is no better ally for the US than India in the region,' Shalabh Kumar tells Rediff.com's Vaihayasi Pande Daniel.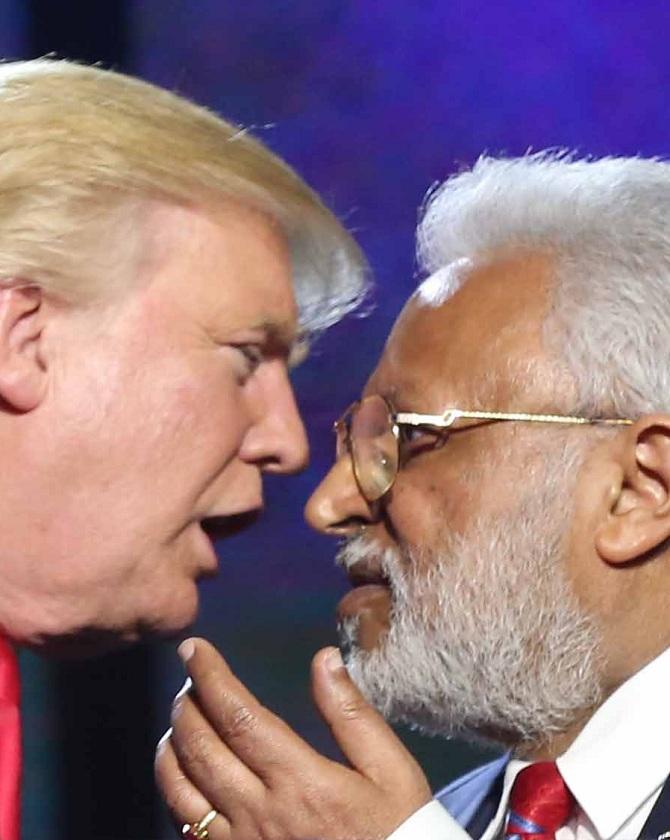 Shalabh Kumar was widely to be tipped United States President Donald Trump's nominee as the US ambassador to India.
On Thursday, June 22, the White House announced that Deputy Assistant to the US president for International Economic Affairs and Deputy Director Kenneth Juster would be Trump's Man in India.
In an interview to Rediff.com, a few weeks before Juster's appointment, Kumar, the founder and head of the Republican Hindu Coalition, declared that he converted "over a million Hindu-American votes from Democrats to Republicans" in the election that saw Trump win.
Kumar, 68, a Chicago-based businessman who comes to India frequently -- lately, to speak about making the India-America relationship great again -- says with pride that he is now a "fairly sought-out public speaker, a new chapter in my life."
As one of the few and, therefore, high-profile Indian-American Republicans, he has also become a much-interviewed man.
When Rediff.com's Vaihayasi Pande Daniel then caught up with Kumar, she asked: Is he going to become the US ambassador to India?
A question he fended off, saying: "I am not supposed to talk abut this at all. There is a protocol in the US, which you are supposed to follow."
That he wants to be the ambassador, if asked, is without dispute: "All I can say is I would be more than happy to consider anything which President Trump has in mind, in the service of the nation. If I can serve our nation, and he deems it good and necessary for me to do something, whether it is ambassadorship, whether it is trade, whatever, I will be more than happy to consider it."
If being an experienced businessman was the key criteria for the ambassador's job, then Kumar is certainly qualified.
Shalabh Kumar, nicknamed Shalli, son of an Indian civil servant, hails from a village near Ambala, Punjab -- coincidentally, not very far from where the previous US Ambassador Richard Verma's family came from.
He went to the US when he was 20, armed with an engineering degree, seeking higher studies at IIT, which in this case stands for the Illinois Institute of Technology, Chicago.
Like innumerable Indian Americans, success was his for the taking.
Today, he and his son Vikram (who married Miss Earth India 2007 Pooja Chitgopekar in New Zealand's biggest wedding, with the baraat arriving in helicopters), run AVG Electronics, an electronics manufacturing firm that does business all over the world.
Apparently, Trump -- incorrectly -- introduces Kumar as the richest Indian in America.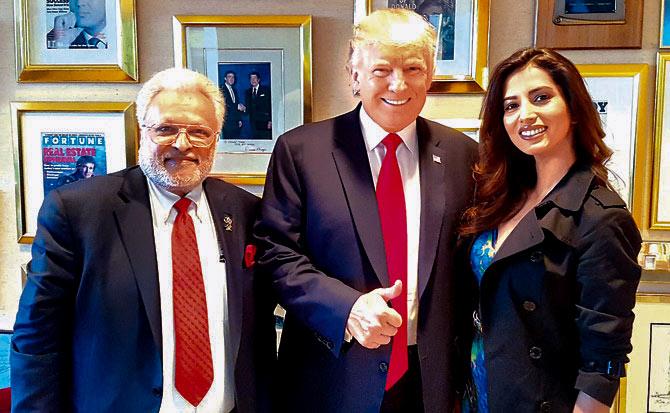 Kumar, who invariably sports a diamond om on his lapel and has a signature Punjab-meets-Midwest twang, first attracted attention in the US as the "Punjabi tycoon" who was a huge supporter of then Gujarat chief minister Narendra Modi in the US.
He worked to strengthen Modi's relationships with American Congressmen, including prominent Republican Newt Gingrich.
He also accompanied three American lawmakers, Aaron Schock, Cathy McMorris Rodgers and Cynthia Lummis, to Gujarat in 2013 to meet Modi and ask him to visit America (though the US was not offering Modi a visa at the time) -- a trip that stirred up controversy over the question of who paid for it.
Speaking now about Modi, after the Bharatiya Janata Party's March assembly election wins, Kumar says, "Indians seem to have a great deal of faith and trust in Modi even halfway through his prime ministership, which is good."
"There is no question that Modi means well," he adds. "He is a determined guy. He's an astute politician. He really, really wants to get rid of corruption and bureaucracy in the Indian system."
Esteem for Trump quite logically followed.
Kumar openly praised Trump's plans to profile Muslims.
Not surprising considering he had earlier endorsed Gingrich's stance on more scrutiny of Muslim Americans. Gingrich had told The Hill newspaper, 'Mosques should be monitored completely; vetting should be taking place… I am totally for profiling. If you need to profile, what is the fuss?'
In Trump, Kumar discovered an American Modi, who he told the Economic Times would bring 'Ram Rajya' to America.
That admiration has since grown manifold, with Kumar being easily the biggest Indian-origin champion of Trump, frequently sending out his views on WhatsApp.
"These two think alike! We call... many members of Congress and (Congressman) Pete Sessions, the chairman of the House Rules Committee, called Modi the Ronald Reagan of India. Here we have, on the other hand, President Trump, who is a Reagan on steroids," he says.
Along the way, Kumar collected plenty of laurels as a doer for his party.
He cut his teeth canvassing for funds and running a campaign for Gingrich in Iowa. But it was his work to raise Trump's profile among Indian Americans that earned him fame, especially for getting an American Presidential candidate to spend nearly 30 minutes at a Bollywood style desi rally just days before the Election.
As chairman of the Indian Advisory Board for the Trump Campaign, Kumar mobilised considerable support through ads and direct mails.
In Florida, he had Republican Hindu Coalition supporters stick Trump signs on their lawns.
In a take, that deliberately mimicked the most popular slogan of Modi's prime ministerial campaign, Kumar also crafted the 'Ab ki baar Trump sarkar' campaign where Trump -- after 15 attempts to get it right -- declares his love for India and Indians in Hindi. Naturally, it was a runaway hit.
It is said that Kumar contributed $1.5 million to Trump's campaign; although he told the Economic Times that he and his family contributed $4.2 million.
In India, he appeared on television with Arnab Goswami last August to win approval for Trump.
"Prior to the debate, in the poll conducted by Times Now, Trump's approval was only in the 20s. Approval for Hillary was in the 60s," he claims. "After an hour of discussing policies and debating those, the numbers reached to 69 percent in favour of Trump. And 22 in favour of Hillary."
"There is an information vacuum," Kumar adds. "When Indians, in general, get to know what the policies of various different leaders in the US are, then they know when Trump says the US and India will be best friends, he means it."
So, there isn't any doubt that Trump would be good for India?
"Of course, not just good for India!" he says. "That will be an understatement. He will be best for India. There is no better ally for the US than India in the region."
One of the reasons, he cites, is increase in trade between the US and India is so beneficial for both economies.
"It will create a million jobs in the US -- very much sought-after, needed jobs in the Rust Belt (the Great Lakes region that was once a highly industrial area), which supported Donald heavily," he elaborates.
"And (it will) create real good manufacturing jobs in India, which have been somewhat elusive, despite very serious attempts by Prime Minister Modi to have his Make in India programme come to a real (fruition)," he adds.
"When 1 million jobs are created in the first term of President Trump, 7 million jobs will be created in India... This is a great alliance."
The India-US relationship was quite strong and going places under President Barack Obama, who made two trips to India, and was the chief guest at the Republic Day Parade in 2015, a first by an American president.
Of course, Kumar doesn't agree: "The previous president was not so open to increasing trade. That's geo-politics. They were not open to removing legislative barriers, even though the Republican-controlled Congress was in favour of removing those legislative barriers."
"The trade between the two countries -- the US and India -- would increase dramatically (under Trump)," he adds.
"If it is sitting at $100 billion a year, it could go to $300 billion a year in the first four-year term... It will take a little bit of time to get over the inertia, so it could be definitely put on an exponential growth [path] and be on a trajectory to hit a trillion dollars at the end of the second term."
Kumar is quite sure that Trump is here to stay.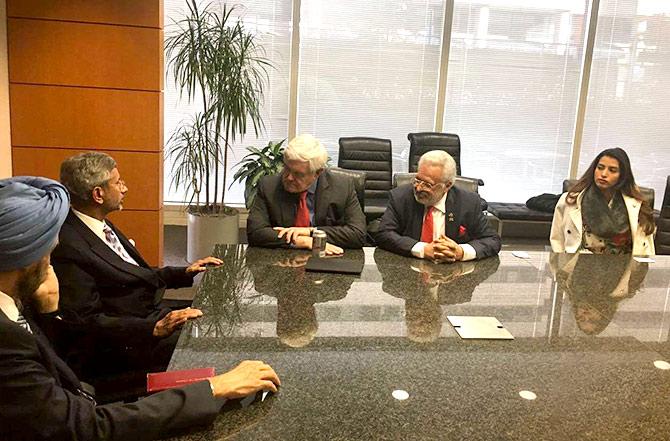 Is the India-America relationship already picking up, with Trump more than 100 days in office?
"He's doing everything he promised during the election campaign," Kumar says. "He's reached out, way before any other world leaders. And see the amount of conversations that are taking place in the defence sector. Those are not open to public discussion. Stuff is just taking place."
But the H-1B visa issue has surely caused a setback, after Trump signed the Buy American, Hire American executive order.
"Someone showed me a clarification which the US ICE (Immigration and Customs Enforcement) came up with," Kumar says.
"There is no rule getting changed on any visa policy for one year... Trump has way more important issues to cover in the first year of his presidency. Only enforcement of the current laws is what will happen on the visa side. All these visa issues are the jurisdiction of Congress, not that much in the hands of the executive branch.
"I don't think it is really a priority for Congress to take up these visas," he adds, "even though one of the most senior members of our party, Senator (Orrin) Hatch of Utah, has introduced bills that actually double the H-1B visas, and he is a specialist on STEM."
When Kumar last spoke spoke to Rediff.com in November 2016, he was giddy with the excitement of Trump's win and celebrating with Republicans in a Manhattan hotel.
He went on to attend some 11 inauguration events in Washington.
He was appointed to Trump's transition committee on finance.
He was tasked with finding 50 gifted Indian Americans for jobs within the administration.
He is also working on a book on the 'Ab Ki Baar Trump Sarkar' campaign written by Republican campaign strategist James Kahrs. The book has a foreword by Gingrich.
Could Kumar, as president of an organisation called the Republican Hindu Coalition, become an American ambassador to India?
That sets Kumar off on a lecture about Hindu identity and how it took Swami Vivekananda's speech in Chicago in 1893 to re-assert it.
"I don't know what a left or right group is! We are representing the 4.2 million Hindu Americans in the country to have a strong voice that could be heard from a unified platform."
Isn't the RHC an orthodox Hindu voice?
A mildly irritated Kumar counters: "It is a regular Hindu voice. No different from the Republican Jewish Coalition. In fact, the whole idea of the RHC came from the Republican Jewish Coalition, who wanted to have a baby brother."
"Nobody considers the RJC to be orthodox. So, why would the RHC be considered orthodox?
"This question needs to be studied by a social scientist... The reason this question comes up is because Hindus have been slaves for thousands of years and that mentality never goes away."
"They are afraid. It is beaten into their blood to be harbouring such feelings -- to not to come out and be proud Hindus.
"I am a proud Hindu," he adds with a certain delight, "I love the fact that President Trump says, 'We love Hindus'. Or when he says 'Hindus have made a dramatic' -- or some word he used -- 'significant contribution to world civilisation and American culture'."
"I feel good that we are getting recognised. That's not orthodox. We are just being proud of who we are."