'The events of 2020 have actually put our relationship under exceptional stress.'
What External Affairs Minister Dr Subrahmanyam Jaishankar told the All India Conference of China Studies on Thursday, January 28, 2021.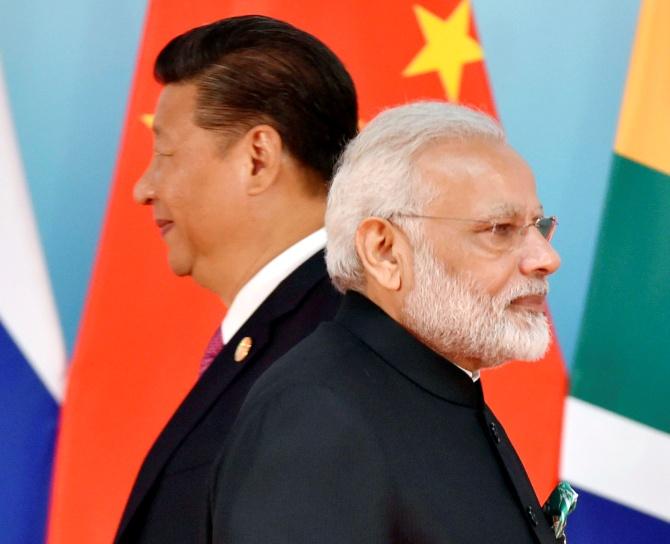 Over the course of these three days, I gather that you will be discussing China studies from different perspectives.
This will include developments within China, matters pertaining to India-China relations, China's ties with the rest of the world, and our own understanding of that society.
These deliberations will be academic in large part but policy-oriented in some respects, perhaps sometimes both at the same time.
There is no question that we need to invest more deeply in the study of China.
It's salience in the global order is self-evident; and recent decades if anything have only heightened that prominence.
That it is a proximate neighbour of India only makes stronger studies an even more compelling case.
The two nations of course have some similarities, especially of size and of history.
But they are also a very interesting contrast in many ways, whether you think of it culturally, politically or economically.
Both are in the process of building a modern nation State from a civilisational society and their parallel rise in the contemporary era, albeit at a differential pace and intensity, that is a relatively unique happening in human history.
In short, there is much for all of you to research, to reflect on and to assess in this particular domain.
From a policy perspective, it is naturally to our advantage that there is solid expertise on China in India.
Indeed, this very assumption has led us in the ministry of external affairs to set up a dedicated study centre on China.
But that said, let me also accept that there is something much broader than a strategic requirement.
As both India and China have grown in recent decades, it was inevitable that we would have much more to do with each other.
We have seen that expressed in trade and in finance, in tourism and culture, and indeed, as we are seeing just now, in think-tanks and academia as well.
Exchanges in all domains are obviously facilitated by a more informed understanding of the polity and society with which we are dealing.
But, while policy itself may benefit from a wider pool of expertise and talent, it is equally necessary that the world of China studies also has a sound grasp of policy.
After all, by defining opportunities and challenges clearly, that will not only influence your insights but perhaps even help shape better your own expectations.
All of you are familiar with the modern history of our bilateral ties.
Perhaps not everyone may know every nuance of how they evolved; but I think, generally, people have a sense of the difficulties as well as the development of this relationship.
After the 1962 conflict, we exchanged Ambassadors only in 1976.
The first prime ministerial visit to China after 1954 actually happened only in 1988.
And indeed, the re-building of our ties was actually a very painstaking and arduous endeavour.
This, if you think about it, is something of a paradox, because, do remember, that India was among the early nations to actually recognise the People's Republic of China.
But, you can see is that the quality of our ties in many ways was impacted, both by the border conflict and the lost decades thereafter.
So, in many ways we had orchestrate a sense of recovery thereafter.
There is also a strategic explanation to this, given how close China was -- in contrast to India -- to the West in this period.
Nevertheless, for the last three decades, interactions and exchanges grew steadily in many areas.
China became one of our largest trading partners, a very significant source of investment, even of technology, a participant in projects and infrastructure building and a very substantial destination for tourism and education.
As for the border areas, a complex but practical set of understandings and agreements focused on their management even as negotiations were conducted on the boundary dispute.
The advancement of ties in this period was clearly predicated on ensuring that peace and tranquillity was not disturbed and that the Line of Actual Control was both observed and respected by both sides.
For this reason, it was explicitly agreed that the two countries would refrain from massing troops on their common border.
Not just that, there were subsequently detailed understandings on handling situations of friction, if they were to arise, and I think, there is nobody better than Ambassdor Kantha to talk on this matter.
In the years that passed, we obviously did not see significant progress on arriving at a common understanding of the alignment of the LAC in the India-China border areas.
But, at the same time, there was also increasing construction of border infrastructure, especially on the Chinese side.
Since 2014, there may have been more efforts by India to reduce this very considerable gap, including greater budget commitments and a better road building record.
Nevertheless, the infrastructure differential remains significant and, as we saw last year, consequential.
For all the differences and disagreements that we may have had on the boundary, the central fact was that border areas still remained fundamentally peaceful.
The last loss of life before 2020 was, in fact, as far back as 1975.
That is why the events in Eastern Ladakh last year have so profoundly disturbed the relationship.
Because they not only signalled a disregard for commitments about minimising troop levels, but also showed a willingness to breach peace and tranquillity.
Especially to an audience like yours that is so focussed on China, I don't really have to remind you what impact this has had on both public and political opinion in our country.
Significantly, to date, we have yet to receive a credible explanation for the change in China's stance or reasons for massing of troops in the border areas.
It is a different matter that our own forces have responded appropriately and held their own in very challenging circumstances.
The issue before us is what the Chinese posture signals, how it evolves, and what implications it may have for the future of our ties.
Even before 2020, the India-China relationship witnessed decisions and events that reflected the duality of cooperation and competition.
We saw trade grow dramatically, though it's one-sided nature made it increasingly controversial.
In sectors like power and telecom, Chinese companies obtained access to the Indian market.
The number of Indian students in China grew, as indeed did Indian tourists who visited there.
In the global arena, we made common cause on some developmental and economic issues.
Our common membership of plurilateral groups was also a meeting point.
Yet, when it came to interests and aspirations, some of the divergences were also apparent.
You may recall the practice of stapled-visas; or the reluctance to deal with some of our military commands.
Then there was China's opposition to India's membership of the Nuclear Suppliers Group and to a permanent seat in the UN Security Council.
When it came to trade, promises of market access did not match delivery.
The blocking of UN listing of Pakistani terrorists involved in attacks on India had its own resonance.
And of course, the violation of Indian sovereignty by the China-Pakistan Economic Corridor.
Even the border areas saw frictions on some occasions.
As the cumulative impact of these developments began to be felt, the two nations agreed at Astana in 2017 not to allow differences to become disputes.
At the same time, they also endeavoured to enhance the factors of stability in the relationship.
Subsequent Summits were largely in that direction and infact affirmed that very consensus.
But far from mitigating differences, the events of 2020 have actually put our relationship under exceptional stress.
Given the gravity of the matter, it is natural that those who have studied China will be concerned where our relationship is heading.
And I really don't have a definitive answer to offer at this point in time.
Whether it is our immediate concerns or more distant prospects, the fact is that the development of our ties can only be based on mutuality.
Indeed, the three mutuals -- mutual respect, mutual sensitivity and mutual interests -- are its determining factors.
Any expectation that they can be brushed aside, and that life can carry on undisturbed despite the situation at the border, that is simply not realistic.
There are discussions underway through various mechanisms on disengagement at the border areas.
But if ties are to steady and progress, policies must take into account the learnings of the last three decades.
Experience of the past taught us the importance of stabilising our relationship even while adjusting to changes.
From that, we can seek proper guidance that will be to the benefit of both nations.
These can be summed up by eight broad propositions.
First and foremost, agreements already reached must be adhered to in their entirety, both in letter and spirit.
Second, where the handling of the border areas are concerned, the LAC must be strictly observed and respected; any attempt to unilaterally change the status quo is completely unacceptable.
Third, peace and tranquillity in the border areas is the basis for development of relations in other domains.
If they are disturbed, so inevitably will the rest of the relationship.
This is quite apart from the issue of progress in the boundary negotiations.
Fourth, while both nations are committed to a multi-polar world, there should be a recognition that a multi-polar Asia is one of its essential constituents.
Fifth, obviously each state will have its own interests, concerns and priorities; but sensitivity to them cannot be one-sided.
At the end of the day, relationships between major states are reciprocal in nature.
Sixth, as rising powers, each will have their own set of aspirations and their pursuit too cannot be ignored.
Seventh, there will always be divergences and differences but their management is essential to our ties.
And eighth, civilisational states like India and China must always take the long view.
It has often been said that the ability of India and China to work together will determine the Asian century.
At this time, it is equally important to recognise that their difficulties in doing so may well undermine it.
The India-China relationship is today truly at a crossroads.
Choices that are made will have profound repercussions, not just for the two nations, but for the entire world.
Respecting the three mutuals and observing those eight principles that I spoke about will surely help us make the right decisions.
Feature Presentation: Ashish Narsale/Rediff.com