Onkar Singh, a valuable member of the Rediff.com team over the years, breathed his last on January 13.
Syed Firdaus Ashraf, who knew him intimately, remembers the ultimate newsman.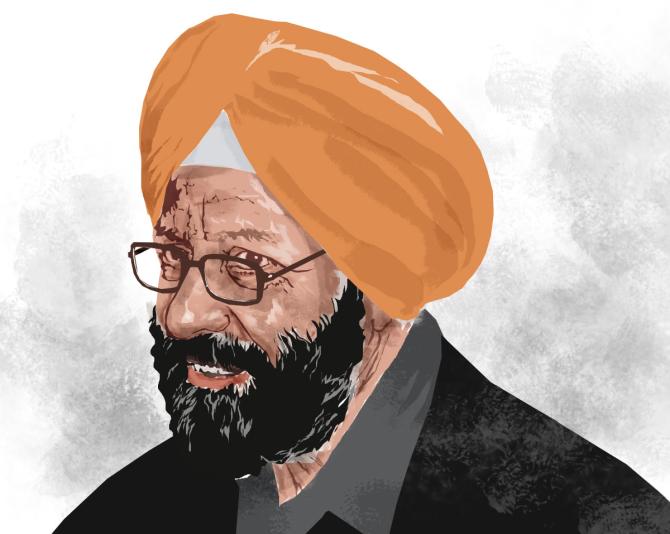 In 2006, when I traveled to Cuba as part of the media delegation accompanying then prime minister Dr Manmohan Singh, I encountered television newsanchor Bhupendra Chaubey in Havana at breakfast.
When he discovered I was from Rediff.com, he asked, "Who is this Superman Onkar Singh from Rediff?"
"He is seen everywhere, be it the sports beat Onkar Singh is there; be it the BJP office Onkar Singh is there; be it the CBI office Onkar Singh is there."
"And when you go to the Press Club at night, Onkar Singh is there too," Chaubey said. "How does he manage this?"
When I met Onkar next, I told him about this conversation. In his typical style, he said, "em>Oye chod, kyon le raha hai? (let it be, why are you taking my case?)"
He then went on to crack a joke -- again so typical Onkar's way of entertaining himself and his friends.
And, of course, like all Delhi journos, gossip, gossip and gossip. He was the king of gossip -- sometimes irritatingly so for those of us not from the national capital.
But what he was, was a newsman to the core. Not for him the heavy-duty analyses, or rather the why of news. He was only concerned about the what, when and how of news.
His mantra was to deliver news.
Years went by, but the enthusiasm for delivering news never died in him. It is a lesson that Onkar taught me: Never let your passion for news die so long as you are in journalism.
Another lesson was about letting go of ego.
Onkar never let his seniority come in the way and start thinking that some news was below his stature to cover. If there was news it had to be covered was his mantra, regardless of whether it was politics, crime, sports, entertainment.
In 1996, when I was transferred to Delhi from Mumbai, in the early days of Rediff On the Net (as Rediff.com was then called), Onkar was the most senior and experienced reporter at the Delhi bureau.
His name was an asset to the company, and wherever I went I would give Onkar's name and the editor's name while introducing the Web site to politicians.
Onkar and the editor had worked together at the now defunct The Illustrated Weekly of India.
"Yeh Rediff kya hai?" politicians would ask me those days, and laugh, "Computer pe news? Hahaha."
"Iss desh mein logon ko khaney ko nahi hai aur aap log computer par news padhney boltey ho. Kaun padhega, bataiyen?"
With one notable exception: L K Advani.
Onkar was very close to Advani and his secretary Deepak Chopra who understood the importance of the Internet.
Which was how Advani became the first politician in the world to participate in an online chat -- conducted by Rediff On The Net on July 13, 1996.
Onkar could not drive a two-wheeler or a four-wheeler and in the pre-metro days of Delhi would depend on public transport -- which was pathetic.
But, to my surprise, he always arrived on time.
Be it rain, cold or Delhi's heat, Onkar was always on the go -- without any ego.
His only concern was to break the news.
The one thing that bothered him most while reporting was the Kashmir issue.
He was a hardcore nationalist and often used to tell me that the only solution for the Kashmir problem was to send the Hurriyat leaders on a one-way ticket to Pakistan and not allow them to come back.
However, this never crept into his reporting on Kashmir. He was accurate with his facts.
Another thing I learnt from Onkar was to sit patiently with your source. He used to spend hours with them and discuss worldly matters -- but never discuss the story for which he had gone to them.
It was frustrating, but then, that is what Onkar's style of journalism was all about.
Be patient in getting the correct information and making your source part with the news, he told me.
On a beat like the CBI it is very difficult to get news, so one has to be patient and wait, only then will you get a story.
After a year in Delhi I returned to Mumbai but kept in touch with Onkar regularly.
He called and spoke about personal matters.
One day he called to say he had bought a car.
He called to say his daughter had completed her law studies.
Another time he called to tell me his daughter was getting married.
After his retirement from Rediff.com, he would call very often -- and guess for what? Jokes and gossip.
Things changed in the last five years, and Onkar became very spiritual. He even changed his caller tune to a religious one and spoke more about Guru Nanak and spiritualism.
He told me he had started visiting Sikh religious places.
After that there was no gossip, no jokes, only Onkar's sombre voice on the phone discussing health, religion and spiritual escape.
This was not the Superman Onkar Singh of News that I knew.
But I guess all human beings go through different phases in life and Onkar had found spiritualism in his last phase of life, which was far away from the world of news.
Rest in Peace, Superman of News.
---
Chief Correspondent Onkar Singh, whose reportage on the lives of Balbir and Sukhpal Singh Sodhi, Sikh brothers killed 10 months apart, one in a hate crime after 9/11 and the other by an assailant in his San Francisco taxi cab, which was published in India Abroad (then owned by Rediff.com) won the prestigious South Asian Journalists Association 2003 award for Outstanding Story on South Asians in North America.
This is the award-winning feature: A Different Homecoming
Please click on the related links below and on the left on the page to read some of Onkar Singh's reportage over the years for Rediff.com.