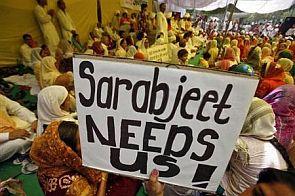 Senior officials in the Research and Analysis Wing and the Intelligence Bureau are convinced that the attack on Sarabjit Singh, the Indian death row prisoner in Pakistan, was planned by Pakistan's Inter Services Intelligence.

"I have reasons to believe that the attack was engineered was at the behest of the ISI and this view is shared both by RAW and the IB," said a former high ranking IB official who looked after the security at the Prime Minister's Office and Rashtrapati Bhavan in an exclusive conversation with rediff.com.

The official, however, refused to be identified.

Sarabjit sustained several injuries, including a skull fracture, when six prisoners attacked him in Kot Lakhpat Jail on Friday and doctors said his chances of survival are slim.
He was hit on the head with bricks and his neck and torso cut with sharp weapons. He is in a deep coma and doctors said on Sunday and there had been no improvement in his condition.
Sarabjit was convicted for alleged involvement in a string of bomb attacks in Punjab province that killed 14 people in 1990.
Former Director General of Punjab KPS Gill said, "Why was Sarabjit not kept in a secure environment? ISI agents themselves supervised the attack on Sarabjit. Selected officers of ISI could have themselves participated in the sordid attack. There is a strong reason to suspect ISI's involvement," he said.

According to the jail manual, convicts are screened and it is made sure that they do not have weapons with them.

"Then how come convicts in his cell got knives and rods? This could not have been possible without a green signal from the ISI," a RAW officer said on the phone.