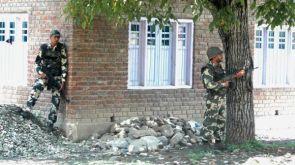 In an exclusive telephonic interview with rediff.com from Srinagar, People's Democratic Party chief Mehbooba Mufti accused the governments of Pakistan and India for the present situation in Jammu and Kashmir.
"I sometimes wonder if both Pakistan and India are using Jammu and Kashmir as a lab to solve their problems rather then attending to our problems. When Nawaz Sharif took over as prime minister he promised a lot. He is now battling with electricity shortage, militants and threats from Afghan Talibans. India is using Kashmir to hide growing corruption both at the state and national level. Are we being used as fodder by both sides?" she asked.

She lashed out at J&K Chief Minister Omar Abdullah for failing to discharge his duty in maintaining law and order in Kishtwar district. "Why did the state government not act when it had prior knowledge that communal tensions was building up before Eid? The minister of state for home who represents the area had to quit for not taking prompt action," she said.

Mufti chose not to answer a question on Union Finance Minister P Chidambaram saying the government would not allow a repeat of the 1990 situation when the Kashmiri Pandits were forced to leave the valley.

"Omar Abdullah lost his credibility the day one of his workers died after he met the chief minister. The question was whether he died inside the chief minister's residence or outside. No action has been taken against police officials who had been accused in the death of 120 youngsters. None of them were militants. Now I believe something is being done because the matter has rocked the Parliament. But it has further eroded his credibility," the PDP chief said.