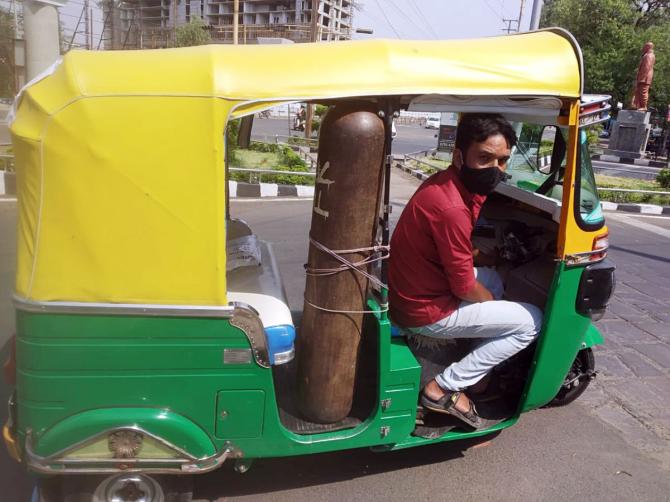 Since the last one month, Javed Khan no longer operates an autorickshaw.
Instead, he drives an auto ambulance.
Javed is one of thousands of unsung heroes who have stepped forward to help in India's gravest moment of crisis.
He is not rich; he is not powerful; he didn't expect anything in return -- not fame, not gratitude.
"I read in the papers that people, particularly corona patients, were having difficulties reaching the hospital. Ambulances were overcharging them and poor people could not afford it," the 34-year-old resident of Bhopal tells A Ganesh Nadar/Rediff.com.
As someone who knows the challenge of counting every paisa, and not having money when he needed it, Javed felt he had to help.
He spoke to his wife, who wholeheartedly supported him.
It was not easy decision for the Khans. They have three children --n two girls and a boy.
Besides, they also have a loan on the auto, for which they are paying off in instalments every month.
But the auto ambulance, the Khans believed, was a bigger need than their problems.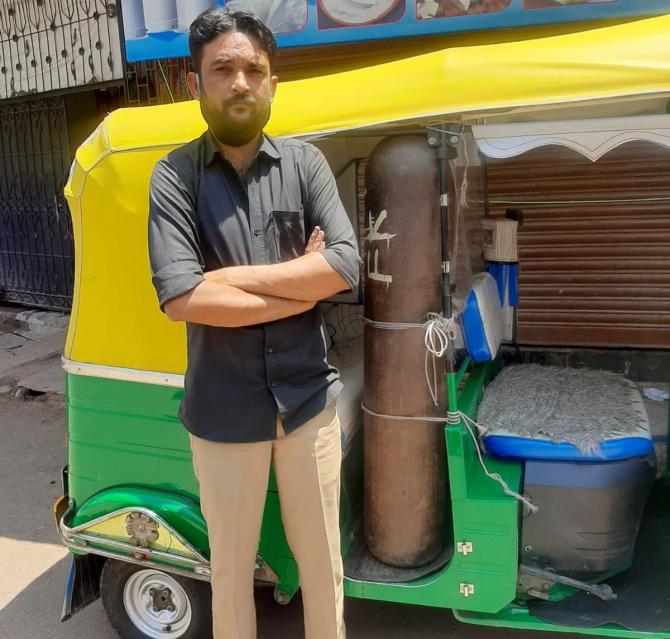 Javed decided he would not pay the instalments on his loan for a few months. To fund the auto ambulance, he also sold a piece of his wife's jewellery.
Javed also realised that to get the patients safely to the hospital, they might need oxygen support. A friend had an oxygen cylinder in his workshop. Javed had it installed in his auto; it cost him Rs 5,000.
Till last week, he says, he has driven 35 COVID-positive patients to the hospital in Bhopal. He does not charge them for his service.
Javed, who has been driving an auto for the last 18 years, has only studied till Class 8.
"My father was also an auto driver. He had an accident and, since then, I have been driving an auto."
How does he manage the oxygen apparatus?
"I tell the patient to call his doctor. The patient tells the doctor his oxygen level. The doctor tells us what level of oxygen support the patient needs. The machine has numbers on it. I keep it on the number the doctor says," he explains matter-of-factly.
Once they reach the hospital -- irrespective of how much time it takes the patient to get a bed -- they wait in the auto with the oxygen supply on.
Depending on usage, the oxygen in the cylinder lasts for anywhere between a day to three days.
He pays Rs 550 for a refill and has had no problem sourcing oxygen so far.
Watch! Javed Khan shares his story
Since he started the ambulance service, he has stopped ferrying regular passengers. "Now, it is an ambulance for corona patients only," he says.
Doesn't he worry about catching the virus?
To protect himself, he says, he has created a plastic partition in his auto. "I am in a separate space and the patient is in a separate space."
And he ensures that he always wears a mask. As an added precaution, he requests the family members to set the oxygen mechanism as per the doctor's instructions.
While the patient travels in his auto, the family follows in another vehicle.
"In the last 25 days, I have taken 35 patients to the hospital," he says.
Javed does not involve himself in the hospital admission process. "The patient or their family usually call me after they book their bed in a hospital," he says.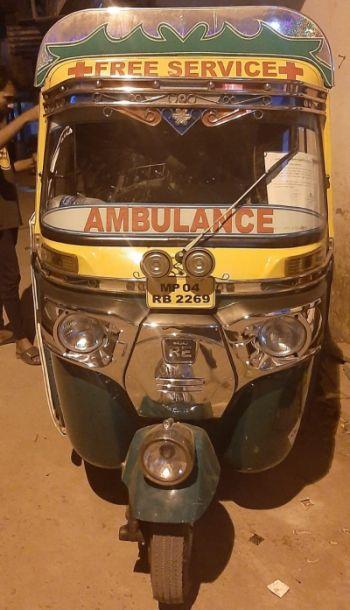 Earlier, Javed used to earn Rs 700-Rs 800 a day. "You have to deduct 20 per cent for expenses since my auto runs on CNG," he says.
Now, apart from his initial investment, his service runs entirely on donations from the public.
"Lots of people have helped me as I don't charge anything from the patients," he says.
Some people have helped him with cash and others have given him rations for his household. "They have helped me with groceries," he says.
Has he inspired anyone else? "Not in Bhopal, but I have heard that one person is doing this in Delhi now."
He says he will continue with his auto ambulance for as long as it is needed.
How many hours a day does he work? "24/7," he says. "Whenever anyone calls, I go immediately. People have my number."
Those who need Javed's help in Bhopal can contact him on 9179178728 and 7999909494.
Feature Presentation: Aslam Hunani/Rediff.com