Shailajanand Mishra lists The Hottest Videos of the Week! Take a look.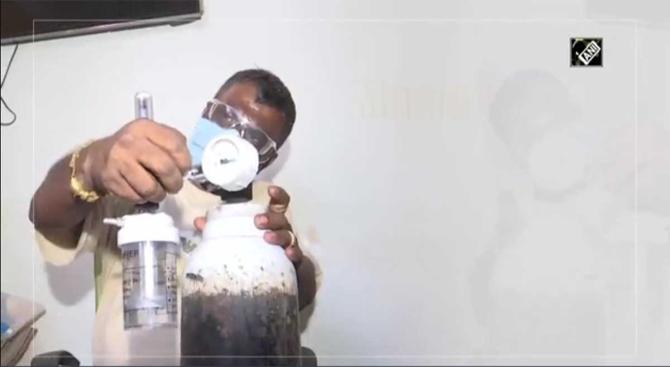 Every week is full of dismal news these days. So, this week, we bring you inspiring COVID heroes.
These videos are chosen by you, through your likes.
So if you'd like to see your favourite video on our weekly round-up, make sure you like them on iShare.
---
Auto driver turns COVID hero
Date: April 30
Location: Bhopal
In these bleak COVID times, several people have turned saviours in the common man's fight against the pandemic.
Last week, it was Ravi, an auto driver from Ranchi.
This week, we celebrate Javed Khan from Bhopal, who is using his autorickshaw to drive COVID patients to hospitals.
He has even installed an oxygen cylinder in his auto. To fund the cylinder, he sold his wife's locket for Rs 5,000.
"I saw videos and images on social media where people were struggling to find ambulances and were forced to carry their family members to hospitals. That's why I started this."
Javed provides this service free of cost and has helped many people in the last 15-20 days.
People seeking his help in Bhopal can contact him on 7999909494. Javed, we salute you!
---
COVID crisis: Mumbai man donates wife's spare oxygen cylinder
Date: May 1
Location: Mumbai
Even as we hear horror stories of people hoarding oxygen and making fake drugs and vaccines, there are heroes like Pascal Saldhana, a mandap decorator, who renew our faith in humanity.
Pascal's wife is on dialysis for the last five years as both her kidneys have failed. So they have an oxygen cylinder, and a spare, at home.
A few weeks ago, he received a anguished SOS call from a school principal, who requested the spare cylinder for her ailing husband.
Pascal's wife insisted on giving the cylinder and wanted her husband to help more people.
The Saldhanas sold their jewellery for Rs 80,000 and Pascal has been using this amount to provide the needy with free oxygen,
Speaking to ANI, Pascal said, "I have been doing this since April 18. Sometimes, people also give me money to help others.
"My wife is on dialysis and oxygen support so we always have a spare cylinder. One day, a school principal called me up for oxygen for her husband. I gave the spare one to her after my wife insisted. On my wife's request, I sold her jewellery, got Rs 80,000 and started this."
---
Ranbir, Alia visit Neetu on Chintu's death anniversary
Date: May 1
Location: Mumbai
Alia Bhatt and Ranbir Kapoor visited Ranbir's mother Neetu and took part in a havan on his late father Rishi Kapoor's first death anniversary.
---
Father dead, family hospitalised, Pune doctor still on duty
Date: May 3
Location: Pune
It takes a special kind of human being, with an unusual level of resilience, to do something like this.
As we all know, healthcare workers across the country are working under tremendous pressure amid the second wave of COVID-19.
Conditions are so desperate that a doctor in Pune continues to look after patients despite losing his father to the pandemic, while his mother and brother remain hospitalised.
Explaining his 'difficult situation', Dr Mukund Penurkar, director of Pune's Sanjeevan Hospital, said they cannot afford to take a break due to the heavy workload.
---
Spotted: Shamita Shetty, Fatima Shaikh, Sophie Choudry
Date: May 4
Location: Mumbai
Bollywood actor Shamita Shetty seen outside a clinic.
Paps also caught Fatima Sana Shaikh at a pet clinic.
---
Woman misbehaves with cops, lashes out at Modi...
Date: May 6
Location: Patna
A woman in Patna misbehaved with police personnel who were on duty to implement COVID-19 lockdown restrictions.
She claimed that she could not get conveyance to return to her hometown.
---
Feature Presentation: Ashish Narsale/Rediff.com