'As an actor he was surrounded in stardom, but as a politician he is humble.'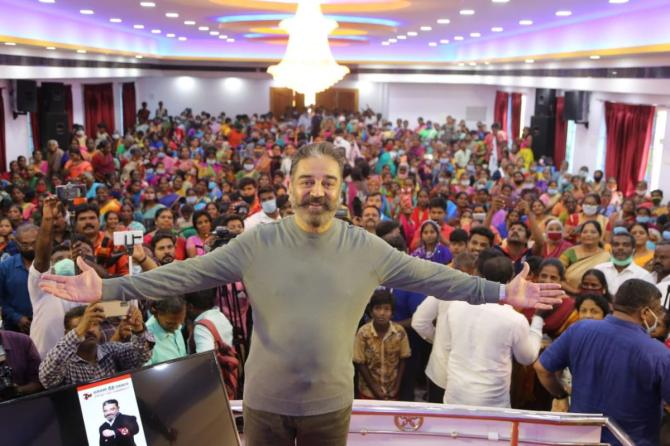 "Kamal Hassan, the actor, is totally different from Kamal Hassan, the politician," says Makkal Needhi Maiam State Secretary for Women and Children Mookambika Rathinam.
"As an actor he was surrounded in stardom, but as a politician he is humble and down to earth which makes it easier for us to work with him."
Rathinam is amongst the core members of the MNP party founded by Kamal Hassan in 2018 after a formidable film career.
Kamal Hassan has been awarded the National Award for acting four times. He is a recipient of the Padma Shri and Padma Bhushan.
An immensely experienced movie star with a legendary status, Kamal Hassan, however, is a rookie in electoral politics. His party contested 37 seats in the 2019 general election and did not win any.
Though he did not contest the Lok Sabha election, he is taking the plunge in the Tamil Nadu assembly election by contesting from Coimbatore South, away from his hometown Chennai.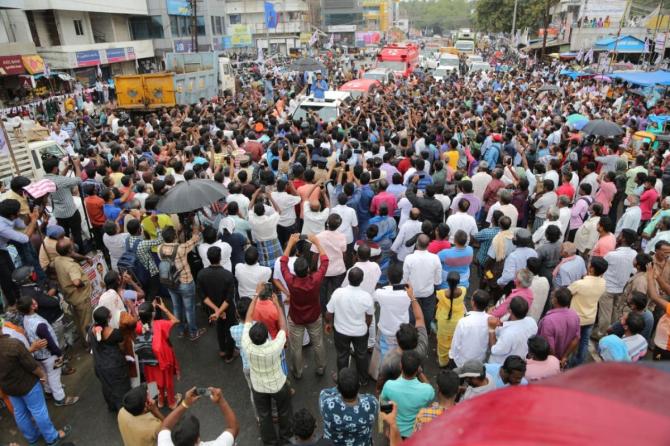 MNM vice-president Dr R Mahendran stood third in the Lok Sabha election from Coimbatore. This time around, Dr Mahendran, a vanilla farmer and medical doctor, is contesting for the Singanallur assembly seat.
The Coimbatore parliamentary seat was won by P Natarajan from the CPI-M who defeated the BJP's C P Radhakrishnan.
Coimbatore and Madurai are the two seats represented by the Left from Tamil Nadu in the Lok Sabha.
"Coimbatore is very close to his heart," says Rathinam, who contested the Pollachi Lok Sabha election which lies adjacent to Coimbatore.
"He has lived a life of a movie icon, but has been a keen observer of people's lives," she tells Archana Masih/Rediff.com. "For years he was watching and hoping that the government will improve their lives at some point, but along the way he lost that hope."
"He saw no party was doing that and decided to take the plunge himself," says Rathinam.
"He is well-read, honest, trustworthy and has a vision for Tamil Nadu compared to other leaders," she adds.
"He had star value, but never succumbed to the trappings of stardom which is why it is not difficult for him to understand the needs of people and be one among them," asserts Rathinam.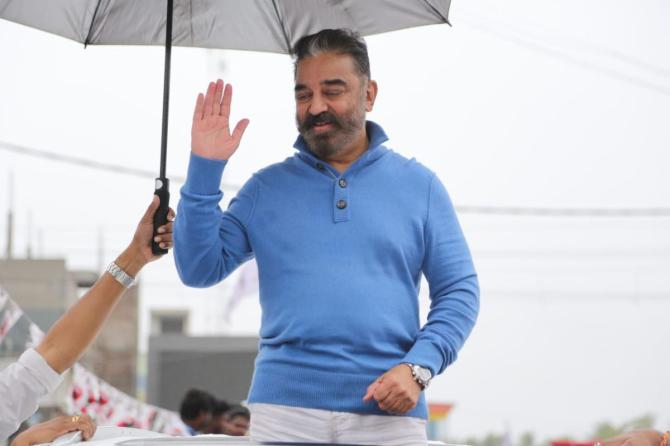 Kamal Hassan is pitted against the BJP's Mahila Morcha President Vanathi Srinivasan and the Congress party's Mayura Jayakumar.
The actor-politician made campaign news by meeting morning walkers, going to the gym, having tea with locals and addressing public meetings in the city.
"He visited a slum in Coimbatore where the stink was severe, but he was meeting and talking to people comfortably. He may have had an acting career, but you can't be acting 24x7 -- he is for real," says Rathinam when asked how an actor who has lived a glamorous life of stardom is able to connect with common folk.
"He has empathy for people," says Rathinam. Referring to Hassan as 'the leader', she has been campaigning in different wards because as the face of the party, he travels to different places to canvass for other MNM candidates.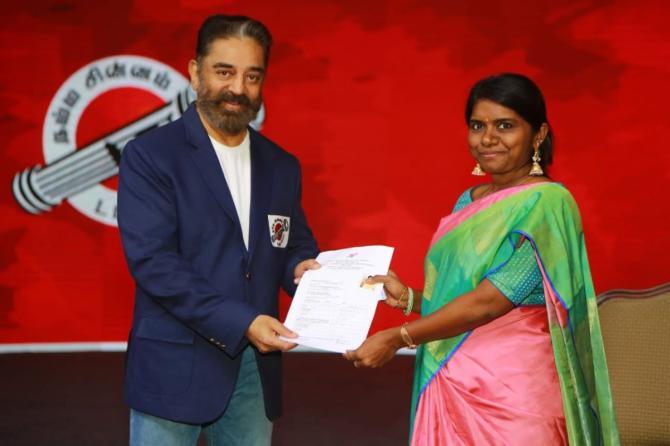 The MNM is contesting 154 of Tamil Nadu's 234 assembly seats. Its alliance partners, the All India Samathuva Makkal Katchi and the Indhiya Jananayaga Katchi, are contesting the remaining 40 seats each.
Drawing from her experience over the past three years, Rathinam feels the MNM is like a breath of fresh air compared to the other two Dravidian parties that have ruled Tamil Nadu for decades.
"There is freedom to air views, approachability, inclusiveness and it is women-oriented. We have many women supporters. We have long way to go and have come a long way too," she says.
A state notorious for politicians distributing cash to bribe voters before an election, she feels people have to understand and bring a change. "Our leader tells people that this is not a reward and that they should give votes to the best candidate."
Giving a sense of people's response to Kamal Hassan, the candidate, she says the other day a little girl came up to him and offered him a birthday cake.
A man told him that he had been waiting 50 years to meet him; another woman called out for him from the verandah of her home.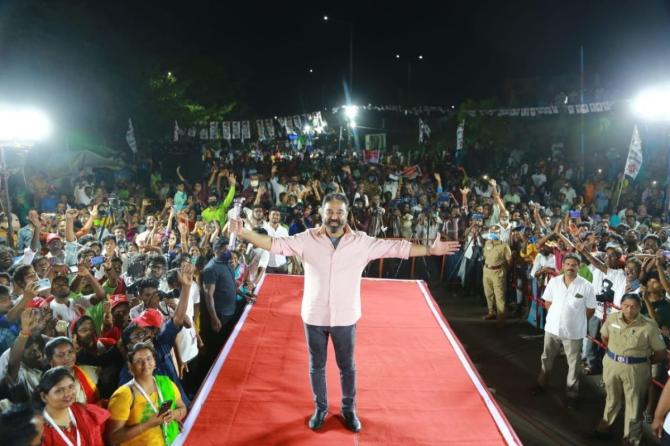 "People idolise him and go gaga, especially in rural areas. He tells them to not to look at him like a movie icon but as a part of them."
"Looking at the people's response, it is as if he has already won the election," she says.
But what if Kamal Hassan loses and the MNM gets zero seats?
"We will try harder," says Rathinam, "But this is not going to happen."
Feature Presentation: Aslam Hunani/Rediff.com