'DMK is taking a wrong image of BJP to the people.'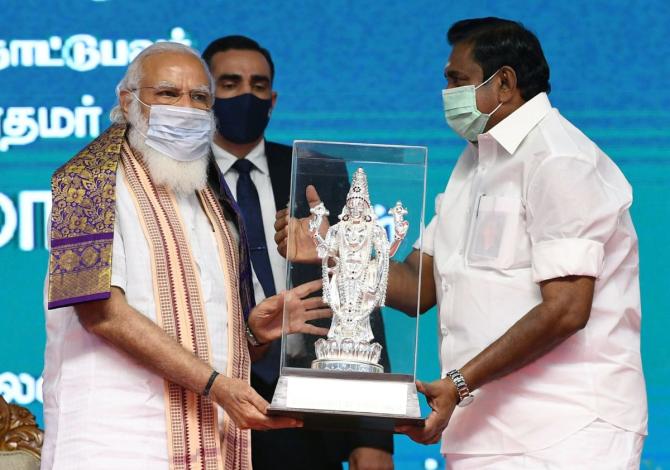 Even given the quicksilver nature of political loyalties at election time, Dr P Saravanan stands out.
The sitting MLA from Thiruparankundram in south Tamil Nadu quit the Dravida Munnetra Kazhagam on being denied an election ticket and joined the Bharatiya Janata Party, which promptly named him its candidate from Madurai North -- leading to protests from BJP old-timers and loyalists.
Saravanan had won from Thiruparankundram in the 2019 bye-election. The constituency has been allotted to the DMK's ally, the Communist Party of India-Marxist, for the April 6 election.
This is not the first time that Saravanan has jumped ship on being denied a ticket. Over five years ago, he quit the Marumalarchi Dravida Munnetra Kazhagam to join the DMK on being denied an election ticket.
Speaking to A Ganesh Nadar/Rediff.com, Saravanan, a medical doctor, said, "I did not get a DMK ticket to contest because of internal politics."
The BJP doesn't have a single MLA in the Tamil Nadu assembly. What made you join such a party?
It has grown a lot now. Every village in Tamil Nadu has members in the BJP. The Narendra Modi government has spent Rs 610,000 crores in Tamil Nadu. The people of Tamil Nadu are now being enlightened about this.
Do you think the people who voted for you as a DMK candidate will vote for you as a BJP candidate?
Definitely they will vote for me. They have known me for 20 years as a doctor and a social worker. I have spent my entire life in Madurai. I am well known to the people here.
What work have you done in your constituency in the last two years?
With my MLA funds I have laid roads, constructed water tanks, have constructed 40 borewells and various other infrastructure works. I have built a water plant in my constituency. I have also supplied water in tankers when people needed it.
I have my own hospital. I am a doctor. In my hospital we have conducted 250 free heart surgeries for the poor. I have also supplied artificial limbs to the disabled without charging them.
I am running free coaching classes for group two and group three exams conducted by the Tamil Nadu Public Service Commission. I have also supplied school students with laptops and mobile phones to study during the pandemic. I have also given marriage assistance to the poor.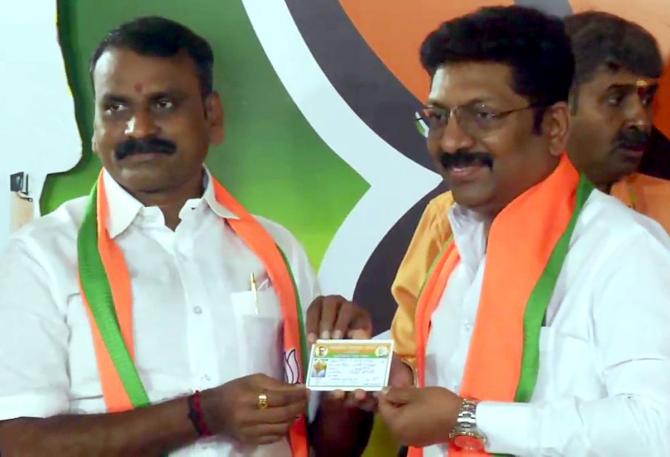 In spite of your exemplary work, why did you not get a ticket to contest?
I did not get a ticket to contest because of internal politics in the party.
While you were in the DMK you had to be critical of the ruling AIADMK. How do you expect them to canvass for you now as an ally of the BJP?
I have already met them, they have promised to support me and they will.
What about seniors in the BJP who have been in the party longer than you? They have been protesting your ticket.
They are not objecting. They are happy that they have a strong candidate. We are all working together to establish the BJP in Tamil Nadu. We will work together. We will put up a united front.
You have been in the MDMK and the DMK whose ideology is the opposite of the BJP's, how are you going to reconcile this?
The common people should not suffer. I am a doctor and a social worker. I needed a better platform to serve the people.
The general perception is that the BJP is against minorities. How are you going to overcome this handicap?
The DMK is taking a wrong image to the people for political reasons. The BJP government at the Centre has built homes for Tamils in Sri Lanka. Our fishermen can now fish near Katchathivu, earlier it was difficult. The central government has also supplied boats to our fishermen worth Rs 10,40,000.
Do you think the AIADMK votes are transferable to the BJP?
We have an alliance with them. Their votes are definitely transferable. AIADMK workers are working for me wholeheartedly.
As you have recently defected from the DMK, don't you think they will work doubly hard to defeat you?
Even DMK workers are sympathetic to me. They know I did good work. They know me as a doctor and social worker in Madurai.
The BJP has a pro-Hindi image. Won't this go against you in a language-sensitive state like Tamil Nadu?
Generally English and Tamil are known in Tamil Nadu. Learning Hindi helps you travel to other states of the country. If I go to Delhi I can talk to ordinary people there.