It's boom time for election-bound Gujarat as Prime Minister Narendra Damodardas Modi's government has been announcing project after project before the dates for the assembly election are announced in the state and the Election Commission's Model Code of Conduct kicks in.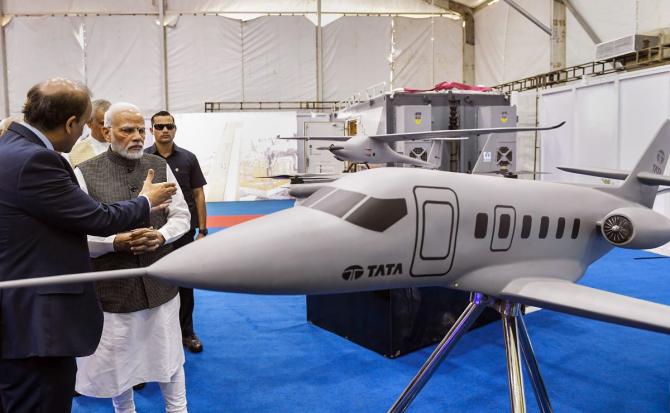 The Election Commission is likely to announce dates for the Gujarat election on November 2 and pre-empting it Modi has announced dozens of projects for the state.
From August till the last week of October, more than two projects a week have been announced in Gujarat.
These include the mega projects of Vedanta-Foxconn (Rs 1.5 lakh crore) and Tata-Airbus (Rs 22,000 crore/Rs 220 billion) which were reportedly snatched away from Maharashtra and sent to Gujarat.
The Bharatiya Janata Party has ruled Gujarat uninterruptedly for nearly 25 years of which 13 years were under then chief minister Modi, from October 2001 to May 2014.
While a defeat for the BJP in Gujarat may seem a long shot, the party and its top brass are aware that if the unthinkable were to happen it will have major ramifications on central politics. Which also explains the 'mission mode' in announcing new projects for the state.
Hemant Shivsaran/Rediff.com lists the number of projects the Modi government has announced since August to woo Gujarat voters.
Date
Project
Details
Cost of Project
August 4, 2022
Various projects of the Shrimad Rajchandra Mission, Dharampur
*The Shrimad Rajchandra Hospital at Dharampur in Valsad is a 250-bed multispecialty hospital with cutting edge medical infrastructure that will provide world-class tertiary medical facilities, especially to the people of the southern Gujarat region.
Rs 200 crores/Rs 2 billion
*The Shrimad Rajchandra Animal Hospital is planned as a 150-bed hospital equipped with top-class facilities and a dedicated team of veterinarians and ancillary staff.
Rs 70 crores/Rs 700 million
*The Shrimad Rajchandra Centre of Excellence for Women will have facilities for recreation, classrooms for self-development sessions, and rest areas for over 700 tribal women and subsequently provide a livelihood to thousands of others.
Rs 40 crores/Rs 400 million
August 27, 2022
Khadi Utsav
*The Utsav was organised at the Sabarmati riverfront in Ahmedabad, with 7,500 women khadi artisans from various districts of Gujarat spinning charkha live at the same time and at the same place.

*Inauguration of new office building for the Gujarat Rajya Khadi Gramodyog Board and a foot over bridge over the Sabarmati river.
August 28, 2022
Smriti Van Memorial, Bhuj district.
*The Smriti Van has been built over 470 acres to celebrate the spirit of resilience after around 13,000 people lost their lives during the January 26, 2001 earthquake which had its epicentre in Bhuj. The memorial carries the names of those who lost their lives during the earthquake.
August 28, 2022
Foundation stone for projects in Bhuj.
*The 357 km Kachchh branch canal of the Sardar Sarovar Project.
*The new automatic milk processing and packing plant of Sarhad Dairy.
*Regional Science Centre, Bhuj.
*Dr Babasaheb Ambedkar Convention Centre at Gandhidham.
*Bhuj 2 substation at Nakhatrana.
*Veer Bal Smarak at Anjar.
*Foundation stone of various projects worth over Rs 1,500 crores (Rs 15 billion), including the Bhuj-Bhimasar road.
Rs 4,400 crore (Rs 44 billion)
August 28, 2022
Two key projects of Suzuki group
* The Suzuki Motor Gujarat Electric Vehicle Battery Manufacturing Facility at Hansalpur, Gujarat, and Maruti Suzuki's upcoming vehicle manufacturing facility in Kharkhoda, Haryana.
* Rs 7,300 crores (Gujarat)
* Rs 11,000 crores (Haryana - Phase 1)
September 13, 2022
MoU of ₹ 1.54 lakh crore signed with Vedanta-Foxconn Group for manufacture of semiconductor and display fab
* Investment of Rs 1.54 lakh crore will create a significant impact to boost economy and jobs
Rs 1.54 lakh crore
September 26, 2022
Bhoomi Pujan of ESIC Hospital in Sanand
*350-bed hospital to benefit about 1.2 million workers and their families from Sanand and surrounding areas as well as villagers in the area.
Rs 500 crore/Rs 5 billion
September 29, 2022
Dedication of various projects in Surat
*Inauguration of Phase-I of road infrastructure works and the main entrance of the Diamond Research and Mercantile (DREAM) City.
*Foundation stone for a Biodiversity Park.
* Inauguration of Khoj Museum.
Rs 3,400 crore/Rs 34 billion
September 29, 2022
Inauguration of projects in Bhavnagar.
*Foundation stone laid for the world's first CNG terminal and brownfield port at Bhavnagar.
*Inauguration of the Regional Science Centre in Bhavnagar.
*Inauguration of Sauni Yojna link 2, 25 MW Palitana Solar PV Project, APPL Container project.
*Foundation stone for projects including Chorvadla Zone water supply project.
Rs 5,200 crore/Rs 52 billion
September 30, 2022
Vande Bharat Express at Gandhinagar station
*Vande Bharat Express between Gandhinagar and Mumbai flagged off.
September 30, 2022
Phase-I of Ahmedabad Metro project.
Inauguration of Ahmedabad Phase-1 metro project.
Rs 12,900 crore/Rs 129 billion
September 30, 2022
Various development projects in Ambaji
*Foundation stone laid for 45,000 houses built under PM Awas Yojana.
*Foundation stone of Taranga Hill-Ambaji-Abu Road new broad gauge line.
*Foundation stone for the development of pilgrimage facilities at Ambaji temple under PRASAD scheme.
*Construction of the runway and associated infrastructure at airforce station, Deesa; Ambaji bypass road.

*Dedication of 62-km long New Palanpur-New Mehasana section of the Western freight dedicated corridor and the 13-km long New Palanpur-New Chatodar section (Palanpur bypass line)
*Dedication of various road projects including the widening of Mitha-Tharad-Deesa Road.
Rs 7,200 crores/Rs 72 billion
October 3, 2022
President lays foundation stone for multiple projects at Deendayal Port, Kandla
*President Droupadi Murmu laid the foundation stone for four important projects of the Deendayal Port Authority in Kandla.
Rs 280 crore/Rs 2.8 billion
October 4, 2022
President launches 'herSTART
*'herStart' is a start-up platform ay Gujarat University for women entrepreneurs.
October 9, 2022
Modhera village, India's first 24x7 solar-powered village
*Inauguration of heritage lighting at Surya Mandir which makes it the first heritage site in India to be powered solely by solar energy.
*Inauguration of the 3D Projection Mapping at the Modhera Sun Temple.
October 9, 2022
Dedication of various projects in Modhera, Mehsana
*Gauge conversion of Sabarmati-Jagudan segment of Ahmedabad-Mehsana gauge conversion project.
*ONGC's Nandasan Geological oil production project.
*Sujalam Sufalam canal from Kherava to Shingoda Lake.
* Dharoi Dam based Vadnagar Kheralu and Dharoi group reform scheme.
*Four laning of a section of Bechraji Modhera-Chanasma state highway.
*Expand a section of Unja-Dasaj Upera Ladol (Bhankhar approach road).
*New building of the regional training centre, Sardar Patel Institute of Public Administration, Mehsana.
* Projection mapping at Sun temple at Modhera.
*Foundation stone laid for multiple projects :
*Four laning of a section of NH-68 from Patan to Gozariy.
*Water treatment plant at Chalasan village of Jotana taluka of Mehsana district.
*New automated milk powder plant and UHT milk carton plant at Dudhsagar Dairy.
*Redevelopment and reconstruction of General Hospital, Mehsana.
*Revamped distribution sector scheme for Mehsana and other districts of North Gujarat.
Rs 3,900 crore/Rs 39 billion
October 10, 2022
Foundation stone laying and dedicating to the nation of multiple projects in Amod, Bharuch, Gujarat
The prime minister laid the foundation stone for *Drug Park at Jambusar.
*Deep Sea pipeline project at Dahej.
*Phase 1 of Ankleshwar airport.
*Multi-level industrial sheds at Ankleshwar and Panoli.
*Four tribal industrial parks which will come up in Valia (Bharuch), Amirgadh (Banaskantha), Chakaliya (Dahod) and Vanar (Chhota Udaipur).
*Agro food park at Mudetha (Banaskantha).
*Sea food park at Kakwadi Danti (Valsad).
*MSME park at Khandivav (Mahisagar).
*Caustic soda plant integrated with a 130 MW cogeneration power plant at Dahej.
*Project to manufacture 100,000+ MT per annum of chloromethanes at Dahej.
*Hydrazine Hydrate plant at Dahej.
*IOCL Dahej-Koyali pipeline project, Bharuch underground drainage and STP work;
*Widening and strengthening of Umlla Asaa Panetha road.
Rs 8,000 crore/Rs 80 billion
Octpber 10, 2022
Phase 1 of Modi Shaikshanik Sankul in Ahmedabad, Gujarat
PM inaugurated the Modi Shaikshanik Sankul in Ahmedabad, an educational complex for needy students in Ahmedabad, Gujarat.
October 10, 2022
PM lays the foundation stone and dedicates to the nation multiple projects in Jamnagar, Gujarat
* Kalavad group augmentation water supply scheme of Kalavad/Jamnagar Taluka * Morbi-Maliya-Jodiya group Augmentation water supply scheme.
* Lalpur Bypass junction flyover bridge.
* Hapa Market Yard railway crossing.
* The refurbishment of the sewerage collection pipeline and pumping station.
Rs 1,450 crore/Rs 14.50 billion
October 11, 2022
Modi laid the foundation stone for various healthcare facilities in Ahmedabad.
* New hostel building in UN Mehta Institute of Cardiology and Research Centre.
* New hospital building of the Institute of Kidney Diseases and Research Centre.
* New building of Gujarat Cancer and Research Institute.
* Foundation stone laid for shelter home to accommodate families of poor patients.
Rs 1,275 crore/Rs 12.75 billion
October 17, 2022
Distribution of PMJAY-MA cards via video conferencing
Modi launches distribution of PMJAY-MA Yojana Ayushman cards in Gujarat.
October 19, 2022
Mission Schools of Excellence at Trimandir, Adalaj
The mission will help strengthen the education infrastructure in Gujarat by setting up new classrooms, smart classrooms, computer labs and overall upgradation of the infrastructure of schools in the state,
Rs 4,260 crores/Rs 42.60 billion
October 19, 2022
Inauguration of DefExpo22
*Modi unveils HTT-40 indigenous trainer aircraft designed by Hindustan Aeronautics Limited.
*Lays foundation stone for Deesa airfield.
October 19, 2022
Modi lays foundation stone for various development projects in Junagadh
*Improvement of coastal highways.
*2 water supply projects
*Construction of a godown complex for storage of agri products.
Rs 3,580 crore (Rs 35.80 billion)
October 19, 2022
Foundation stone laid at Madhavpur
*Modi laid the foundation stone for the development of the Shri Krishan Rukshamani Mandir, Madhavpur, and sewage and water supply projects and for the maintenance dredging at the Porbandar fishery harbour.
October 19, 2022
Foundation stone laid at Gir Somnath
*Modi laid the foundation stone for two projects, including the development of a fishing port at Madhwad.
October 19, 2022
Foundation stone laying and dedication of projects in Rajkot
*Modi dedicated over 1,100 houses constructed under the Light House Project.
*The Morbi-Bulk pipeline project from the Brahmani-2 dam to the Narmada canal pumping station.
*Regional Science Centre
*Flyover bridges and other projects related to road connectivity.
*Foundation stone to add two lanes to the existing four lanes of Rajkot-Gondal-Jetpur section of NH27.
*Foundation stone for GIDC industrial estates worth around Rs 2,950 crore (Rs 29.50 billion) at various locations in Morbi, Rajkot, Botad, Jamnagar and Kutch.
* Foundation stone of the Amul-fed dairy plant at Gadhka.
*Construction of an indoor sports complex in Rajkot.
Rs 5,860 crore/Rs 58.60 billion
October 20, 2022
Launch of Mission LiFE at Statue of Unity
Mission LiFE makes the fight against climate change democratic, in which everyone can contribute within their capacity.
October 20, 2022
Foundation stone laid for multiple development initiatives in Vyara, Tapi
*Improvement of the road from Saputara to the Statue of Unity.
*Water supply projects worth over Rs 300 crore (Rs 3 billion) in Tapi and Narmada districts.
Rs 1,970 crore/Rs 19.70 billion
October 26, 2022
Jal Jeevan Mission (Gujarat State) completion
100 percent completion of Jal Jeevan Mission achieved in Gujarat.
Rs 390.31 crore/Rs 3.90 billion
October 28, 2022
Announcement of expansion of ArcelorMittal Nippon Steel India Hazira plant
*Crude steel production capacity at the Hazira Steel Plant will increase from 9 million tonnes to 15 million tonnes.
*Boosts employment opportunities for the youth of Gujarat and the country.
Rs 60,000 crores/Rs 600 billion
October 30, 2022
Foundation stone laid for C-295 aircraft manufacturing facility in Vadodara
*The first aircraft manufacturing facility in the private sector in the country will be utilised to manufacture 40 C-295 aircraft for the Indian Air Force, through a collaboration between Tata Advanced Systems Limited, Airbus Defence and Space, Spain.
October 31, 2022
Two new tourist attractions -- Maze Garden and Miyawaki Forest -- at Kevadia
*The Maze Garden designed in the shape of a shriyantra, is spread over 3 acres of land, making it the largest maze garden in the country with a total of about 180,000 plants have been planted in the garden.
*The Miyawaki Forest, developed over an area of about 2 acres, comprises a native floral garden, a timber garden, a fruit garden, a medicinal garden, mixed species, Miyawaki section, medicinal garden and a digital orientation centre.
It has been developed using the technique pioneered by Japanese botanist Akira Miyawaki, which helps build dense, native forests in a short span of time.
October 31, 2022
Project work to be started in Tharad, Banaskantha to augment water supply in region
* Prime Minister Modi lays the foundation stone of several projects, including the Kasara to Dantiwada Pipeline from the main Narmada Canal, costing over Rs 1560 crores
*Announcement of several projects including strengthening of Sujlam Suflam canal; extension of Modhera-Moti Dau pipeline to Mukteshwar Dam-Karmavat; Lake, lift irrigation scheme for 11 villages of Santalpur Taluka.
Rs 8,000 crore/Rs 80 billion
October 31, 2022
2 railway projects in Asarva, Ahmedabad
*These projects include the Ahmedabad (Asarva)-Himmatnagar-Udaipur gauge converted line and the Lunidhar-Jetalsar gauge converted line.
*New trains between Bhavnagar-Jetalsar and between Asarva-Udaipur.
Rs 2.900 crores/Rs 29 billion
October 31, 2022
Foundation stone laid for development projects in Jambughoda, Panchmahal
*New campus of the Shri Govind Guru University, Godhra.
*Sant Joriya Parameshwar primary school and memorial Vadek village.
*Raja Rup Singh Nayak primary school and memorial at Dandiyapura village,
Rs 860 crores/Rs 8.6 billion
October 31, 2022
Foundation stone laying in Godhra
*Foundation stone laid for Kendriya Vidyalaya, Godhra.
*Foundation stone laid for development of Godhra Medical College and expansion of Kaushalya - The Skill University.
Rs 680 crores/Rs 6.8 billion