You need, first of all, to figure out how we messed it all up so badly.
You need to fix accountability.
None of that is happening, says Vir Sanghvi.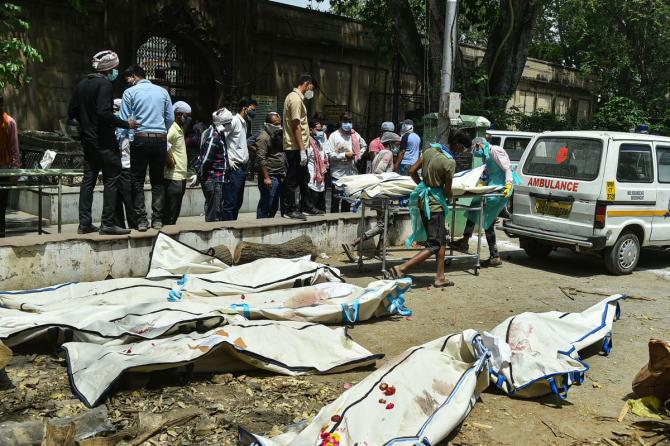 So, how is your Vaccine Utsav going? I can only base my opinion on limited evidence, but I get the distinct feeling that there is much less utsah for this Utsav than there was for the thaali-banging at the start of the pandemic.
Some of this is due to practical difficulties with the things we are expected to do.
It would be nice for each one of us to help vaccinate one other person. But at a time when it is hard enough for us to even vaccinate ourselves, this remains a forlorn hope.
Like Sanjay Gandhi's Emergency-era proclamations, which the Utsav instructions clearly echo (Sanjay said Each One, Teach One; it was a lot like Each One, Vaccinate One and all the other Utsav slogans), all this sounds better in a speech than it does on the ground.
When the pandemic began, we recognised that the world was facing a challenge that was greater in magnitude than any health crisis since the Spanish Flu a century ago. We were scared and unsure. We put our faith in the government, which assured us that it would find us a way out.
In fact, even when the government's decisions seemed ill-judged -- there was no need to announce a lockdown with only a few hours' notice and cause so much pain and suffering to millions of migrant workers -- it still retained widespread public support.
The psephologist Sanjay Kumar of the Centre for the Study of Developing Societies told me that his research in Bihar suggested that even some migrant workers, who had walked to their state from faraway locations, were willing to vote for Narendra Modi and the Bharatiya Janata Party.
The government relied on participatory stunts to provide the impression of activity. Though some people derided the thaali-banging, I did not think it was necessarily such a bad idea. It honoured medical professionals and helped raise morale.
Sadly, an element of mumbo-jumbo was allowed to creep in. The sound waves generated by the banging would scare Covid away, we were told. (How did that work out, guys?)
It was like the social media campaign in the aftermath of demonetisation when the party faithful informed us that the new notes would contain GPS chips that would allow the government to track each note. (So if you didn't know how much cash you had in your pocket when you were out shopping, you just had to ask Amit Shah. He knew!)
Back then, the assumption was that this was a holding operation. Even if the virus was not killed off by the sound of thaali banging, all would be okay once we had the vaccines. And we had a lot of vaccines, we were told.
The Serum Institute of India, the world's largest vaccine production unit, would generate millions of doses of the vaccine developed by Oxford University to keep us safe. There was an Indian-made vaccine too. And a high functionary of the government's health establishment instructed Bharat Biotech, the Indian company that was making the vaccine, to have it ready by August 15, 2020, so that the prime minister could brag about it in his Red Fort speech.
That's not how vaccines are developed, so the deadline was crazy. But it offered an insight into the sophistication of the government's Covid strategy. Already, a top official had assured a health ministry briefing that the pandemic would wind down by May 2020.
As strategies go, this approach was only a couple of notches more sophisticated than the view that the sound of banging thaalis would scare away the virus. Yet, so hungry and innocent were Indians that we listened reverentially to a collection of not-very-competent men when they assured us that the end was near.
We were told that self-reliant India had now developed two indigenous vaccines (presumably Oxford had acceded to India without anyone noticing) that would fight Covid around the world. Millions of doses were sent to foreign countries and politicians posed as the messiahs of the global battle against Covid.
As usually happens when you assign the management of a life-and-death crisis to not very competent people, several crucial mistakes were made. For a start, the medical establishment put forward a relatively leisurely plan for the vaccine roll-out. They seemed sure that the crisis was behind us.
When it exploded again and people begged for more doses for the worst affected areas, the government dug its heels in. One official said that vaccines would only be allocated to those who needed them. (A category that excluded areas where Covid was raging.) Another gave us little homilies about how vaccines were just one of five ways to fight Covid.
Of course, they were all lying. The real problem was that, between the political establishment's desire to pose as the Mother Teresas of the vaccine world and the stupidity of the medical establishment, we had not arranged for enough vaccines to cope with a sudden rise in numbers. All the bluster was simply an attempt to hide that.
As Covid rages, as hospitals are overwhelmed, as people die, the worst thing you can do is announce a festival of any kind. You need, first of all, to figure out how we messed it all up so badly. You need to fix accountability. You need to sack the guys who screwed up.
None of that is happening. Instead the government was encouraging super-spreader events like election rallies and the Kumbh Mela. Its ministers are playing politics, blaming Opposition states for the problems with the vaccination drive.
As for the key questions: Why are vaccines running out? Why is oxygen in short supply? Why are these proven failures still in charge?
We get no answers. Only platitudes and lectures from people whose credibility is in tatters. Are you surprised then that this was an Utsav without utsah? We are no longer the naive and innocent nation that banged thaalis.
Too many people have died. Many more will die in the weeks ahead. And it is time to fix the blame and then, fix the strategy.
Vir Sanghvi is a TV presenter and journalist.