An almost complete communications blackout has been imposed in Kashmir since August 5 after the Narendra Modi-led government moved to scrap the region's special status. Kashmiris outside the state are most affected by the inability to contact their families back home and not knowing what's happened to them.
Umar Ganie listens to some voices of anguish, even anger.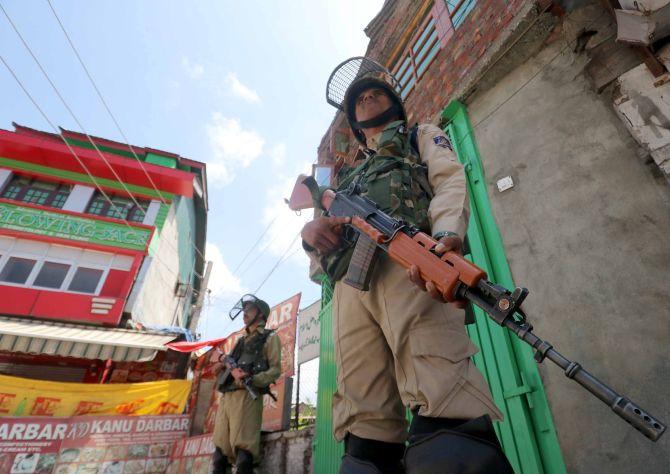 'We are lost and are getting frustrated'
'Twenty days have passed and we have no idea how our families are doing'
Speak to any Kashmiri living outside Jammu and Kashmir and these are the reactions one will get.
While the government has repeatedly assured the world that life there is getting back to normal and any unrest has been minor, Kashmiris themselves are telling a different story.
The local government has said its actions in Kashmir, on communications and freedom of movement in the region, is necessary for public order and peace. On Wednesday, governor Satyapal Malik assured that normalcy will be restored, even while saying that internet services will be suspended for more time as 'they are used by terrorists and Pakistanis'.
Officials have repeatedly said the restrictions will be lifted in phases but have not provided a definitive timeline, leaving the entire region in confusion.
An emotionally charged Shameema Qadir, 63, breaks down while serving tea to neighbours, who have come to greet her on becoming a grandmother of twin boys, at her downtown Srinagar residence. Azra, Shameema's daughter-in-law, gave birth to twins in a Lucknow hospital on August 9.
However, Shameema only got the news on August 16 when her son was able to get through to them on a phone line at a local police station in Srinagar.
"These seven days have been like seven years for my family. I have been asking every second person to contact my son. I have been praying for the well-being of my daughter-in-law, as nothing is in our hands. We can't move out of our homes, we can't communicate with anyone because of the strict curfew and communication blackout," said Shameema, adding that they were now making arrangements to leave Srinagar and join her son and his new family in Lucknow.
Even though the government announced that restrictions, which have been in place since August 5 -- the day the Indian government stripped the state of its special status and reclassified it as a Union territory -- will be eased slowly and normalcy will resume, the residents of Kashmir have been left in a communication black hole, with only some landline telephone services being restored in the Kashmir valley, and having no mobile or internet connectivity.
'From the corner of my eye I watch the phone, waiting for it to light up and sing your ringtone. My stomach has butterflies, my heart races waiting for the call I want to get from you. My pulse races on as I check the phone making sure I don't leave the phone alone. I can't miss your call, can't miss your text, keeping me eyes on the phone, wishing what's next.
'These days seems like years, these days I have so much of fear. The thought of my family consumes me while I wait for the phone. I start to get saddened and feel all alone. The smile starts to drift, it feels cold like the snow,' Gousia Shah, a Kashmiri working in a bank in the national capital, wrote on her social media account. After over 20 days of no communication with her family, all she does is wait to hear their voices.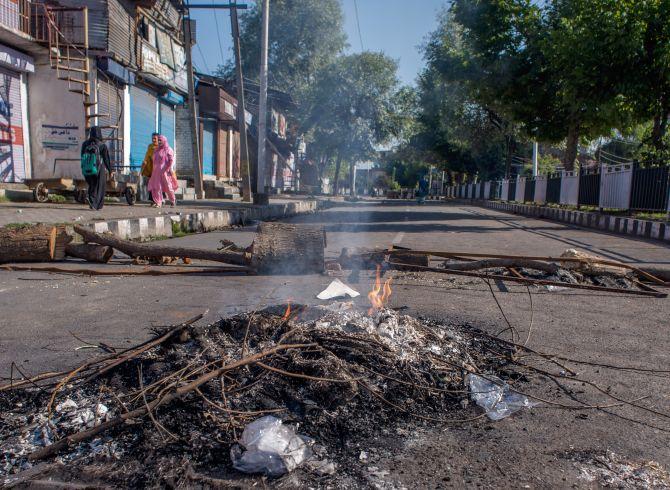 Aafia Shah, Gousia's sister -- who also lives in New Delhi -- tells Rediff.com, "Both of us live in New Delhi whereas our family resides in Zakura area of Srinagar. Since August 4, we have no idea about our family. We are lost and are getting frustrated. We are unable to concentrate on our jobs and we don't have information about our mom, who otherwise used to call us every three hours in a day."
An anguished Aafia added, "They revoked our special status, changed our state into Union territory. How much does this government want to punish us? If they say that the situation is normal in the Valley, why don't they life the curfew? Let them keep the curfew on, but we want them to restore communication lines. I am missing my mom so much. I want to tell my family to come to Delhi. But how can I communicate with them? I told many persons to please go to my Srinagar home and ask my mom to call me, but till date I am only waiting for her call."
Fuming over the communication blackout, another girl, Aliya Nazir, lashed out at the Centre. "Our prime minister says that they have done a great job by revoking Jammu and Kashmir's special status. However, if I am forced to wait for over 20 days to listen to the voices of my parents, then I am not willing to accept these benefits."
Speaking to Rediff.com, Aliya broke down while asking people to check up on her family, who lives in Nagbal, on the outskirts of Srinagar.
"What is my fault? Why they are doing this to me and to thousands others like me? My request for the government is to please restore communications as we are living in hell. I want to go back to my Kashmir and stay with my family, but I am not aware whether I will reach my home or not; I am unaware what is the situation in my area."
Echoing similar sentiments, Mehak Wani, a college student in Delhi, said, "Twenty days have passed and we have no idea how our families are doing. For humanity's sake, let us speak to them. Every time I dial my family in Radio Colony, Rajbagh in Srinagar, all I get to hear is 'Please check the number you have dialled'."
Hiba Mir, another student in Noida, has also had no luck trying to get through to her family in the Valley. "I am alone here staying with a relative. My family is unaware if I have been able to secure my admission in a college in Noida. I am unable to understand why they have blocked everything in the Valley. This blockade is taking a toll on my health. Our government has to think about those who are living outside Kashmir. My aged parents cannot go to a police station to make a phone call to me."
Showket Ahmad, the manager of the Real Kashmir Football Club, who left for Kolkata with his team on the first day of the curfew too feels frustrated at the inability to speak to his family.
"It's been a long time since I have been able to speak to them. I can't show my emotions about how much I miss them, I have to concentrate on my team. I heard some landline phones have been restored in the Valley, but I don't know whether landline phones have been restored in my area, as we have fewer landline phones."
For Showket, the only silver lining in this dark cloud has been that his team, which took part in the Durdan Cup, managed to reach the semi-finals where it stretched Mohun Bagan to extra time before losing.
That's the only solace he has in these dire times.