'The Maoists have weakened considerably in Maharashtra, Madhya Pradesh and Chhattisgarh after Milind Teltumbde's death.'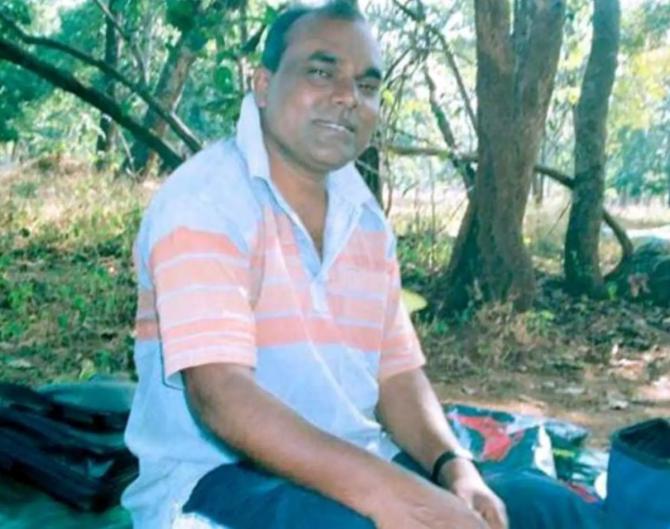 Gathering intelligence on Maoist operations is a regular assignment for the Gadchiroli police.
If you are posted as a policeman in Gadchiroli, being alert is not an option but a necessity because you never know when you will encounter Maoists. The region has for long been the hot bed of Maoist activity.
One such tip arrived at the Gadchiroli police headquarters early on Saturday, November 13. Within no time the police force and the C-60 commandos were mobilised into action.
The police thumb rule is: 'Informer ka tip hai toh action abhi hai (If it is an informer's tip, then within no time encounter will take place).'
The police team rushed to the forests of Gadchiroli at 6 am; wasting even a minute, they knew, was tantamount to letting the Maoists escape.
This swift planning led to the killing of the dreaded Maoist Milind Teltumbde, a member of the outlawed Communist Party of India-Maoist's central committee. Twenty-five other Maoists were killed in the firefight. Teltumbde carried a bounty of Rs 50 lakh (Rs 5 million) on his head.
"We are ready for action every moment," Ankit Goyal, superintendent of police, Gadchiroli, tells Syed Firdaus Ashraf/Rediff.com. "This is our routine at Gadchiroli police headquarters. Sometimes we get success and sometimes we don't. This time we did,"
"We got intelligence that there was some Maoist movement in the jungle area and therefore we sent Additional Superintendent of Police Soumya Munde with a team to nab them," Goyal, a 2010 batch Indian Police Service officer, reveals.
"Sameer Shaikh, another additional superintendent of police from Gadchiroli, was coordinating with me and Munde for this entire operation," Goyal adds.
What the Gadchiroli police team did not realise then was that among the Maoists was Milind Teltumbde, its central committee member,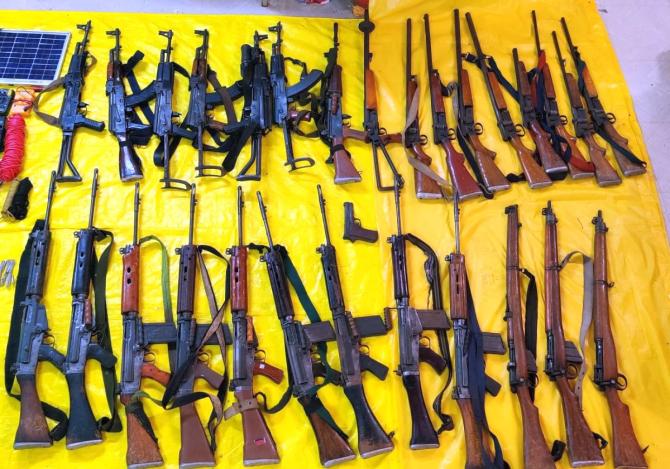 At last count, Milind Teltumbde had 67 cases registered against him. He was in charge of Maoist operations in the Maharashtra-Madhya Pradesh-Chhattisgarh area.
In 2011, the police had arrested his wife Angela Sontakke in Thane. She was granted bail by the Supreme Court in 2016.
Teltumbde was accused of involvement in the blast that killed 15 policemen at Jambhulkehda village in Gadchiroli on May 1, 2019.
In 2020, he was charged with involvement in an encounter in Koparshi on May 17, 2020, in which two policemen were killed.
Asked if the police had specific information that Teltumbde was among the Maoists prowling about in the jungles, Goyal, who secured an engineering degree before joining the IPS, says he will neither deny nor confirm the information.
"When our team encountered the Maoists, we were surprised to see that they were using automatic weapons, AK-47s, SLRs," says Goyal. "There was continuous firing from their side. This battle went for nine hours and only got over at 4 pm."
Policemen injured in the shootout were airlifted to a Nagpur hospital where their condition is stated to be stable.
"26 bodies were recovered," says Goyal, "of whom 20 were male and six female. Besides Milind, we recovered the dead bodies of Maoist leaders identified as Mahesh and Lokesh who were important to their organisation."
"We recovered 29 weapons and detonators," Goyal adds.
Asked if the Maoist backbone in Gadchiroli has been broken, Goyal says, "This is difficult to say because it is a complicated problem with multiple facets. But yes, the Maoists have weakened considerably in Maharashtra, Madhya Pradesh and Chhattisgarh after Milind Teltumbde's death."