'Chhattisgarh has escaped the ill-effects of slowdown'
'Either give plough in the hands of the youth, or give them guns. If we don't motivate them to hold the plough, naxals will give them guns'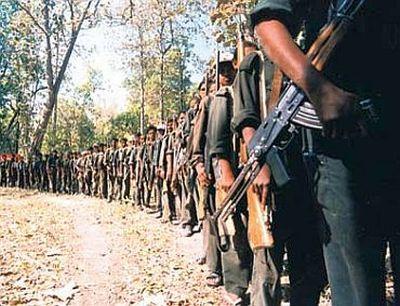 As the Congress party prepares to launch protests against the economic slowdown, Chhattisgarh Chief Minister Bhupesh Baghel tells Archis Mohan that his state has escaped its effects as his government has pursued policies that have put money in the pockets of workers, farmers, housewives and tribals, which has helped spur demand.
It is nearly a year since your government was formed. What do you think are its achievements?
Our two principal promises in the election were farm loan waiver and purchasing paddy from farmers at Rs 25 per kg (Rs 2,500 per quintal). We won 68-seats, that is a three-fourths majority. We have delivered on both our promises.
The biggest achievement has been a drop in naxal violence by 40 per cent. We had said we will have a dialogue, not with naxals but with our people -- with tribals, with traders and businessmen, with social activists with journalists. The result is that we now have a better understanding of their needs. Our slogan is vishwas, vikas and suraksha.
To win vishwas (trust), we returned 4,200-acre land of 1,700 farmers in Bastar, purchased tendu leaves at Rs 4,000 (from Rs 2,500) per standard sack and launched the chief minister's suposhit yojana to increase nutrition levels.
The CM haat bazaar clinic scheme has meant OPD has increased 10 times in Bastar. This year not a single death has been recorded because of gastroenteritis. We have opened 105 schools in the heart of the naxal territory, which were closed for the last 13-years.
Naxals are finding it difficult to recruit people, as a letter that we intercepted from a naxal recruiter to his commander has revealed, which is evidence that our policies have worked. Farmer suicides have dropped.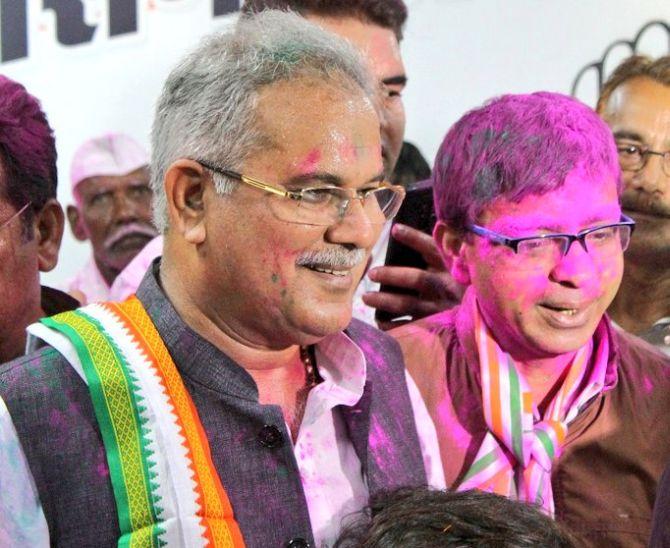 Your party (the Congress) is planning protests on economic slowdown. What is the situation in your state?
Chhattisgarh has escaped the ill-effects of slowdown. Purchasing power has increased in the state. We have spent Rs 20,000 crore to purchase paddy at Rs 25 per kg.
This money, the benefit of loan waiver, halving of electricity bills up to 400-unit consumption, 35 kg rice per family each month, Rs 4,000 for tendu leaves sack -- all these decisions have put money in the pockets of workers, tribals, farmers, housewives, all sections of the society.
The entire country could have escaped economic slowdown if the Modi government had adopted this Chhattisgarh model. There is money in people's hands in the state, which has increased sales of textiles, footwear, motorcycles and cards, fans, coolers and air-conditioners. Sale of submersible pumps in Chhattisgarh has increased twofold.
There is an 84 per cent increase in the sale of gold and jewellery.
The point to remember as policy makers is that farmers and workers do not keep money with themselves. They spend. Money given to corporate sector is used by them to first repay their loans and only then think about setting up new projects. The Modi government has given corporate tax cuts worth Rs 1.74 trillion.
It has been nearly two months now but there is no positive impact in the market.
We implemented our policies in December and the automobile sector saw increase of 36.5 per cent in sales by March in Chhattisgarh. In the last quarter, revenue from land registry in Chhattisgarh increased from Rs 92 crore to Rs 152 crore.
Chhattisgarh government has launched a new industrial policy.
We have announced several steps, including turning leasehold land to freehold and setting up of a gems and jewellery park. The focus is on non-core sectors, like food processing and those associated with minor forest produce, including pharmaceuticals since we have jungles.
You have threatened protest if the Centre does not buy paddy at Rs 2,500 per quintal? What if it does not agree?
The Centre announces the procurement policy, not the states. We procure with the support of marketing federations.
If we need rice, the Centre allots it to us. Now, the Centre says that it will not procure rice from Chhattisgarh if we, the Chhattisgarh government, give bonus to farmers. This is not based on any law passed in Parliament, but a circular from June 2014 after the Modi government assumed office at the Centre. The Modi government relaxed this order (for Chhattisgarh) in 2017 and 2018, so why can't it now? Is it that only elections are important? Chhattisgarh's case is different. They relaxed it then given Chhattisgarh's unique situation. How has the situation changed now?
However, I am an optimist. I have met union food minister and also written to the PM. I raised the issue during the NITI Aayog meeting. In Chhattisgarh, paddy is the only crop. Our irrigated area is a mere 31 per cent, and 44 per cent is jungle. Our farmers cannot be compared with Punjab and Haryana. There each acre yield is 20 quintals, while its just 8 quintals in Chhattisgarh.
The biggest achievement (of this bonus) is the 40 per cent drop in naxal violence. Either give plough in the hands of the youth, or give them guns. If we don't motivate them to hold the plough, naxals will give them guns.
Nyay, or the minimum income guarantee, was the Congress's promise. We hear that Rahul Gandhi wanted it to be implemented in Chhattisgarh. What is the situation now?
We are waiting. As soon as the high command (of the Congress) orders, we will implement it.
Before forming the government, you had demanded transparency in mining contracts. Now activists have alleged…
Tell me one mine where work has started in the last 11-months, aarop lagane se kya hota hai (it is easy to fling allegations).