'I had not imagined there would come a day when food shopping become a real danger.'
'Or the daily statistics in the news could have such chilling effect.'
People of Indian Origin and NRIs describe the impact coronavirus is having on their lives.
Part 1 in the series: 'Our world is coming to a complete standstill'
Part 2 in the series: 'Indian Americans collected 6 months of groceries'
Part 3 in the series: 'Coronavirus: 'These are strange times'
Part 4 in the series: 'This virus has taken over the world'
Part 5 in the series: 'The virus has always felt at arm's length from me'
Part 6 in the series: 'We are now the eye of the storm'
Part 7 in the series: 'As a healthcare worker I feel the continuous gratitude of people'
Part 8 in the series: 'Normal may never comeback'
Part 9 in the series: 'A new reality is forcing its way into our lives'
---
Dr Chindu Sreedharan, Bournemouth, United Kingdom
Britain woke up late, and laddishly, to COVID-19, I would say.
The reality of the threat has not still sunk in for many people.
Till early last week, the lockdown did not amount to much in many places, but as the number of cases -- and deaths -- have now begun to climb steeply, people are beginning to respond better.
Traffic these last few days has been very, very light. Only supermarkets, groceries and other essential shops are open, and most of us have been working from home for the pastweeks.
Most institutions and employers were unprepared when the government directive to close came, and everyone has been scrambling not just to prevent themselves from being infected, but also to save livelihoods.
So there is a sense of urgency (and anger, too) among people.
In Bournemouth, in the southwest of England where my wife and I live, this was evident even before. We have a significant number of elderly among the population.
In earlier weeks at the supermarkets, as grain, rice, pasta, beans, hand sanitisers and toilet rolls vanished from shelves, you could see them walking up and down the aisles, quiet panic in their eyes, looking for anything they could to stock up on.
Last fortnight, things got better. Supermarkets have introduced special shopping slots for the elderly and put in measures to contain panic buying.
Life, as I have known it for the last 16 years of living here, has changed.
Like 400,000 Britons, I have signed up to be an NHS volunteer to help with the crisis.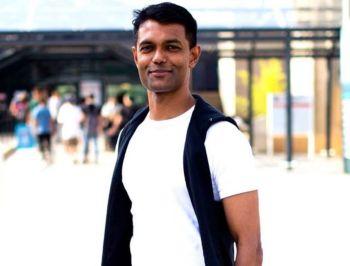 I had never thought we would ever come to a situation where I would have to buy hair clippers to cut my own hair and make hand sanitiser at home with surgical spirit and aloe vera, that I bought off eBay very dearly.
I had not imagined there would come a day when food shopping become a real danger.
Or the daily statistics in the news could have such chilling effect.
---
Dear Reader:
Are you someone of Indian origin living through these challenging times abroad?
We would like to hear how you are coping and what's happening outside your window.
How it has been for you emotionally and practically?
We would like to have your observations and perspectives.
Please share your responses with us and we will publish your account right here on Rediff.com.
Do write to us at news@rediff.co.in (Subject: Living abroad through COVID-19) along with your NAME, AGE and LOCATION.
Please don't forget to share a photograph of yourself and any significant pictures or videos you have taken of the area where you live. You are welcome to send your account on video too!