'It is time to give back to this city that has given me so much.'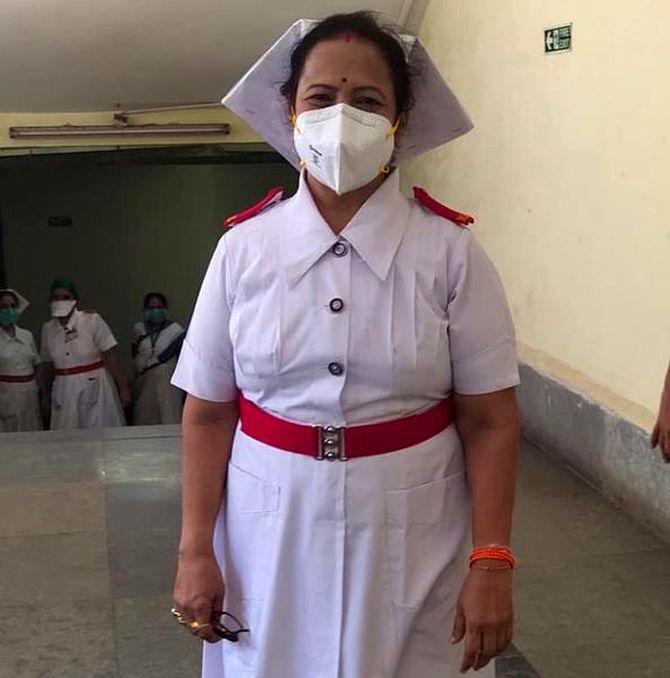 Mumbai Mayor Kishori Pednekar joined work at the BYL Nair Hospital in central Mumbai as a nurse on Tuesday.
"It will be the night shift from 11 pm to 7 am most probably, because I have responsibilities as a mayor during the day. I am awaiting orders from the dean. I cannot tell you how much I look forward to going to work and performing my duties to my patients and society," says the mayor.
The former nurse-turned-politician's decision to return to nursing comes after a call to arms, in a manner of speaking, by Chief Minister Uddhav Thackeray asking all trained but retired healthcare personnel to join the Maharashtra government's efforts to battle the coronavirus pandemic which has already claimed 342 lives in the state.
On Monday, when Pednekar walked into the Nair Hospital, the matron pulled her aside and asked her if she would mind wearing a nurse's uniform.
"I looked at her in surprise, and she explained that the nursing students I had come to meet would feel a kinship with me," Pednekar, 58, tells Swarupa Dutt/Rediff.com in a hurried conversation over the phone from the mayor's residence.
The matron found her a fresh uniform, accessories and the new COVID-19 normal -- a mask -- and that is the much-lauded image that Pednekar tweeted.
"Main yeh uniform ko salute karti hoon (I salute this uniform. I have worn this for nine years when I worked as a nurse at the Jawaharlal Nehru Port Trust and I was emotional looking down at myself dressed in white," she says as she prepares to leave home to oversee food distribution amid the lockdown that entered its 35th day on Tuesday.
Pednekar also went to the Sion Hospital in north central Mumbai to speak to nursing students there and motivate them.
Ever since Prime Minister Narendra Damodardas Modi announced a national lockdown from March 25, the mayor has been inundated with phone calls from parents of nurses and nursing students beseeching her to take them off COVID-19 duty.
"How can I do that? I won't. In a crisis like this, if we as health workers -- what do you call us, oh yes, frontline workers, right? -- as frontline workers, we are the first defence for the citizens. Quit the profession if you can't handle the pressure, but I will not heed their demands," she says.
Mumbai's mayor acknowledges that fear is natural, with Maharashtra reporting 8,590 cases and 369 fatalities as of April 28.
"We are battling an unseen enemy. It is dangerous without doubt and the students's fear is quite natural. I thought I should go and meet the nurses and nursing students, speak to them, motivate them," she says.
"Housla badhana hai, bas aur kuch nahin. Hume aage badhna hai (I have to encourage them to fight, that's all, we have to go forward)," she adds.
With the shortage of healthcare staff, nursing students in the second and third year of the nursing course are working as frontline COVID warriors at hospitals in Mumbai.
Pednekar has conducted several sessions with nursing staff at the BrihanMumbai Municipal Corporation and state government-run medical colleges in Mumbai. The first session was on the morning of March 24. Modi announced the lockdown at 8 pm that evening.
The next session was on April 1.
At both these sessions, nurses and student nurses told her about inadequate protective gear.
"I spoke to the authorities and got that fixed. At the third session on Monday, I spoke to them about my experiences as a nurse, I asked them about theirs, and in those minutes, in less than an hour, we formed a bond that will survive the virus."
She feels overwhelmed at the reports coming in of fatalities and the rising number of cases, but urges people to focus on positive stories like the 231 zones which were out of the containment list after they didn't record a single case for the last 14 days.
Born into a mill worker's family in the central Mumbai area of Parel, she says the hardships she faced growing up made her resilient. "Darne se kya hoga? Saamana karo (Why be afraid, face your fear). And don't give up. If I had, I would never have met what little success I have today."
Shiv Sena founder Bal Thackeray motivated her to join politics, Pednekar recalls. "I wanted to make a difference. Nursing is a noble profession, but I wanted to reach out to lakhs of Mumbaikars as well," she says of her decision to quit nursing at the JNPT in Uran, Raigad, where she worked from 1993 to 2002 before joining politics.
Pednekar won the municipal election from the G-South Ward which covers Worli (a COVID-19 hot spot) four times as a Shiv Sena corporator.
"It is time to give back to this city that has given me so much. You can give back by staying home. But nurses can't work from home, we have to be out there where the battle is being fought," she says.
At the session at the Sion Hospital on Tuesday, the nursing staff and students took a pledge.
"No, it is not karenge ya marenge (do or die). Nobody will die. We pledged to get this city, this country rid of the virus."
"To do whatever we can, whatever it takes."