More than 90 police cars, fire brigade engines and other city government vehicles saluted Dr Uma Rani Madhusudana for her non-stop, tirelessly devoted work in the care of COVID-19 patients at a hospital over 8 difficult and dangerous days.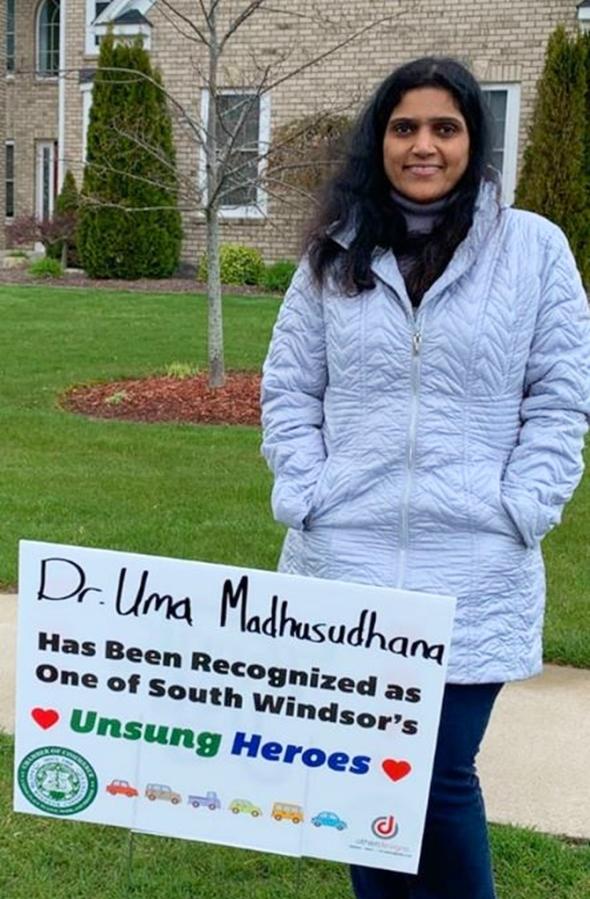 Dr Uma Rani Madhusudana had a day off from her gruelling, tough, 12-hour-plus shifts at her hospital in South Windsor, Connecticut. And was relaxing at home on Saturday, April 18.
Just before two in the afternoon, on a cool spring New England day, her engineer husband suddenly, oddly, suggested that they should step out of their front door to see a parade that was scheduled to happen in their locality.
She got ready to go out, perhaps reluctantly.
Or maybe puzzled.
A parade in COVID-19 time?
Moments after she reached the sidewalk in front of her house, Dr Madhusudana was greeted by a stream of some 90 happily-honking cars coming down her street in a quiet neighbourhood of Connecticut. All their occupants waving at her, to her amazement.
The cavalcade of cars and SUVs was led by a series of South Windsor police cars and fire engines, their sirens wailing cheerfully this time, all lights flashing.
A man jumped out of the lead black car, belonging to a town member volunteer and planted a sign near her mail box and saluted her before climbing back into his car and speeding off.
The officials and local governance of South Windsor had chosen to felicitate Dr Madhusudana, a specialist in internal medicine, for her non-stop, tirelessly devoted work in the care of COVID-19 patients at a Hartford Medical Centre hospital over the past 28 difficult and dangerous days.
The sign the official hung in front of her home, which was decorated with hearts, vehicular emoticons and had the city seal, read: 'Dr Uma Madhusudana has been recognized as one of South Windsor's Unsung Heroes'.
Each car/vehicle thereafter paused, one by one, in front of her, for a few seconds, as a mark of respect.
Each car that went by Dr Madhusudana, who was by then standing in the middle of her lawn, stumped, had colourful signs hung outside its window, with an appreciative message, or a giant Thank You and people shouting exultant words of gratitude.
The dazed, but extremely moved doctor waved back, blowing flying kisses.
Dr Madhusudana, remembering, says she had tears in her eyes and was dumbfounded.
Her husband Satheesh Parachoor recalls being very overcome too. And, of course, full of pride for his wife.
"It was like a surprise because my friends had told my husband not to tell me about this," Dr Madhusudana tells Vaihayasi Pande Daniel/Rediff.com over the phone from her home in South Windsor. "When they (the cars) started off, they told him just bring her out. And they all started coming!"
Says Parachoor: "Even though I knew some cars were coming, I didn't know it will turn out to be so big. I had to tell her that we are going to have a parade in our street, 'Let's go out'. I had to break the news so she could get dressed and come out. She is very friendly and talkative to all who know her, so lots of people showed up as well."
"I really felt very good to see all these people, officials, police officials, fire fighters, all of the community, friends and families, who were taking time to come and pat all the frontline workers (on the back) and cheering us," says Dr Madhusudana. "It was like unbelievably emotional."
The doctor goes on to explain how she thinks she was chosen to be feted as an Unsung Hero: "Here all the frontline workers are really like putting their life at risk -- you know, staying away from the family, taking care of their patients, risking themselves, (risking) their families."
"The South Windsor community, the town I live in, came up with this idea of recognising frontline workers, to cheer them, appreciate them for the work they are doing in this pandemic. Usually your community gets together a list of names, or nominates, I don't know how exactly it works," Dr Madhusudana adds. "I was kind of nominated to get this parade. I was one of them," she says, half-embarrassed but feeling deeply honoured and touched.
Her husband shot a video of the 90-strong motorcade that came to greet and tip their hats to her that Saturday. And shared it with a few friends.
Before long, not surprisingly -- unknown to Dr Madhusudana and Parachoor -- the video celebrating the Indian-American doctor from Mysuru went viral and was forwarded all over the place.
"We did not make this video viral. I don't know how it became viral," she says ruefully. "It was a personal video, which was shared only to friends and family."
The stirring and beautiful six-minute clip, celebrating humanity -- and emblematic of the great work Indian doctors do the world over -- was posted and reposted all over social media, including on several Indian language accounts.
The Parachoor-Madhusudana family was flooded with responses.
Finding a window of opportunity to interview, from India, the incredibly busy Dr Madhusudana, who comes home late and tired, is a feat.
Her husband patiently and diligently coordinates the requests, telling Rediff.com: "Please follow up with me. I will get you what you want from her."
Finally about 48 hours later, in the wee hours, one has the honour of speaking to an exhausted, but amazingly upbeat and humble Dr Madhusudana.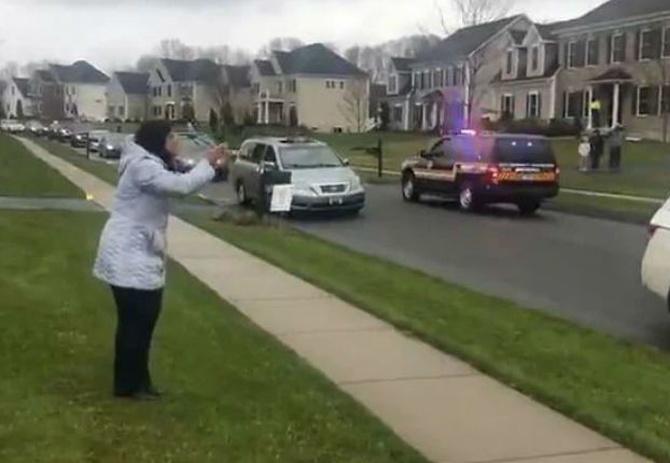 Hartford County, where Parachoor and Dr Madhusudana have lived for nearly 20 years, in March suddenly saw a surge in COVID-19 cases. As of today, the county has seen over 3,900 cases and 402 deaths. The tiny state of Connecticut, in which Hartford County is located, has racked up nearly 20,400 cases and 1,423 deaths.
Dr Madhusudana's workday as an internist -- which normally probably meant routinely seeing a range of patients with conditions likes heart disease, hypertension, diabetes, obesity, and chronic lung disease -- changed radically overnight as the coronavirus numbers climbed.
"I would say it is very overwhelming, really overwhelming to take care of COVID patients. But I definitely feel very well supported and encouraged by my Hartford HealthCare team. And by family and friends. So I am going through that (these emotions)," she says.
"And to see the patients going through these tough times, when we don't know the outcome for these patients. Nor do we know the outcome for ourselves, because we are at high risk, taking care of these patients. It's like emotionally and physically demanding, more than (working with) any other normal patients," she adds.
Dr Madhusudhana studied medicine at the JSS Medical College in her native Mysuru and when she came to the US and Connecticut, 19 years ago, she did her internal medical training at the St Francis Hospital at Hartford.
As a physician, Dr Madhusudana says, one knows one has to be up to any task, no matter how herculean. And one always steels one's self to have the courage to face whatever situation, no matter how dire. Because, as it is oft said, finally medicines might cure diseases, but only a doctor can cure a patient.
Mulling the what-does-it-feel-like-to-be-a-doctor-in-these-times question over for half a minute, meditatively, she finally says she feels: "We (doctors) are capable of being brave. It can be very challenging. Yeah, we just have to do it."
"These are some extraordinary circumstances (that) humanity has to face. We just have to tell ourselves, no matter what the outcome is, I just have to do my duty. That's what I feel."
At the same, she adds: "In this pandemic, it is (also) a chance to be on the frontlines and to work for those who need it."
...Even if one is confronting too much death, with inadequate tools to fight it off.
"It's a mixture. We do see deaths. We do see people who recover and get discharged. We do see people who have mild symptoms, they stay home and they get better."
Dr Madhusudana refuses to comment on the helplessness she might feel when patients die of COVID-19, a pandemic for which there is still no fail-proof course of treatment on hand.
Instead she positively points out the amount of work going on to find better treatment, better testing and finally a cure for treacherous COVID-19. "We just need to wait and watch and see what we are going to develop, to get this under control."
In addition to the anxieties she has for her patients -- and that as many of them as possible should turn the corner and make it -- the doctor has to be cautious about the risks she may bring home.
Though Hartford HealthCare has offered all its workers alternate accommodation, Dr Madhusudana chooses to return every evening, after her rough 7 am to 7 pm shifts, to her family -- her husband, her two daughters and her father.
"I prefer coming home -- yes, yes, definitely disinfect (clean up and all those things) -- and maintaining distance. I have my father with me now, who is, of course, older."
She has to be most careful around her father: "That's very much my concern. Totally, totally distancing (myself from him)."
The thoughtfully organised, 20-minute, drive-by applause by the town of South Windsor, could not have come at a better time for this internist.
"It was very encouraging. I felt like my energy had been boosted up to fight (again). That's how I felt.
"I felt: 'Okay, you know what? I think I can go back and again do that again'. You know?"
Dr Madhusudana, after a moment of thought, says she does have a message.
Here it is: "Finally, I want to say that I really feel very overwhelmed and supported by my community and the Hartford HealthCare system where I work, during this time of COVID-19 infection.
"So this video has gone viral without our knowledge. But I would like to share, that this amazing gesture, what the South Windsor community did, if it could be replicated in every village in every city.
"It really boosts us up.
"It really makes us feel good and ready to go and work again."
"I wish everybody is safe and stays safe. Everybody in India too," where she has uncles and aunts and family.
As the call ends, always the dutiful 24/7 doctor, she tells this reporter, politely and thoughtfully: "Stay safe. Maintain distance and follow whatever the government says. You will be fine."