'I am not afraid of COVID-19.'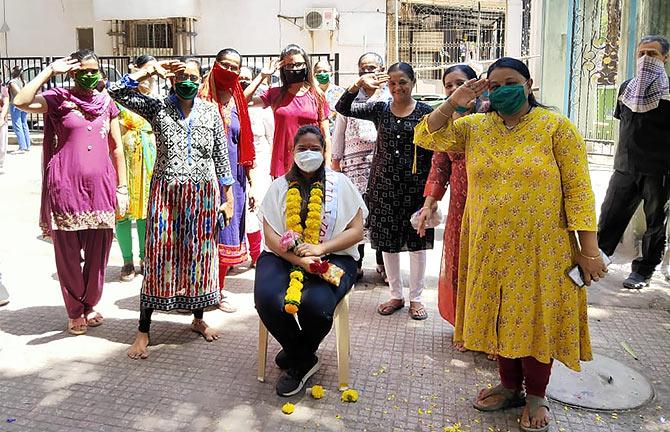 Mumbai's largest Covid facility started with seven volunteers. Dhruvi Shah a fresh physiotherapy graduate, was one of them.
She spent two months at the centre without going back home. When she finally got home, the residents showered her with petals and saluted her.
"One patient wrote a poem for us. Their appreciation was our biggest reward," she tells Rediff.com's Archana Masih.
Dhruvi had just finished her bachelor's degree in physiotherapy in March when the spate of COVID-19 cases began in Mumbai.
She wanted to volunteer as a health worker, but did not know where to go or whom to approach.
Then one day somebody forwarded her a Facebook post asking for volunteers for the Covid facility being set up at the National Sports Club of India dome in Worli, south central Mumbai.
She contacted the phone number advertised and after a short interview was assigned to the Poddar Hospital, also in Worli, as the NSCI facility was in the process of completion.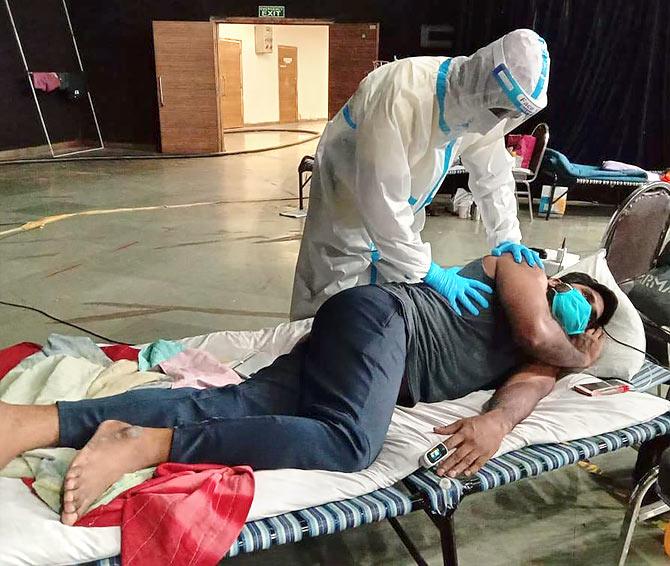 Dhruvi's duties included manning the admissions desk. With a small team of five volunteers, the group made lists of required medicines, labeled boxes, filled in charts, pitched in for any work that was required and facilitated X-rays of 300 high-risk contacts.
"The SOPs (standard operating procedures) were still being formulated because every day there were new learnings about the virus," she recalls.
"The team used to read, discuss all the information that was coming out and soon our seniors had set up the SoPs to follow," adds Dhruvi who volunteered for two months and did not go home even once during that period.
The BrihanMumbai Municipal Corporation had provided hotel accommodation for doctors and healthcare professionals.
When the NSCI facility was ready, the team of volunteers led by Doctors Muffazal Lakdawala and Neeta Warty moved to the NSCI Dome.
Dhruvi Shah was among the initial team of seven volunteers that began working at the contactless jumbo facility at the NSCI dome that has played a leading role in the city's response to COVID-19.
Dhruvi was once again initially responsible for admissions. As more doctors, interns, nurses and healthcare workers were assigned to the facility, she was moved to handling swab tests.
She maintained the ledger, recording dates of the two swab tests that patients needed to give. She also checked the daily status and parameters of patients from behind a contactless glass cabin.
Patients would queue up on the other side to protect the healthcare workers from infection.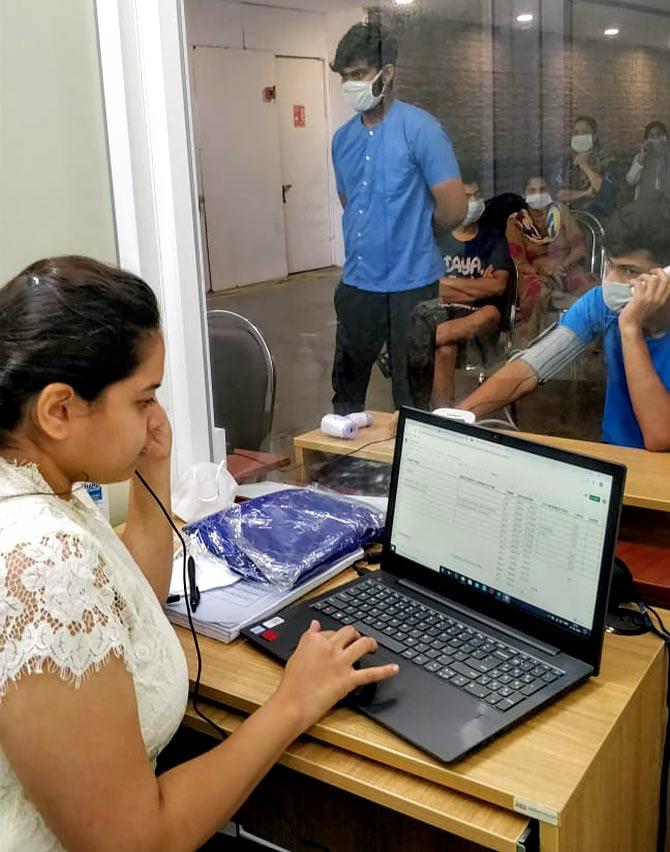 Every alternate day she conducted physiotherapy sessions for patients on oxygen support to enable them to breathe on their own.
"The sessions would take 4 to 5 hours and we were given the best quality PPE kits to keep us safe," she says, explaining that there was a doctor to supervise the donning and doffing of PPE.
It would take 6 to 7 minutes to wear and take it off.
"I was never scared of the infection and my parents also encouraged me to volunteer. My grandparents were a little sceptical, but I was able to convince them," she says.
Her day would begin at 9 am and end by 8.30 pm. By the time her responsibilities with the swab test ended it would be 3pm, after which she would take a break for lunch.
The physio rounds would begin in the evening by 5 pm and end by 8.30.
The team would then return to the hotel and discuss the schedule for the next day over dinner and beyond which would last for an hour.
"By that time we would have no energy left," she laughs.
"There was no time to answer phone calls during the day, so we would catch up with family and friends after we got back to our rooms," says Dhruvi.
Proud of the NSCI patients's recovery rate, she says that one of the most overwhelming moments was when a patient wrote them a poem.
"Appreciation from patients is the biggest reward."
Two months after working on the Covid challenge, Dhruvi returned home after her rapid test showed her in the clear. But she had to self-quarantine on reaching home.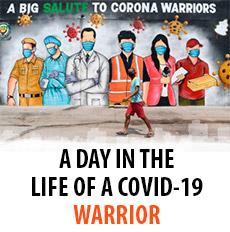 When she entered her building, she was showered with petals by the residents.
A month later, says she misses the experience and good times at NSCI.
"It was such a good time and I will remember it forever."
"I am not afraid of COVID-19. If we follow safety instructions, then the chances of being infected are rather low."
After being in the eye of the Covid war room, her parting advice:
Wear a mask, and wash it every day.
Cover your hair when outside
Don't touch your face when outside.
Maintain physical distance.
Do not step out without a mask.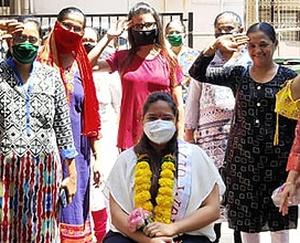 Feature Presentation: Rajesh Alva/Rediff.com