'We realised that providing high flow oxygen to patients shows positive results.'
'If they come early and are given oxygen, the condition doesn't deteriorate.'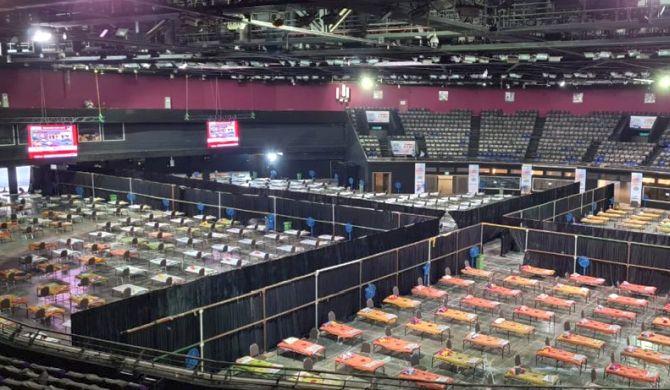 Encouraged by her daughter who had volunteered for COVID-19-related duties as a PhD student in England, the well-known Mumbai gynaecologist Dr Neeta Warty decided to don her scrubs to help the BrihanMumbai Municipal Corporation that is leading the city's fight against the coronavirus.
"The only thing holding me back was my 87-year-old mother. I did not want to put her at risk."
"I am 60 myself (designated as high-risk category), but I have never behaved my age," she laughs.
The day after her mother moved to her brother's home, Dr Warty joined well-known city bariatric surgeon Dr Muzaffal Lakdawala who was setting up the first jumbo covid facility at the National Sports Club of India dome in Worli along with state Environment Minister Aditya Thackeray, who also represents Worli in the Maharashtra legislative assembly.
The facility started in April with seven doctors who volunteered for duties and lived at the stadium.
"Since they were volunteers -- which included physiotherapists and occupational therapists who had come forward to help -- their level of commitment was to another level," says Dr Warty, proud of the team which she calls as "the army" and appreciative of the "rock-solid" support provided by Sharad Ughade, assistant municipal commissioner of G-South ward which had become a COVID-19 hotspot in April.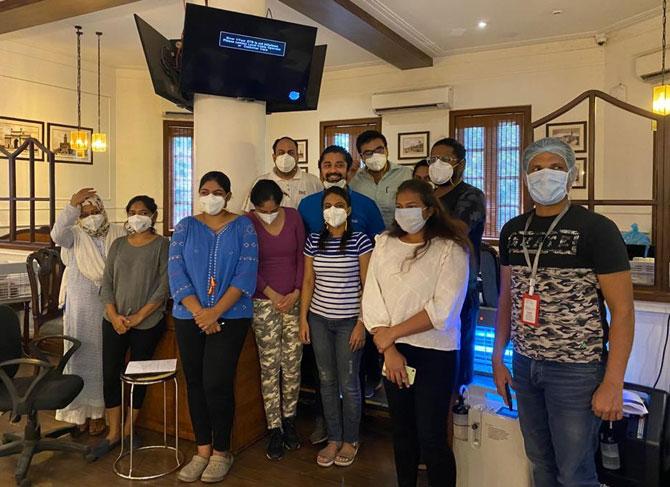 The NSCI dome now has over 20 doctors and over 50 nurses and healthcare workers headed by Dr Rajeev Joshi, dean of the facility appointed by the BMC.
The contact-less facility has provided treatment to cancer patients, pregnant women, police personnel and prisoners from the Arthur Road prison. A few days ago, it added 12 ICU beds set up in mobile containers.
As cases in the G-South ward have reduced considerably, the facility now sees admissions of patients from other parts of Mumbai.
"We had decided not to refuse any patient. Where we had 60 to 70 admissions a day in G-South, now it is 15 to 20. There are more people from western, central suburbs which have seen a spike," says Dr Warty, professor emeritus of the BMC-run B Y L Nair Hospital.
In the last few days, Dr Warty has resumed her medical practice in the mornings. She comes to the NSCI COVID-19 facility in the afternoon and stays there till the evening.
In the first part of a conversation with Rediff.com's Archana Masih, the surgeon reveals what it means to be in the 'war room' of the fight against a disease with no cure, no vaccine.
As a private surgeon, what has been your experience working with the municipal corporation and the public health system in tackling COVID-19?
I came on board three days after Dr Muzaffal Lakdawala, a dear friend, was setting up the facility at the National Sports Club of India. It was in the month of April and doctors were trying everything to fight an unknown disease.
Unlike other viruses, the patient who did not look or feel sick, could still spread the virus.
We realised surveillance was needed to find out how many people had the virus and treat them.
Since this virus had affinity to lung pneumocytes, we took mass X-rays, uploaded them on a cloud and used artificial intelligence to find common problems which reflected a Covid-like picture.
Suppose among 100 X-rays, we would see 30 high-risk ones and would bring it down to 15 or so -- in this way, we could detect a Covid case with 99% accuracy. That formed the basis of our mass surveillance.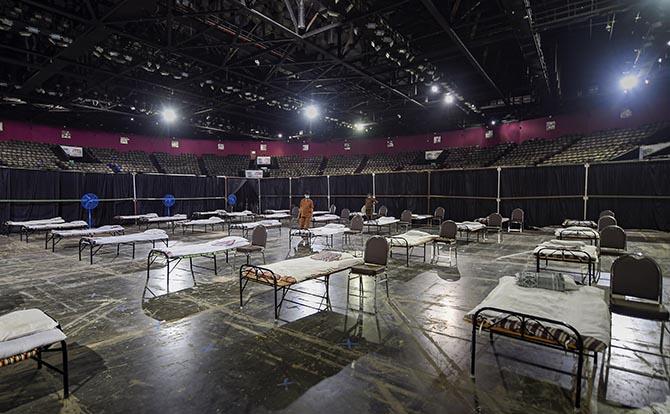 G-South ward in Mu mbai had a high number of cases at that time. What were some innovative ways of screening high-density spots like the slums where many cases were being reported?
Someone donated us a bus which had an X-ray machine. We could also do a swab test and CT scan in that bus.
The bus went to all the slums where there were large number of cases. The bus would be parked and healthcare workers would get people to come out and do the X-rays.
It was cheap and quick. The X-ray machine and spot where the person stood could be sanitised immediately.
At that time, swabs were not easily available, so after the X-ray results, we would narrow down cases and refer suspected cases for swabs.
Sharad Ughade, the assistant commissioner, came and interacted with us every day. He was amazingly positive and had a never say die attitude. We were provided whatever we needed and he was rock solid in support.
The NSCI Dome jumbo facility provided nearly contact-less care to 500 plus Covid-patients. How were patients provided treatment in a facility that was developed from scratch?
The Dome had 518 beds. It was divided into 4 areas since it was not possible to make small rooms like in hospitals because a large number of people needed to be monitored.
Areas were assigned for male, female, high-risk cases and also for families because sometimes whole families would be infected.
Since the sheer number of patients was daunting, we thought they must be e-monitored.
We had cameras which could zero in on any bed. This method was adopted to protect the health worker. Till today, we have not had a single health worker affected.
Nurses did 6-hour shifts going in periodically and doctors would take rounds and monitor the cameras.
On seeing that someone needed attention, the healthcare worker would go and check.
There were contact-less clinics with a glass interface with the doctor on one side and patients in the Dome would queue up on the other side to be examined every day.
We checked the oxygen concentration level, temperature, blood pressure and co-morbidities like diabetes, hypertension, cardiac disease.
Since consulting was from behind the glass interface, PPE suits were not required inside the cabin.
Hepa-filter ACs ensured that the air was changing regularly and there was no viral load. The swab was taken through long gloves attached the booth.
How was an ICU set up in a stadium?
It is a mobile ICU inside containers which house two in each. It was started 12 days back and 12 patients have been treated.
We have also shared our inputs with the other jumbo facilities in the city. The BMC has appointed deans in charge for the jumbo facilities.
The model of the NSCI has become well accepted.
Tata hospital (the Tata Memorial Cancer Hospital) also collaborated so we have a wing for their cancer patients.
Who formed the initial team of doctors and healthcare workers?
We started with 7 doctors -- 1 surgeon, 1 MBBS doctor, 4 occupational and physiotherapists. They were all volunteers.
We were not allotted any doctors at that time because nobody was ready and we had a lot of trouble getting doctors. They were volunteers so the level of commitment was to another level.
They were amazing. They were allotted rooms in NSCI and stayed and worked there.
Now we have 20 interns and MBBS doctors who are trained in the protocols.
We have a mix of volunteers and people appointed by the directorate of medical education and research. There are around 50 nurses.
How different is this facility from a full-fledged Covid hospital?
Earlier, we were a CC2 facility which only accepted asymptomatic patients, but we started providing oxygenation when the four big hospitals did not have enough beds.
We got oxygen concentrators [oxygen concentrators filter surrounding atmospheric air, compressing it to the required density and then deliver purified medical grade oxygen to the patient].
These would give up to 10 litres of oxygen. Aditya Thackeray [MLA of the area] came every day and mobilised oxygen concentrators through CSR which were delivered to us. We used oxygen cylinders also.
A 'Holding Ward' was set up for patients without a Covid report, but with symptoms. They were given treatment or oxygen and stabilised. Their swabs were taken and they were accordingly shifted.
What if patients needed advanced hospital care?
If patients deteriorated, they were sent to the KEM and Nair hospitals (BMC hospitals in north central and central Mumbai).
According to affordability, some went to 7 Hills or Wockhardt, but basically during those earlier days we dealt with patients from the slums who did not have anywhere to go.
I am professor emeritus at Nair hospital and Doctors Dalal and Joshi really helped in admitting any pregnant patient who needed to be shifted immediately to Nair.
Dr Joshi and I had decided that we won't refuse a single patient -- we will give treatment and then move them to other facilities.
Many financially sound people came and stayed for a night because they did not have a bed anywhere else.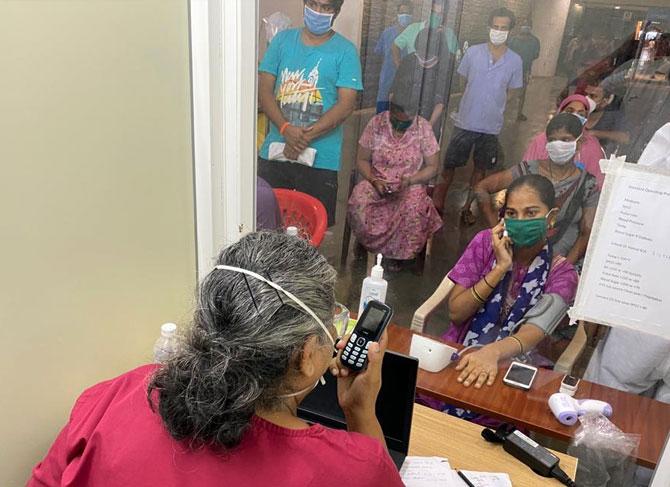 What were some of the learnings about the disease that helped you in providing treatment?
We realised that providing high flow oxygen to patients shows positive results.
If they come early and are given oxygen, the condition doesn't deteriorate.
We had one area assigned for oxygenated patients. At that time we had 300 to 400 patients, but now we have 250 because home quarantine is allowed and other centres have also started functioning.
We formulated the medicines because we did not know what would work. Basically multivitamins and immune boosters.
Slowly it was understood that the virus caused injury to the walls of the veins which would cause clots and sudden deaths.
So, we started giving blood thinners which saved a lot of lives and patients needing transfers to dedicated Covid hospitals reduced.
Pregnant patients also responded very well to the blood thinners.
Feature Production: Aslam Hunani/Rediff.com