''Mumbai is at a peak, from here it can only be a downward trend.''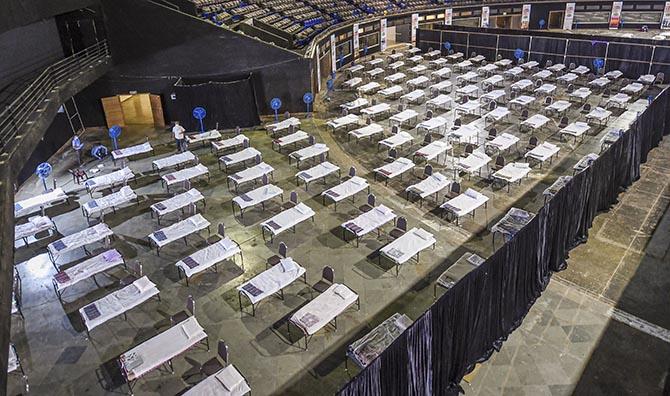 Dr Neeta Warty, one of Mumbai's leading gynaecologists, has been working at the Brihanmumbai Municipal Corporation's COVID-19 facility at the NSCI stadium since April.
"The prisoners had to be moved here from the Arthur road jail because if the infection spread in the prison it would have posed a huge problem. There were police personnel also admitted in the NSCI, so we said we will be fine. The prisoners gave us no problem," Dr Warty tells Rediff.com's Archana Masih in the concluding segment of a two-part interview.
Where do you see Mumbai in its fight against the coronavirus?
We have done very well considering the population density, hygiene conditions and level of understanding of hygiene in the slums.
The infection started in pockets, first from people who came from abroad and then among the slums.
South Mumbai, which had high number of cases, is showing fewer cases and the infections are now increasing in the suburbs.
Mumbai is at a peak, from here it can only be a downward trend.
In another month we should have lesser cases.
One thing everyone wants to know is when will cases in Mumbai peak and then plateau?
I feel that the pattern we saw in south Mumbai is now happening in the suburbs.
In G-South ward (Mumbai is divided into 24 municipal wards) where there were 60 to 70 admissions a day, it has come down to 15 to 20 patients.
There are around 250 patients currently, most of the them from other areas of the city.
The pattern we saw in our ward is that the cases suddenly spiked and then started falling.
I also feel that people are aware of how to protect themselves.
They are getting used to wearing a mask and are washing hands, sanitising. This is what will save many people.
The basic thing is to understand that virus goes in through your eyes, nose and mouth. If you protect these, you will be keeping yourself safe.
When people seek treatment early, it will also bring down both the infection rate and mortality rate.
The death rate for people above the age of 50 is almost 15%. What are the reasons for younger people succumbing to the disease?
Co-morbidity and happy hypoxia (As blood oxygen levels begin to reduce, a person may experience shortness of breath. If blood oxygen levels continue to fall, the organs may shut down, and the issue becomes life threatening).
The patient does not understand that the oxygen saturation level is going down.
That is why it is advised to check oxygen concentration levels, temperature, blood pressure in the morning and evening.
If there is any problem with oxygenation, come to us or a doctor immediately.
Asymptomatic patients are doing home quarantine and are unnecessarily not overcrowding hospitals, but at the same time they have to be monitored well.
Housing societies should also invest in oxygen concentrators.
When cases are picked up fast, the mortality rate will go down.
Patients being admitted to ICU are either those who are coming late to the hospital or have co-morbidities like diabetes, BP or cardiac issue.
Are you surprised with number of young people dying due to Covid?
A lot of young people are having sudden deaths. It is very rare that we found a young patient deteriorating and succumbing in ICU.
This was more related to clotting and thrombus getting dislodged. That is why most hospitals administer blood thinners as routine treatment. Antivirals are also helping in the treatment.
One thing I would like to mention is that pregnant Covid patients are responding well to treatment.
Pregnancy is an immuno-compromised state where immunity is low, but somehow pregnant patients are doing well.
Pregnancy is also a thrombogenic phase, the blood is thicker during pregnancy. That is why it is extremely important to put pregnant patients on blood thinners. Blood thinners have saved a lot of lives.
Breastfeeding is safe because breast milk does not contain COVID-19. Mothers can wear a mask and safely feed the baby.
What do you find most worrying about the virus?
That it has no predictive medicine.
A normal person sitting next to you could be infected.
It has different symptoms and is unpredictable.
The good thing is that most times patients are getting better.
How do we keep homes safe from the virus?
We must understand that this is the new normal.
Have very few people come into the house and meet fewer people as necessary.
Sanitise things that are brought into the house.
Every day I tell people to wear their masks properly because so many times it is just hanging from the ears or neck.
Have a good bath on returning from outside.
Wash your hands often.
How can we boost immunity at this time?
B complex with zinc, if you are deficient in vitamins, but don't go overloading yourself by having them morning and evening.
It is better to eat nutritious food.
What was the experience of treating inmates from Arthur road prison?
They had to be moved here because if the infection spread in the prison it would have posed a huge problem.
There were police personnel also admitted in the NSCI, so we said that we will be fine.
The inmates gave us no problem. I used to counsel them personally that they have to follow treatment and the doctors' advice.
There was also a one-hour yoga session.
When the last patient from the prison was discharged one of the nurses noticed he was carrying a bag.
When it was checked it was found to contain tablets, pulse oxymeters, mobile phones and chargers that had gone missing.
Old habits die hard (laughs).
How was it working with doctors, nurses and healthcare workers at the NSCI?
The young team was exceptional, very committed and happy workers.
The PPE used was of good quality. The donning and doffing was done in the presence of a supervisor to ensure that it was done properly.
Not a single health worker has been infected till date.
The voluntary team was exemplary. It was really an army and the room we sat in to monitor the patients was called the 'war room'.
Feature Production: Aslam Hunani/Rediff.com