From Kutch to Itanagar, Kashmir to Kanyakumari, there is only one emotion, it seems.
Fear. Of coronavirus.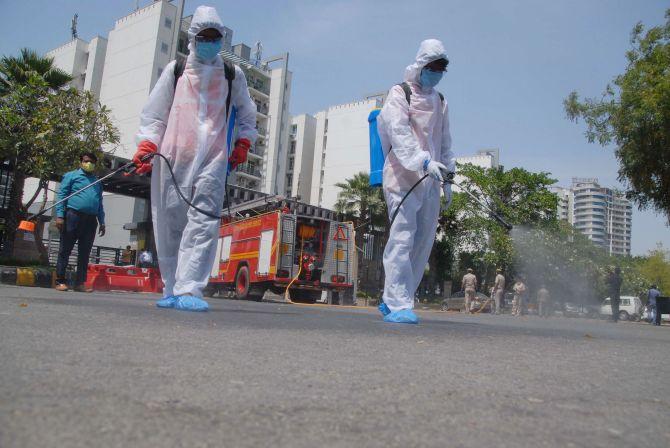 As they cope with the unprecedented national shutdown Indians have been beset by fear that has manifested in various ways.
From not stepping out of the house at all, to not wanting cricket played in the next compound lest the virus in the ball jump over the wall...
Over the last fortnight Sheela Bhatt spoke to a wide spectrum of people across the country to find out how coronavirus has changed their lives.
You dial anybody in any corner of the country and pose a question, "How's the fear of coronavirus?"
"Jabardast!" will come the prompt response in different languages.
Without going into specifics, everybody concurs that they are in a fight for survival.
For the poor, the choice is between lives and livelihood.
Understandably, the fear of death is overwhelming everybody.
In north India, thousands of acres of farmland crops are ready for harvesting, but labourers aren't available -- hailing from other states, they promptly went back home when the lockdown was announced.
All over India there is a demand for the government to intervene and give daily wagers two meals a day.
Gangadharan, a retired government officer in Koduvayur, Palakkad district, Kerala, says, "The fear of coronavirus is there, but people are understanding clearly that it is better to remain in the house and defeat it. Our villages are large and the homes are big enough to stay inside."
"Only once a day, between 6 and 9 in the morning, one of the family members goes out to do minimum shopping. In our area everybody feels safe indoors. There is no dearth of food in villages."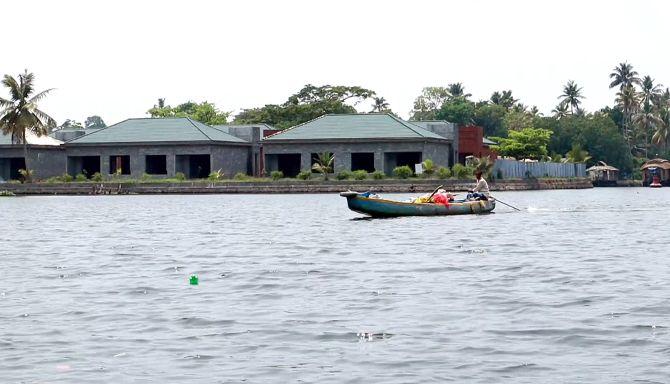 Navin Joshi is a senior editor with a local newspaper in Bhuj, Kutch, Gujarat. Explaining the fear in his city he says, "In my lane resides a family of five members. In the last 15 days we have never even seen them near the window. We are so curious about them. We notice no movement inside their home at all either in the day or at night."
"Only once a day, at 6.30 am, one family member comes to the entrance of their house to get fresh milk. He keeps two bowls in hand, a smaller bowl kept in a bigger one. When the milk is poured in the smaller bowl he keeps it out in the open for some time. He ensures that he doesn't touch the smaller bowl at all," says Joshi.
"We have no idea how they manage life without much movement inside their own house."
"My wife is scared too. She has not stepped into our compound for the last 26 days. She is so scared that we don't subscribe to newspapers nor do we get anything from outside except vegetables. She takes the vegetables in only after keeping it under the sun for three hours."
"In Kutch, except for patients infected by COVID-19, no other patients are taken care of," Joshi complains. "Doctors tell us, 'Let not the coronavirus patient die'."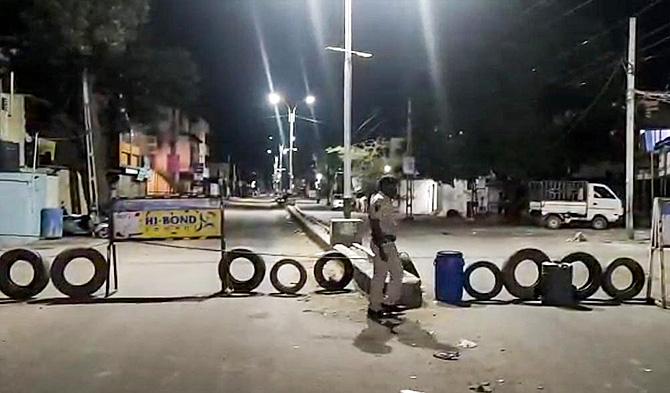 The police and media have questioned, cajoled and coaxed the lone COVID-19 positive patient in Bhuj for many hours to know how he was infected by coronavirus, but no one has been able to crack the mystery.
The family of a powerful politician in Ahmedabad was requested not to play cricket in their backyard. The neighbours claimed the ball, when it touched the compound wall, could carry the virus over to their side.
In New Delhi a columnist who writes on science and technology, has not touched anything in the last 15 days, except for a fork during meals.
Dharmendra is the official photographer of the Mahakaleshwar Jyotirling temple complex in Ujjain, Madhya Pradesh. The ancient temple is one of the 12 Jyotirlings in India that are sacred to Lord Shiva.
"Ujjain and Indore have seen a few deaths due to COVID-19 and people are very scared," says Dharmendra. "I take videos of the aarti every morning, but only with three-four pujaris instead of the presence of thousands of people like it used to be in normal days."
"The temple is completely closed and not one devotee is around," adds Dharmendra. "There are so many residents of Ujjain who never miss the darshan, they would come faithfully every day, some non-stop since half a century."
"The elders in the city have a fear that without doing puja and darshan of the Shivling they may get coronavirus. So they come to the temple complex for a darshan of the closed doors of the temple," he points out.
"You can't imagine what will happen on the day the lockdown is lifted, there will be a mad rush! Without the darshan of Mahakaleshwar at 11 in morning I can't imagine my life. We don' like locking out the temple," he adds, "but the management is following the government's order."
Tanveer Khan lives in Jalalabad, western Uttar Pradesh. "The media coverage of the Tablighi Jamaat has devastated our lives. Two days ago, my mother had high blood pressure at 10 pm. A Hindu doctor who lives a few blocks away told me that we could visit him, but he won't touch my mother because we are Muslim."
Tanveer is not a follower of the Tablighi Jamaat and can't help feeling sad that the doctor was so fearful. In villages around Shamli town, he says Hindus are reluctant to buy vegetables from Muslims. On the farms, crops of potatoes are ready, but Hindu labourers are fearful to visit farms owned by Muslims.
"The fear of coronavirus is ruining us," says Tanveer. "Wherever we go, people say, 'tum log virus spread karoge (you people will spread the virus)'."
It is futile to explain that all Muslims are not followers of Tablighi teachings, he adds.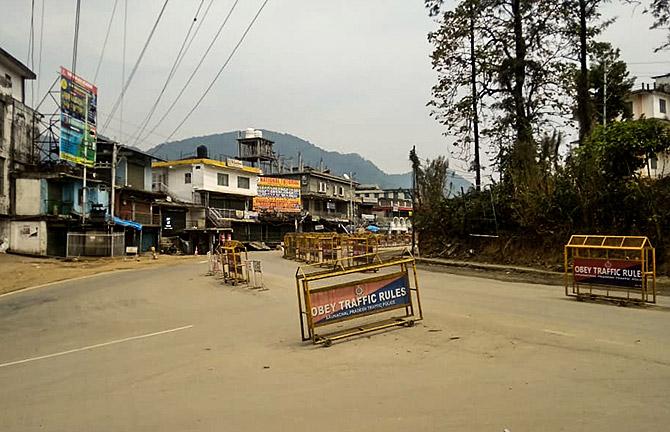 Jarpum Gamlin, a publisher and politician in Itanagar, Arunachal Pradesh, says, "Our state is managed well. The villagers are so smart that they have locked themselves in perfectly. Community lockdown is common here. They don't allow even their relatives and children inside. Fear is strongly etched in their minds."
"So far one resident belonging to the Tablighi Jamaat has tested positive and since then the fear of the virus has gone crazy here. It has turned slightly communal, too," Gamlin adds.
"I assure you that everybody understands what COVID-19 is all about and how not to get infected. People don't want to buy vegetables that come from Assam. The supply has almost stopped, but nobody is complaining."
The fear of coronavirus is also evoking a fighting spirit within Indian society. You hand over a crisis to Indians and they will come up with jugaad.
Like Mohammed Iqbal, the elected municipal representative from Dooru in Anantnag in the Kashmir valley.
He needed a boom sprayer to disinfect villages under his municipal jurisdiction. But it costs Rs 6 lakhs and is supplied from Surat, Gujarat. After COVID-19 came to J&K, his staff manufactured it locally at a cost of Rs 50,000 (below).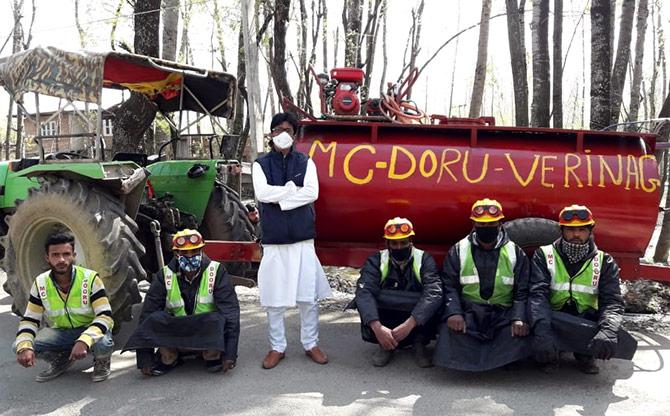 His staff have also set up a sanitiser cabin for people visiting public offices (below).
The fear of the pandemic is so prevalent in the valley, he says, "Everybody is coming forward to help defeat corona."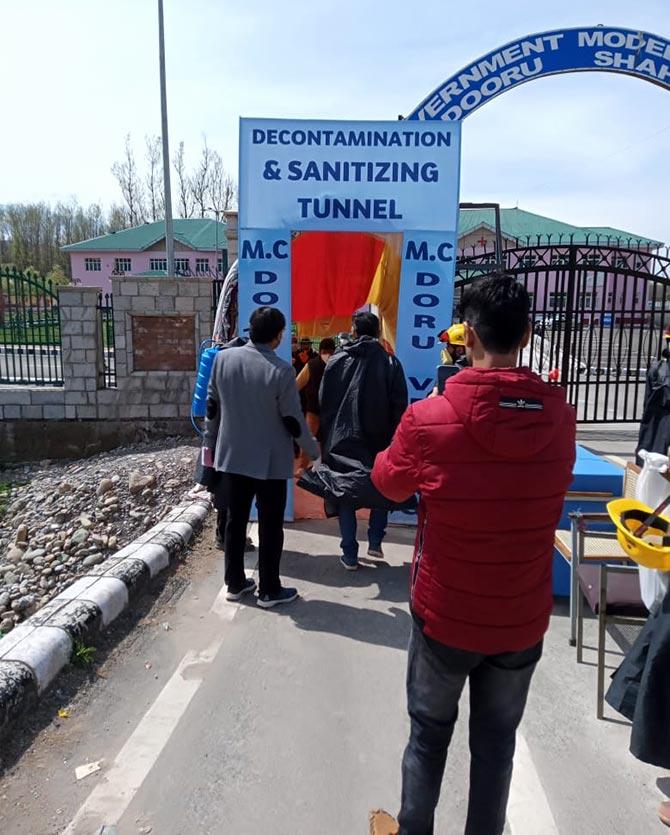 Tariq Mir, journalist and author, lives in Anantnag. "For Kashmiris, a lockdown is not a new phenomenon. But for the first time, social isolation is happening."
"When America got helpless before coronavirus we in Kashmir understood the gravity of the issue. Jab America ne haath unche kar diye, toh hum kya kar sakte hain? (what can we do when even America succumbed to coronavirus?)," Mir asks.
"Those who were talking of erecting a residential colony on the moon could not control one new virus," he adds.
"In Anantnag, people came forward and shared their travel history. It was heartening to see this maturity."
"Recently, my relative died and we made one just call. This is unthinkable," says Mir. "I told them, 'If I attend the funeral then I will turn a 'suicide bomber' for my family on my return from the funeral'. This pandemic is such that not only for yourself, but also for your family you have to follow rules."
Most Kashmiris speculate that those who went on the Umrah and returned from Saudi Arabia may have infected many at Srinagar airport, mulls Mir. "From the airport it has spread."
"The fear of the virus is such that people are remembering god more and more. What we are witnessing is a huge human mobilisation for the good of humanity."
"Inshallah, when the virus is conquered, the world order will change."