'Right now there are two battles, the one in our heads about the pandemic and 2, the actual pandemic itself.'
"As we face this crisis together as a people, we will emerge stronger," clinical psychologist and medical researcher at Mumbai's Jaslok Hospital Maherra Desai, co-author of The Coronavirus: What You Need To Know About The Global Pandemic, tells Rediff.com's Archana Masih.
People are anxious, many are in panic about Covid-19. What should be the proper way to deal with this pandemic by the people?
People tend to polarise into two reactions -- one set of people are getting extremely anxious and constantly getting updated with the storm of information -- on news channels, wtaspp and sometimes get conflicting information and don't know what to believe.
The lack of adequate knowledge from reliable sources is causing a lot of panic.
The other reaction is of people dismissing the information. They feel that they will be invincible through this and nothing will happen.
What is required is to tread a fine line between these two reactions. Both these situations -- panic or complete oblivion -- does not help in dealing with the situation.
There are very few who are calm and collected through this and that number needs to increase.
The fear comes from this question -- how do I protect myself and my loved one.
What should we be doing and what is the best way for citizens to look at this crisis?
We need adequate information about the disease and know how it spreads.
To explain: 1. There is the virus and 2. The disease it causes.
We are heading to a situation where the virus is going to be all around us. You can have the virus on your hand and still not have the disease.
The disease happens when the virus attacks us and the only way it can happen is through our eyes, nose mouth and broken skin.
Till I'm doing everything to prevent that from happening by adequately washing my hands before touching my eyes, nose and mouth, irrespective of where I go, I can prevent the virus from getting into me. The other thing is to keep 1 to 2 metres distance.
One must avoid the sneezes from coming onto you. Hence, keep 1 to 2 metre distance and sneeze into your sleeve. These two things are most important.
There seems to be some kind of stigma being attached to those who have been quarantined or have recovered, also foreigners.
Stigma is coming from half information. Lack of awareness is leading to this kind of situation.
We are moving into survival mode and everyone wants to protect themselves. Anyone seen to be vulnerable or a suspected case, people tend to react as if they have committed a crime.
This pandemic is real and around us, but it is not the only thing in our lives. It is very important to find that balance between being informed about it and being stormed with information.
We are increasingly being home because of this pandemic and every new information comes as a new scare. Our attitude is going to be absolutely critical.
Do what is in control by protecting yourself rather than blaming people.
There are many who are constantly seeing the news, checking their phones -- try to maintain a balance.
Keep a routine for the day, get adequate sleep, eat nutritious food to ensure that you are mentally and physically in the best health to face the infection.
Many people feel imprisoned, but make the best of the time on your hands and use it effectively. Read a book and spend time with family, talk to friends on the phone you haven't spoken to in a while.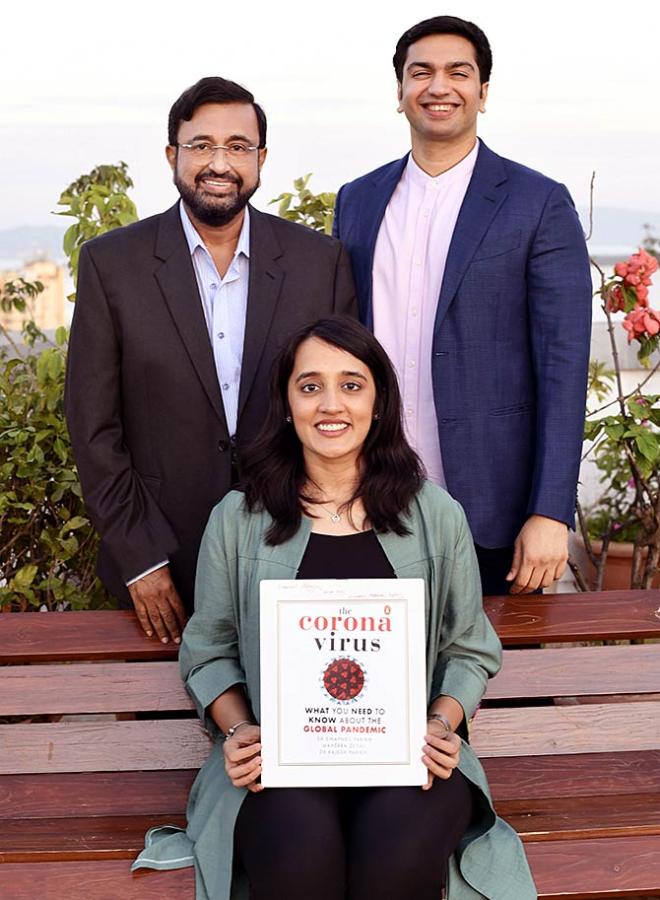 As a psychologist, how do you see the human response to this crisis?
The model to look at is South Korea that has dealt with SARS and MERS before. They are so proactive and because of their past experience the stigma is less, and people are aware about what to do.
In India, public awareness needs to increase about what are the effective ways to do that. India has a lot of social support because we are a collective society.
China tried to hide the outbreak which led to a lot of anger and social outrage.
Keeping people informed is key. Once people understand it is in their self interest to take care of other people, I think we can battle this.
Right now there are two battles, the one in our heads about the pandemic and 2, the actual pandemic itself.
If people are getting anxious, then telemedicine is very possible in India where if someone is anxious s/he can call a helpline and have a professional talk.
Internationally, many health platforms have dropped their paywalls and allow free access so that people can benefit.
How do you think this crisis will mark our times? British Prime Minister Boris Johnson said it is the biggest health crisis of our generation.
It will bring us together in spirit -- though not physically -- and make us aware and improve our basic behaviour routine.
It is not going to be easy, but we are going to get out of this for sure.
It is not going to be soon, but scientists and researchers are working globally like never before.
As we face this crisis together as a people, we will emerge stronger.
I feel India has acted well ahead inspite of our health care constraints.
How is this going to affect us in the long run because at some point of time all of us have to get back to the business of life as we know it? What happens then?
The frustration among many is how long will this last.
For the government to ask companies to work at half manpower capacity has huge economic consequences.
In some countries loans have been waived for a few months, in Mumbai the Maharashtra government has given Rs 45 crores (Rs 450 million) to districts in wake of Covid-19. At this point, we have to trust the decisions of the government.
The sooner we contain it, the better.