'Given the first-time healthcare emergency of this nature and scale, we don't have enough experienced hands to deal with the situation.'
'The models, policies and protocols keep changing everyday depending upon the evolving situation.'
'We are all in trial-and-error mode where we do some right things as well as wrong things.'
'We cannot have an ideal environment to fight this pandemic.'
Prasanna D Zore/Rediff.com spoke with doctors and healthcare staff to discover why they are not happy with how the B Y L Nair Hospital management -- one of the BrihanMumbai Municipal Corporation hospitals at the forefront of battling the coronavirus in the city -- is tackling the pandemic and taking care of frontline healthcare workers.
The hospital staff spoke on the condition that their names, designations or nature of work would not be revealed to protect their identity.
Read on to find out the problems faced by frontline healthcare workers and what initiatives they plan to take to protect themselves from COVID-19 so that they can efficiently treat COVID-10 positive patients that they are treating.
---
"While the Nair Hospital has a capacity to treat around 800 to 1,000 non-COVID-19 patients, the total number of COVID-19 patients that can be accommodated in any hospital automatically reduces to half because while treating COVID-19 positive patients the treatment protocols change completely.
We need special infrastructure to treat these patients, keep safe distance between two beds.
We need to make provisions for staff replacement, if any healthcare worker in the frontline tests positive.
Obviously, you cannot have the same number of hospital beds for COVID-19 positive patients, as we have while treating non-COVID-19 patients.
Kasturba Hospital, Seven Hills Hospital and Nair Hospital are exclusively dedicated for treating COVID-19 positive patients.
An administrative decision is being under consideration to convert some parts of the Sion Hospital and Cooper Hospital also as COVID-19 hospitals.
We are privy to decisions of the BMC administration, but an announcement will be made only by the authorised officers."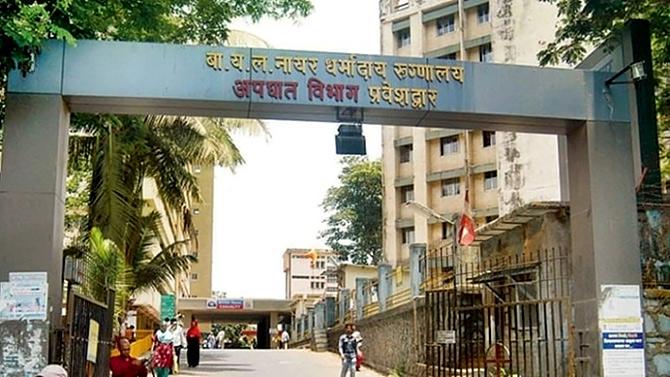 Is Nair prepared to handle the mid-May peak?
"There are enough doctors available to work in the frontline when this happens. But we need skilled supporting staff like nurses, ayahs, ward boys, and more PPEs (personal protection equipment suits) and N95 masks, more alcohol-based sanitisers, sanitiser scrubs to fulfil the needs of this increasing manpower.
We also need special infrastructure for the COVID-19 ward.
There is an obvious gap in what we require and what we have even now.
I don't know if we will be able to ramp up and plug these gaps by mid-May, but the BMC and state administration are working on these requirements.
All the departments are working towards that, but you must understand that this is a sudden condition.
Given the first-time healthcare emergency of this nature and scale, we don't have enough experienced hands to deal with the situation.
The models, policies and protocols keep changing everyday depending upon the evolving situation.
We are all in trial-and-error mode where we do some right things as well as wrong things. We cannot have an ideal environment to fight this pandemic.
Sometime we make policies to prevent the COVID-19 ward overflowing with positive patients, and so we open up new wards. But this requires additional manpower deployment and right now, as I said, we are working on trial-and-error mode.
Given this situation, we are bound to face certain challenges, but we are sure we can overcome them if the hospital leadership listens to the needs of the staff.
We are sending symptomatic but stable patients to the NSCI, Worli.
We work six-hour duties because it is not possible to keep wearing the PPEs without feeling suffocated for more than six hours.
The management first asked us to work eight hours shift but when we refused they accepted our request for working in six hour shifts.
But we do have our issues given the novel nature of dealing with the COVID-19 pandemic.
We feel we are lacking in some departments while trying to control the spread of this pandemic. Because of that a lot of doctors, sisters (nurses), support staff have tested positive.
Our focus now is to prevent the infection among frontline healthcare workers.
With the manpower that we have it gets difficult to deal with patients, the people who have come in their contact, etc.
If frontline healthcare workers start testing positive then it can lead to collapse of the healthcare infrastructure treating COVID-19 positive patients.
Despite taking adequate protection measures like wearing PPEs, N95 masks, regularly using sanitisers, we are trying to figure a way to stop coronavirus infections among ourselves.
One way of doing this is to send non-serious, stable COVID-19 patients to different COVID(-19) Care Centres (like at the NSCI, Worli), which have been arranged for keeping such patients.
And admitting only serious, symptomatic COVOD-19 patients at Nair Hospital. This is not happening yet on the scale that it should happen, but sending stable patients to CCCs (COVID-19 Care Centres) can help ease a lot of pressure from the frontline healthcare workers at Nair or other COVID-19 specific hospitals."
"Hospital like ours should be dedicated exclusively to tertiary care coronavirus patients. Like if there is a neurosurgery COVID-19 patient or a COVID-19 patient in need of dialysis.
The original plan was to make Nair Hospital a super speciality COVID-19 treatment hospital. Right now we are not able to do that because we get lot of calls (from influential people) asking us to admit patients that do not fulfil the criteria.
Only those COVID-19 positive patients who need ICCU care or need ventilators should be given priority here (at the Nair Hospital).
(Shortage) of manpower is another issue.
While we have enough doctors but we need more ward boys, ayahs, which we don't have in adequate numbers right now.
It is the BMC's duty to provide us with the additional manpower we need to treat as well as contain the spread of COVID-19.
We need more meticulous, organised planning to deal with the situation right now and also to prepare ourselves if the pandemic peaks, as many project, mid-May.
The administrators -- hospital dean, etc -- too are stretched given the novel nature of the pandemic and how to deal with it."
Measures to fight the pandemic as well as protecting frontline healthcare workers
"Those staying in hostels, where doctors who are not treating COVID-19 patients come into contact with those treating COVID-19 patients, and so social distancing is not possible when we use the same amenities inside the hostel like washrooms and this could lead to spread of coronavirus.
There is a possibility that those (doctors) treating COVID-19 positive patients may have the infection and pass it on to those doctors who are not in the frontline.
We need to redefine our quarantine and contact tracing policies.
It should not happen that because of lack of manpower we don't do extensive quarantine and actually fudge data about the number of people who had come in contact with COVID-19 positive patients, contact-traced.
We are submitting a letter seeking clarification and direction on these issues to the hospital administration because that is the reason why many frontline healthcare workers are testing positive.
We must strictly adhere to proper quarantine and contact-tracing policies.
Depending upon availability of manpower these protocols keep changing and our request to the hospital administration and the BMC is to chalk out a standard quarantine and contact-tracing policy and strictly adhere to them."
"Infection control policy at the Nair Hospital should also improve to a certain extent. Like the area where we do donning is considered a safe area, but there are no fix areas or exclusive zones for doffing off of PPEs.
While the PPEs are safe while donning they may have been infected at the the time of doffing because we have come in contact with COVID-19 positive patients.
We must have an ideal ward like the one prepared by the Tata Hospital at King Edward Memorial (KEM) Hospital where these protocols are strictly followed.
We are giving some time to the hospital management to implement these changes but if these changes are not implemented we will be releasing a letter to the media. We will be taking this step to ensure our safety of the frontline healthcare workers.
Social distance between ward boys and other healthcare workers is not maintained all the time because of the way the wards have been designed. We are not able to follow the protocols followed by an ideal COVID-19 ward because of various reasons."
"Patients too should be given N95 masks to reduce the viral load in COVID-19 wards.
If a COVID-19 patient coughs, the chances of viral load increasing in the ward becomes high.
When doctors themselves don't have enough of N95 masks, then how can patients get them?
We are requesting the hospital administration for getting us more N95 masks.
We have also sought help from various NGOs because N95 masks are in shortage.
We have enough supply PPE kits and their quality is also very good but what we want the hospital administration to take care of is ensuring proper quarantining, contact-tracing and social-distancing policies within the Hospital premises.
We expect lot of improvement in the coming days from the administration, and we are in regular touch with the management."
"We are also seeking clarification in the policy of treating healthcare workers. We are asking for separate a special ward for treating COVID-19 positive healthcare workers.
We are working on it, but we fear we may have to increase the number of beds from 30 at present as we expect the number of healthcare workers to get infected by coronavirus to rise in the future.
We are asking for a 50-bed ward specially for treating COVID-19 positive healthcare workers. But we are solving these issues as and when they arise."
"You must have seen that we are successfully treating symptomatic as well as asymptomatic patients. The reason for this being apart from these patients reacting well to their treatment, their body immunity too helped them recover from COVID-19.
Looking at this positive, we have also asked for doctors to be provided with high protein diet; tiffin services have been closed; while the Taj Hotel is providing us with food, it will only help that doctors get more of high-protein rich food including non-vegetarian food, which is in short supply as of now.
We are eating chikkis, protein bars and other such protein-rich food so that immunity of frontline healthcare workers improve even as they fight the pandemic.
We don't want to lose any healthcare worker to succumb to COVID-19 and it only helps if their body immunity is high."
"There are nine doctors among the 27 COVID-19 patients from the hospital, but many of them have been discharged and those still admitted are stable.
Most of these doctors were asymptomatic. The good news is none of these doctors were in critical condition and we hope the situation remains the same going ahead.
The latest policy about testing is doctors and healthcare workers have to work for seven days in six-hour shifts after which they quarantine themselves for the next seven days.
On the fifth day of their resting period (which also happens to be the twelfth day of their working cycle) all of them are tested for coronavirus infection.
If someone develops some COVID-19 symptoms within these 12 days then they get tested immediately.