'Most of the cases in Mumbai are asymptomatic -- 85 per cent you can say.'
'Only 10 to 15 per cent are symptomatic.'
Seven Hills hospital, at Andheri east, north Mumbai, is the largest dedicated facility for COVID-19 that the city has.
It was begun mid-March, with some 378 beds, after two weeks of whirlwind work, as a collaboration between the Reliance Foundation Hospital, the Jupiter Hospital and the Maharashtra government, under the umbrella of the Municipal Corporation of Greater Mumbai.
Today, a little more than a month later, it has a 522-bed capacity, of which 20 of them are ICU beds.
Now, by April end, or so, its capacity will grow to 1,500 beds, more than any other city hospital, even as the B Y L Nair hospital plans to expand its capacity to 1,600 eventually, and the Kasturba Gandhi hospital from 128 beds to 65 more.
Admitted within its portals, as of April 20, are 370 patients.
Most have tested positive.
But 17 are in quarantine, suspected to be positive, because of their history -- the throat swab test has been done but results are awaited.
There are 16 COVID-19 positive patients in the hospital's ICU.
Seven Hills has seen some 1,000 people over nearly the last 45 days.
And five unfortunate deaths.
Patients undergoing treatment at Seven Hills pay no hospital fees.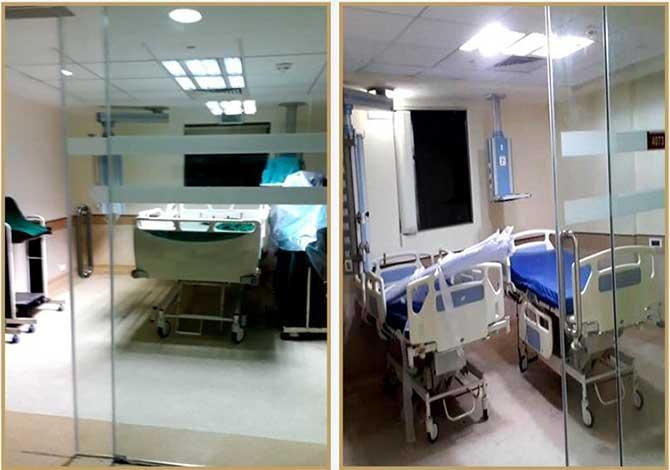 Dr Balkrishna Adsul, Coordinator, Seven Hills hospital, who was earlier professor and head of community medicine at the Cooper Hospital, Juhu, north west Mumbai, and has been working at the facility since March 6, tells Vaihayasi Pande Daniel/Rediff.com: "In Seven Hills all the treatment for the patients is totally free. Food is totally free. Drugs are totally free. Not a single paisa charged for the municipal bed or even for a Reliance bed also."
Seven Hills, at present, is staffed by a zealous squad of 200 plus doctors, 220 plus nurses and 140 ancillary staff, who handle housekeeping and are patient care attendants.
All of the staff is housed, and fed, at the Taj Hotel Santacruz, near the airport, and at a Reliance hotel in Powai, north Mumbai.
Says the senior doctor: "Doctors and staff nurses were (recruited) from the Municipal Corporation of Greater Mumbai, from all the medical colleges, public hospitals, peripheral health services and the public health department. We have sufficient staff."
Those doctors and staff still on the rolls of Seven Hills, before it closed last year, re-joined the COVID-19 hospital's medical force too.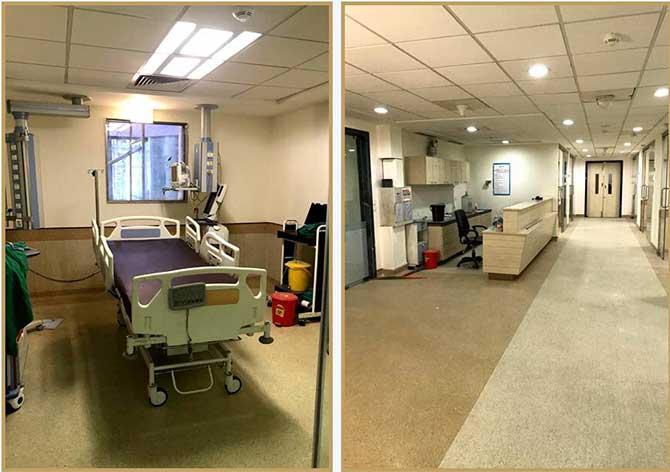 The hospital hums with activity, as Municipal Corporation of Greater Mumbai engineers, contractors and administrators toil to get its capacity rapidly expanded to accommodate the city's rapidly rising load of coronavirus cases.
"We have developed, phase-wise, a further number of beds, and from March 26-27 it became an exclusive isolation centre for the corona patients. Seven Hills is now increasing its capacity from 522 to 1,500 exclusively for corona patients, with 200 beds for the intensive care," says the doctor.
"Civil work is finished. Step-wise development of the beds (is happening) and within next 15 to 20 days we will reach 1,500 beds."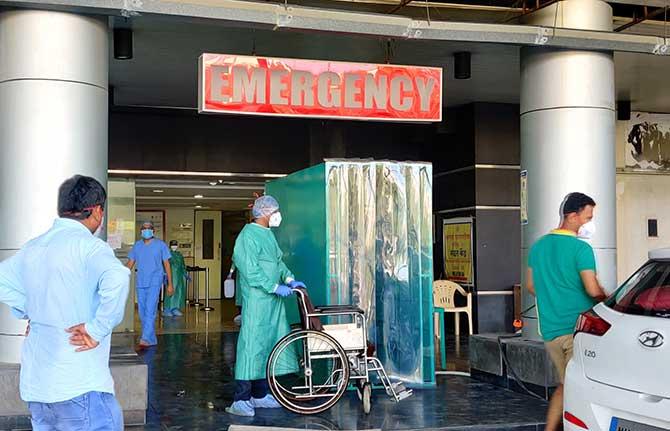 Meanwhile the hospital, which is equipped with Bisleri ozone cabins (ozone helped in the care of the SARS afflicted), is working on supplementing its staff to match its projected new capacity.
That has not been very difficult, apparently, because Mumbai has four medical colleges with lots of nursing staff and doctors.
With COVID-19 slowly becoming a reality in Mumbai life, and its effects manifested, often, in the lower risk, younger age-group, as just a mild fever in many individuals, "People are coming slowly forward to work with corona patients," says the doctor.
"We have advertised for doctors and staff nurses and we have recruited in the last three or four days many. Plus we have advertised for the super-specialists nephrologists, cardiologist, intensivists, anesthetists," he adds. "Yesterday, five people joined exclusively to manage ICU patients in corona care."
Seven Hills offers special incentives for people to join their COVID-19 team.
So, for instance, if the usual monthly salary for a dialysis technician is Rs 20,000, Seven Hills is recruiting at a Rs 50,000 salary.
"With incentives, people are definitely going to work for the corona patients. Everybody is going to be finally be affected. Today I, tomorrow you. People are coming forward and trying to help out in this particular pandemic," says the doctor.
The process of establishing the Seven Hills COVID-19 facility, supervised by senior MCGM officials with the help of Reliance and Jupiter, that almost miraculously happened over 15 days, when the Kasturba hospital's capacity got full, was not without teething issues.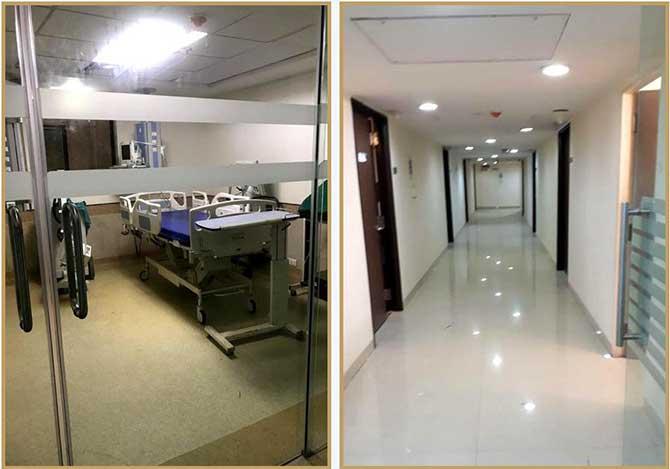 COVID-19, being a new disease, had its own learning curve and the hospital's healthcare workers had to figure out new protocols to deal with it.
For instance, getting all the facility's staff, especially housekeeping, to understand the crucial importance of a cleanliness routine took a few days.
"There was this little issue of the cleanliness. The hospital has an ambience like five star or a corporate hospital. But there had to also be maximum attempts to have maximum cleanliness and sanitising of the areas," the doctor explains.
The staff was taught the importance of a clean-up in the trail or wake of a COVID-19 positive patient, right from when s/he was "admitted in casualty to the ward".
Similarly, after he was "discharged, from the ward to the outside, till s/he goes out and sits in the ambulance. It took four to five days, and now it is very well maintained."
There was also the more difficult problem of some of the staff getting a "little fever" from exposure to the virus and facing it and overcoming it.
After they recovered they were home quarantined, and some soldiered on in special healthcare worker blocks at the hospital.
"Why most of the cases in Mumbai are asymptomatic -- 85 per cent you can say. Only 10 to 15 per cent are symptomatic," says the doctor.
"Out of this 5 to 10 per cent are going to develop complications because of comorbidity. Less than 3 to 4 per cent people, even if they do not have comorbidity will develop the infection and the complications," he adds.
"Those prone to lower respiratory infections are at a high risk for a corona infection. Smokers are at a very high risk."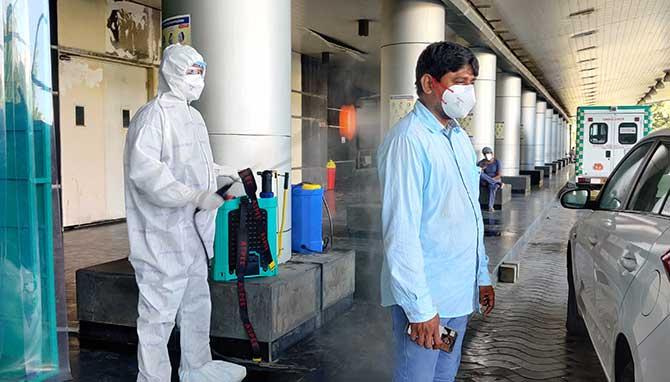 How has COVID-19 been most commonly presenting itself, as far as the doctor has seen in Mumbai? "Usually they come with fever, cough, breathlessness and difficulty of breathing, short breaths. That is suggestive symptoms for corona. Fever is the first sign."
"But if people start developing breathlessness and difficulty breathing, they should go for the swab test."
The doctor says, with proud satisfaction, that he has been working every day, non-stop since March 6.
But he is careful to take regular meals and rest.
"Every day, without a single holiday, from morning to night 9.30 to 10 o'clock. I am doing this work till today, without any health problems," he says.
"Let's hope for the best -- that I am able to maintain my health and able to work for the corona patients."
But he's not fatalistic and is very practical about taking the most important protective measures against the tricky COVID-19. "Wearing masks, washing hands frequently, wearing gloves, and when I go to the patients's wards I use PPE -- all the precautions that are the requirement, so I don't develop infection and I don't transfer to others also."
The doctor says cheerfully, about this huge campaign against COVID-19, in which he is playing a key part: "It's a specific job I am working on. I really want to work on this actually."
SEE: How the Seven Hills hospital prepared for the pandemic: