Lakshmanan contracted polio when he was only three months old.
'I didn't want to go for the swayamvar, but my uncle convinced me to attend.'
He sat close to the door at the swayamvar.
And then, Rohini walked in.
Both her legs, too, were afflicted with polio.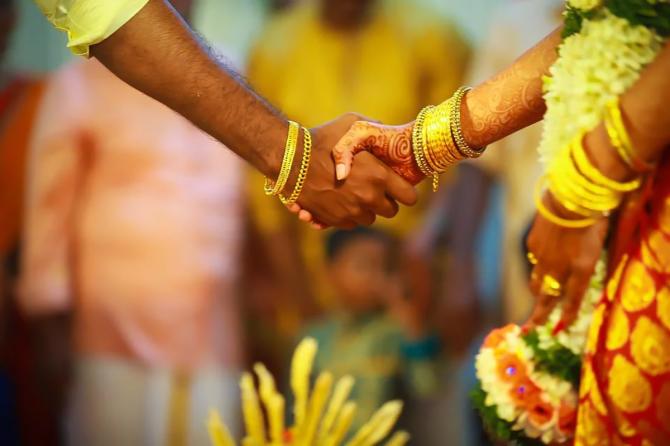 Physically challenged.
Differently abled.
Over the years, the labels have changed.
What hasn't changed -- or has improved only marginally over the decades -- are the challenges they face in every aspect of their personal and professional lives.
Acknowledging this challenge, two Chennai-based trusts have marshalled their resources to help them live a full life.
Since 2009, the Tamil Nadu Differently Abled Federation Charitable Trust -- based in Ekkatuthangal -- helps differently abled people find their life partners through the modern version of the swayamvar.
Dr P Simmachandran, who started the TNDFCT in 1998, tell Rediff.com's A Ganesh Nadar that they have arranged 997 such marriages so far.
In 2010, they were joined in this initiative by the Shree Geeta Bhavan Trust, which was formed by the Goel family 50 years ago. Since then, 507 of these 997 marriages were conducted by the GBT at the Shree Geeta Bhavan hall, located at Gopalapuram in the heart of Chennai. GBT funds the weddings of the differently abled using the income generated by renting the marriage hall for other occasions.
GBT Manager Uma Shankar explains that those who are interested in getting married through their trust need to register themselves at the trust's office or through their web site.
The applicants are then carefully screened at swayamvar centres by physicians, gynaecologists, psychologists and psychiatrists. Their legal status is vetted by advocates.
The applicants who clear this stage -- around 40 per cent tend to get rejected for one reason or the other, says Shankar -- are welcome to attend the swayamvar. Shankar adds that the choice of partner is entirely up to the participant; the trust does not interfere in any manner.
If a couple decide to wed, they once again have to go through medical tests and legal vetting before they get married. They are also counselled to prepare them for their life ahead as a differently abled couple.
An applicant, Shankar says, can be rejected at this stage as well.
Depending on the number of applicants, the swayamvar is conducted annually in 12 to 16 of Tamil Nadu's 38 districts. The marriages, however, are only conducted in Chennai and the couples have to travel to the state's capital at their own expense.
At the Geeta Bhavan hall, marriage rituals are conducted according to Hindu rituals only. "Every couple," says Shankar, "has its own havan kund (holy fire)."
The GBT gifts the newly weds a gold mangalsutra, silver toes rings, outfits for the wedding ceremony, gold-plated jewellery, utensils, pooja vessels, blankets and groceries that will last for two months.
After the wedding, they are dropped at the railway station or bus terminus as per their desire.
The two trusts have divided the responsibilities between themselves -- while the swayamvars and screenings are the responsibility of the TNDFCT, the GBT conducts the marriages. They have even set a record of 72 couples getting married in a year through this process.
The TNDFCT, who get CSR funding for their work, keeps in touch with the couples. Simmachandran adds that, if contacted by the couples, they help with school admission, scholarships and jobs.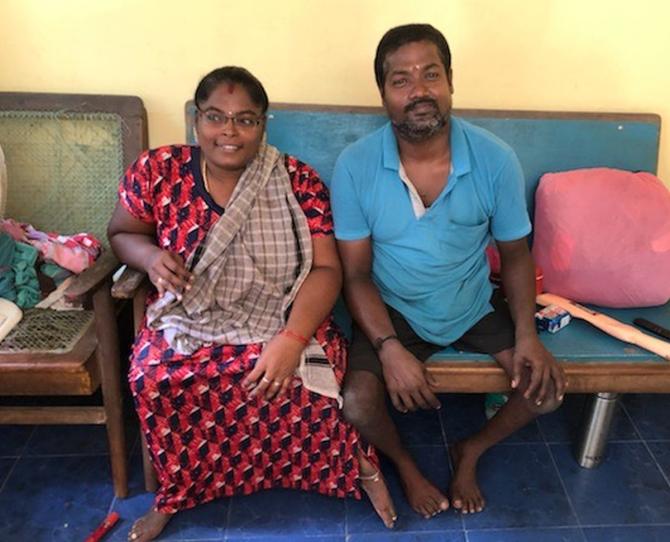 Rohini and Lakshmanan
R Lakshmanan, 41, owns a small shop in Tondiarpet, Chennai, where he repairs household items like gas stoves, blenders and grinders.
He is popular both with his customers and the neighbouring shop owners.
After completing Class 10, he worked in a repair shop before deciding to branch out on his own. At the age of 28, he opened the J Service Centre in VOC Nagar, Tondiarpet.
Lakshmanan -- who contracted polio when he was only three months old; it affected both his legs -- has always refused to let his disability define who he is.
For five years, his family tried to find him a bride but were unable to find a suitable match. That's when he decided to register for the swayamvar. He was disappointed when, after attending two such events, he could not find anyone he liked.
"I didn't want to go for the third swayamvar -- it was in the year 2018 -- but my uncle convinced me to attend."
Lakshmanan sat close to the door at the swayamvar. And then, Rohini walked in. Both her legs, too, were afflicted with polio.
"She sat down opposite me," he smiles. "I liked her. I told her family I have my own service centre and I can look after her. She also liked me and we decided to get married."
They then had to undergo a blood test to ensure they did not have any life-threatening disease.
This was followed by a counselling session where they were advised on what they could expect from each other as spouses and the challenges they would face.
Their documents -- including the Aadhaar card, ration card and other certificates -- are examined and verified.
Twenty days later, they wed at the Geeta Bhavan hall; 55 couples got married that day with individual priests performing individual ceremonies.
The trust gifted them clothes, groceries for two months, some household items and a gold mangalsutra.
"We are happy. We have a three-year-old son, Harshavardhan."
His business, says Lakshmanan, was doing well until 2020; the lockdown, however, affected his shop badly. "Now," he says, "business is okay. I earn enough to pay the rent for my shop and house and take care of my family."
His family, including his sister and four brothers, live nearby.
Lakshmanan dreams of growing his business. "I want to keep spare parts in my shop; I need these for my repair work. I can earn more if I can sell the spares and charge for my service."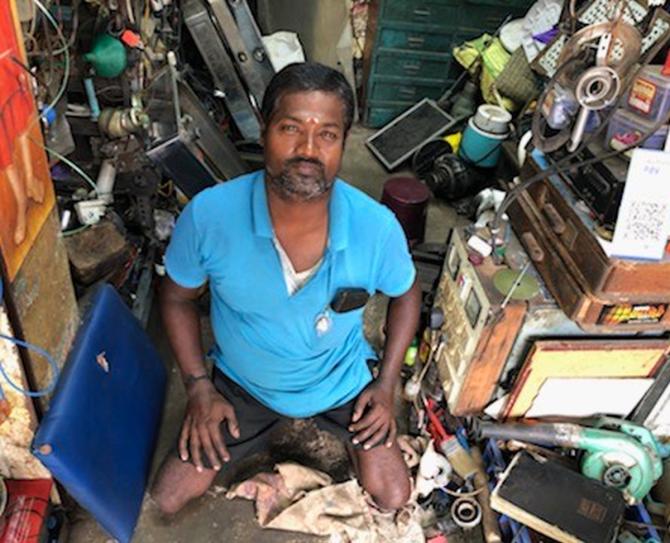 Lakshmanan owns a disabled-friendly scooter on which he drove me from his shop to his house, two streets away.
His wife Rohini, who is 39 years old, was watching television when we reached.
Before their marriage, she worked for 11 years at a book publishing firm. Rohini -- who is a BCom graduate -- plans to work full time again when their son, who is now three years old, is less dependent on her. For now, she is looking for a job that will allow her to work from home.
Her family lives at Ambattur, also in Chennai, and she visits her maternal home regularly.
Rohini, who has an elder sister and a younger brother, was afflicted with polio when she was three years old.
"My son has gone to a balwadi nearby," she smiles. "His father takes him there and will bring him home."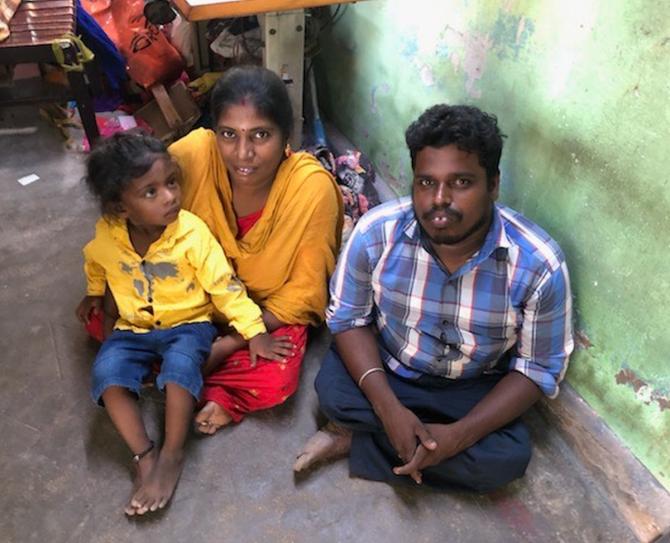 Selvi and Sahariya
S Sahariya, 40, lives with his wife Selvi's family in the Vadakarai area of Red Hills, Chennai.
Polio has afflicted both his legs and he walks with the aid of crutches.
"I was depressed for a long time and did not leave my home," says Selvi, a single child who has lost both his parents. Once he realised he could not give in to his circumstances, he took up a job at a bakery. "I worked there for six years."
Selvi, who has only studied till Class 5, saved up money to buy his own bunk shop (a small stall put together with tin sheets, bunk shops are located on Chennai's pavements and permitted by the municipal corporation when run by the disabled) in 2016.
"It is doing well and I can manage my family's expenses with what I earn."
While he had registered with the GBT and had attended three swayamvars over three years, that's not where he met his wife.
Both Selvi and he are members of the Redhills' Sangam for the differently abled; they became friends after meeting there in 2013.
When they decided to marry in 2018, they wed though the GBT as they were registered there as well.
Today, they have a very active three-year-old son Santosh, who was busy playing as we were talking. His toys were strewn all over the house and on the lawn outside as well.
Selvi, 36, is also afflicted with polio in both her legs. She has two elder sisters and a younger brother who has passed away.
Selvi has never been to school. "My elder sister taught me to read and write in Tamil and English," she says softly.
She learnt tailoring when she was 16. "I am a ladies' tailor. I work from home to add to the family income."
Sahariya runs his shop -- where he sells juice, water, cold drinks and biscuits -- from 8 am to 1 pm and from 4 pm to 8 pm.
He now plans to open an Aavin milk booth at an Industrial Training Institute nearby. "We have applied for permission and it should come through soon," he says.
Like all parents, their goal is to ensure their son is well-educated and has a good start in life.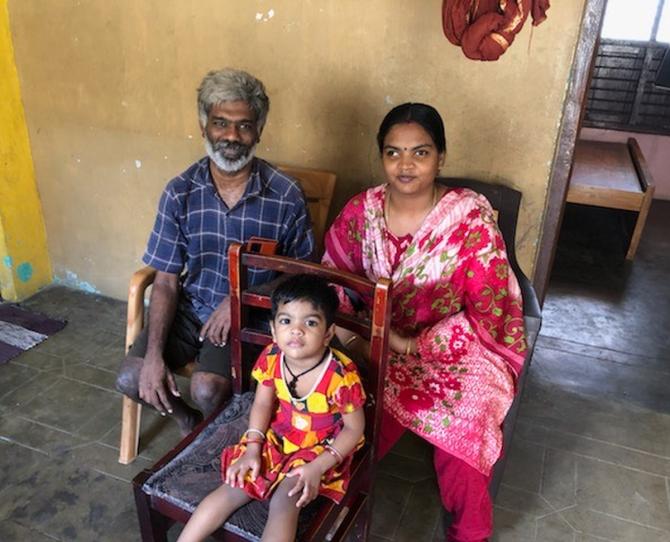 Poorani and Manikandan
K Manikandan, 41, and his wife, Poorani, 32 are well-educated -- he has a BSc in bio-chemistry while she has a BSc in nutrition.
Both have weak legs and cannot walk long distances; Poorani, who was an eight month premature baby, struggles with her balance as well.
Manikandan owns his house and is a lab technician at the TB hospital in Tambaram Sanatorium, Chennai.
Poorani used to work in the billing section at a branch of Apollo Hospitals. "I could not get work as a nutritionist there," she says. "They said I needed to study further."
She quit working after their marriage in 2014 as they can comfortably manage their expenses with Manikandan's salary.
Manikandan's family decided to explore the swayamvar option because they were unable to find him a bride.
Though they live in West Tambaram, Chennai, Manikandan attended his first swayamvar in Coimbatore in 2014. When he did not find a match there, the organisers told him he could attend the next swayamvar in Chennai in the same year. There too, he did not find anyone he liked.
Poorani, whose name was registered with the trust, had not attended the swayamvar but her name was registered with the trust.
Manikandan's mother, Ellilarasi, says, "So we met her at her house in Ayanavaram (a Chennai suburb). Manikandan and Poorani liked each other."
Though they were introduced through the trust, they did not get married at Geeta Bhavan; instead, they wed at the Swamimalai temple and hosted a reception for friends and family in Chennai.
Manikandan and Poorani's three-year-old daughter did not let the interview distract her from her toys.
Manikandan looks at her fondly and says, "I want her to study medicine. I want to see her get married."
Feature Presentation: Rajesh Alva/Rediff.com