'Dowry is the main reason for female foeticide'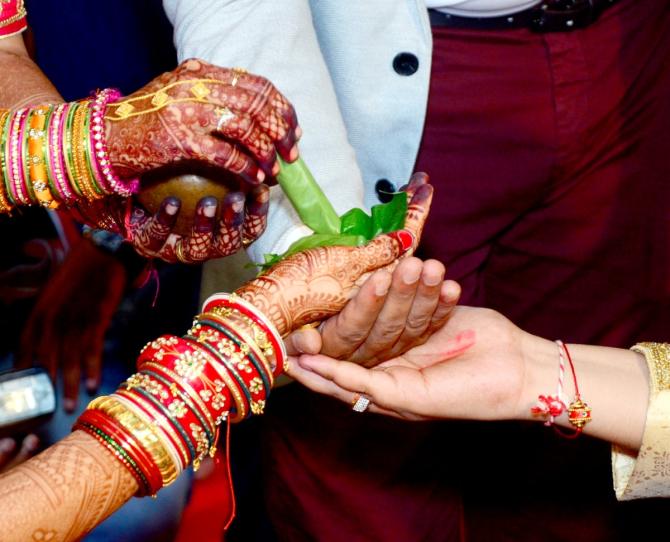 "Dowry is the main reason for female foeticide. These are not two separate problems. They are interlinked," Satya Naresh tells A Ganesh Nadar/Rediff.com.
A problem like this, he believes, cannot be tackled by the government alone; people also need to be involved.
Which is why, 15 years ago, on April 2, 2006, he launched a Web site called IDontWantDowry.com. He was 36.
By then, says Naresh, who is based in Hyderabad, he had been running his own business -- NKG Online -- which provides Web portals and allied Web related services, for five years.
His anti-dowry Web site is financed through his other business portals.
As a college student, Naresh says saw many marriages get stalled, delayed or cancelled because of dowry.
As an entrepreneur, he realised there were Web sites for people who wanted to get married and religion- and caste-specific marriage Web sites. But there was no exclusive Web site for people who wanted to get married without the scourge of dowry. So he decided to start one.
It was his way of contributing to a social cause that was close to his heart.
Over the years, he says he has been able to convince at least half of his close friends and family to abandon the practice of receiving, and giving, dowry.
Of those registered on his Web site, 100 people have got married without giving or receiving dowry. These are the people who kept him informed. The actual number, he believes, must be higher; there are others, he says, who must not have informed him thinking he would ask for a commission, which he does not.
Of the 100, he says, only one marriage failed because the husband later asked his wife for dowry. She refused and complained to the police.
While anyone can register on the Web site, membership is approved only after it is manually verified.
Naresh says 100 more couples may have got married through the annual swayamvarams he has been hosting for 15 years.
Fourteen of the events -- held in Telangana and Andhra Pradesh -- were offline.
Last year, because of the pandemic, it was held online on Zoom.
This year too, the swayamvaram will be online, hosted in both Kerala and Hyderabad.
*One the main reason behind the dowry system, Naresh says, is the belief among many that it is an honour to receive dowry; they also feel it is their responsibility to give a dowry to their girl child.
The problem, he adds, lies in the fact that many people are still not aware that taking, or demanding, dowry is illegal in India. The awareness drive -- which should be helmed by district collectors, local NGOs and the government -- needs to be much more aggressive.
Though there are enough laws against dowry, people manage to find loopholes, he say. He adds that the movement against dowry will only succeed if people realise it is wrong and abandon the practice.
"If celebrities come forward to raise their voice against dowry, it will have a huge impact. People pay attention to what they say," he says.
IDontWantDowry.com has more than 10,000 members. Some join and others leave and so the numbers keep changing.
Surprisingly, 2/3rd of the members are men and 1/3rd are women.
This means there are more boys who are willing to marry, without dowry, than girls. A ratio, that has not changed over the years.
IDontWantDowry.com has both free and paid membership. Those who pay Rs 500 for a year can contact other members. The free members cannot contact others.
According to Satya Naresh, one woman dies every hour in India because of dowry.
If girls are given equal property rights in the family property, he says then this evil dowry system would be less frequent, but he feels nobody does this because of our patriarchal society.
Working women may be asked for less dowry than women who don't go to work, but they are also not entirely free from this evil practice.
Another reason for the dowry evil is that women feel that they will get a better groom if they give dowry. "Change will come from working women," he says.
The literacy rate has nothing to do with dowry. "See what is happening in Kerala, which has the highest literacy in the country," he points out.
To eradicate the dowry evil, he says the government needs to run campaigns against female foeticide and dowry.
Corporates should include anti-dowry campaigns in their CSR activities. Celebrities should mention that dowry is evil.
Even when they hear about any family giving or receiving dowry, people don't interfere.
"'That is the job of the government, it is a law and order problem and so I don't interfere'," he says about the reluctance to interfere with the dowry process.
Feature Presentation: Rajesh Alva/Rediff.com