'We have struggled to pay the rent, we have struggled to pay the electricity bill, we have struggled to send them to school, to buy books and uniforms but there was food on the table every day!'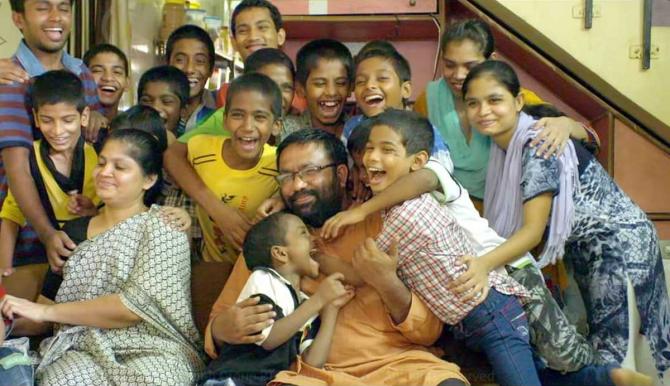 It was in 1995 that I first met Dr Manorama and her HIV positive children, described then as AIDS orphans.
In 1993, when she converted a part of her house to make a home for two small abandoned children -- Krishnaveni and Ravi -- it was the first effort of its kind in India (Do see: Treating AIDS orphans with care)
Over the years, I met Dr Manorama and the children many times. In no time, the number of children in need of care increased and she had to move them to a bigger and better home.
A similar incident changed Pastor Reji Thomas's life.
He came to Mumbai in 1989 in search of a job and went on to study theology; he became a pastor in 1998.
At that time, he had no plan to start a home for HIV positive children.
Yet, today, he and his wife Mini take care of 31 HIV positive children in their home.
Reji Thomas tells Rediff.com's Shobha Warrier why he converted his modest home into the Bless Foundation (external link), a shelter for HIV positive children.
The incident that changed Reji's life
As a part of our work, Pastor Sunil Akarathu and I used to regularly go to the D Y Patil Medical College in Navi Mumbai to pray for terminally ill patients.
That particular day in April 2007, we were asked to pray for a very sick 12-year-old Nepali girl.
We were horrified to see her; she was just skin and bones. I thought she was in an advanced stage of tuberculosis as I had only seen TB patients in such a condition till then.
I was told she had AIDS and she contracted it from her parents who passed away when she was very young. She grew up an orphan. When her condition deteriorated, somebody got her admitted into the hospital.
When we were about to return after praying for her, she told us she wanted to eat noodles.
Unfortunately, we didn't have any money with us, but we promised to come back the next day with the noodles.
We kept our promise but it was too late; she had passed away the previous night.
The news of her death shook us; we felt we failed her. We were saddened by the fact that a small child passed away due to AIDS without fulfilling her last wish.
That was when we decided to help orphans like her by giving them a better life.
Though we had been thinking of doing something for children, we never thought about HIV positive children before. That change happened because of this sad encounter.
A home for HIV positive orphans
Once we had decided we were going to start a home, we met many people and asked them for their help.
It took us almost two years to realise our dream. We started planning in 2008 but could only start functioning in July 2009.
In the meantime, Sunil moved to Australia, but continued to help me from there.
Since he was not here, the entire responsibility fell on me.
I had a wife and two small children to take care of and I didn't want them involved in my work. My plan was to have a separate house for the HIV positive children with a caretaker and a cook to look after them.
With the initial help we got, I rented a house.
But all my efforts to find a cook and a caretaker failed. Many people wanted the job, but backed out when I told them the children they had to take care of were HIV positive.
I had no other option but keep the four HIV positive children with me till I got a caretaker. But first, I asked my wife what she thought. She supported the idea and that's how Mini and I, our children and the four HIV positive children (Shubham, Shrawani, Yash and Vijay) decided to move into the rented house on July 22, 2009.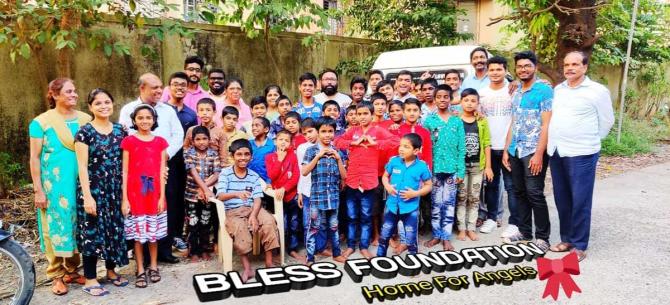 Bless Foundation is born
When we thought of starting a home for HIV positive children, Sunil suggested naming it Bless Foundation. I also felt it was due to the blessing of God that we were chosen to do this work.
We didn't even have a cot or mattresses with us till then as we lived a very spartan life; it was just mats on the floor and a pillow. But then, it was just Mini, me and our two children.
With four not-so-well children to take care of, we needed certain things.
When our church announced my decision to start a home for HIV positive children, one person donated some bedsheets, another a few vessels. With these possessions, we started Bless Foundation.
Mini decided she would be their cook and caretaker.
In three months, the number of children went up from four to eight.
At about this time, someone who heard about us visited our home. Seeing our plight, he donated 15 mattresses and a cot.
Kind souls like these have kept the home running till now.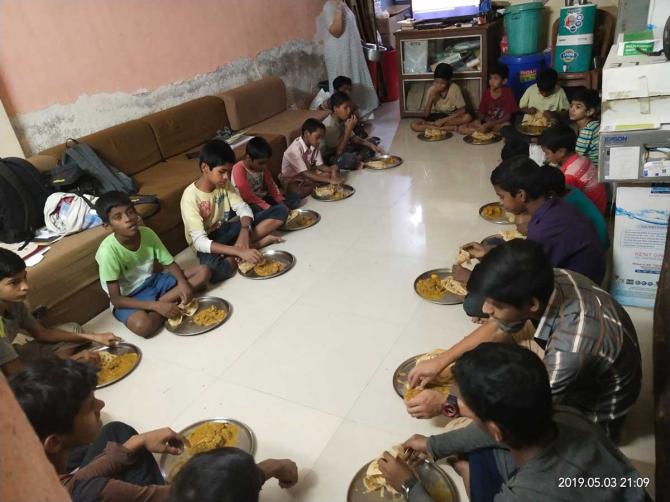 Our children never went to bed hungry
Though we were not in a financial position to buy food for so many children, I was confident that we would never face a day when our children would be hungry.
I believe in God and the Bible says, 'He would see to it that there would be food on the table for those who helped the poor and the orphans.'
Believe me, till today, my children did not have to go to bed hungry.
We have struggled to pay the rent, we have struggled to pay the electricity bill, we have struggled to send them to school, to buy books and uniforms but there was food on the table every day!
When our containers turned empty, somebody would appear from somewhere to donate rice or wheat or other provisions; that's how we have fed our children until today.
There were hurdles along the way...
Our journey has not, and is not, not smooth; we faced many, many problems.
There was this one person who was supporting us from the beginning. Somebody told him I was a fraud, that only my family and I had food and the children were never fed. He believed the gossipmonger and stopped supporting us in 2010.
Of course, the accusation hurt me. But what pained me more than that was the fact that his decision would affect our children. We were so dependent on him that there would not be any food without his support.
Not just hurdles, miracles too...
I was so hurt that I told the children (we had 16 children to feed then) that I had no idea how we were going to survive the next month as our sole support had ended.
We could do nothing but pray to God for a miracle. Then, a miracle actually happened.
A businessman from Kerala visited us and donated Rs 50,000 to buy food for the children!
We immediately we rushed to a shop and bought 100 kilos of rice and other stuff.
You may not believe it but, after that day, I haven't gone out to buy rice! From that month onwards, someone or the other has been supplying us with rice.
The challenges of a rented house
Living in a rented house with so many children has not been easy.
We never told the house owner or the neighbours that our children were HIV positive. We are aware how the society perceived people with HIV. Our neighbours were under the impression that the children were orphans.
But we had to change houses very frequently as the residents and the housing societies objected to the noise our children made. When you have so many children, there is bound to be noise.
That was when we decided to rent a house instead of a flat so that nobody would complain about the children. Still, we had to change houses 2-3 times.
Now, the children have their own house
Two years ago, we bought a house with four bedrooms and a hall; we have 31 children with us now!
Though my initial plan was to start a home for HIV positive children and not have them living with us, neither my wife nor I can think of separating from them now; they have become a part of our family.
I did, however, take a decision to have only boys at home as I felt it would create problems if we were to have both boys and girls living together.
Also, once they turn 18, I move them to another place.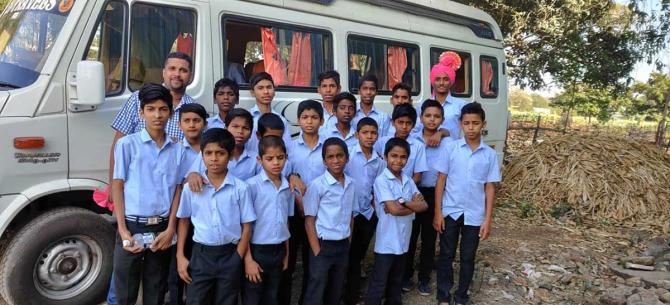 Time for school
From the beginning, I wanted to send all our children to school. But our financial situation was such that I was not in a position to buy uniforms and books and pay their school fees.
Today, with the support we are getting, I am able to send all the children to school.
ART and other medicines
Since all our children are HIV positive, we need supplements like vitamins, calcium, etc. We also need ART (antiretroviral treatment. While it cannot cure HIV, it does help HIV patients to live longer, healthier lives). The government provides ART free, so that's not an issue though there is a shortage of ART these days.
I must thank the medical colleges over here; they have been extremely supportive of our children whenever they needed hospital admission or treatment.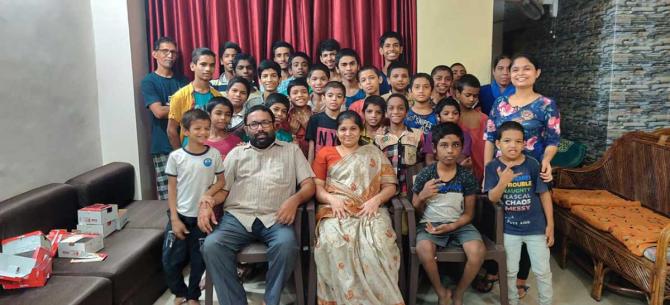 My wife, my support
I could only help these children because of my wife's support. She has sacrificed a lot in order to take care of so many children.
After we started the home, we have not gone to Kerala together. She has no time to relax or have fun, but she has never complained.
She has been my pillar of strength since we started Bless Foundation.
The journey continues...
We are not in a position to accommodate more children even though there are quite a few children waiting to come.
If we have one more home, we will be able to take care of more children.
I hope to buy a plot where we can build a bigger house and provide a home for more needy children.
My dream is to bring smile on the faces of as many children as possible who otherwise think they have nobody of their own and there is no hope in this world. I want them to grow up believing there is hope!
It has been 12 years since we started our journey.
When I look back, I do not know how these 12 years have passed.
Feature Presentation: Ashish Narsale/Rediff.com