'Congress will try to use Malerkotla to woo Muslim votes in UP. Muslims across the country have definitely taken note of this move in Punjab. But they vote only for a party that can defeat the BJP. The Congress doesn't seem to be capable of doing that'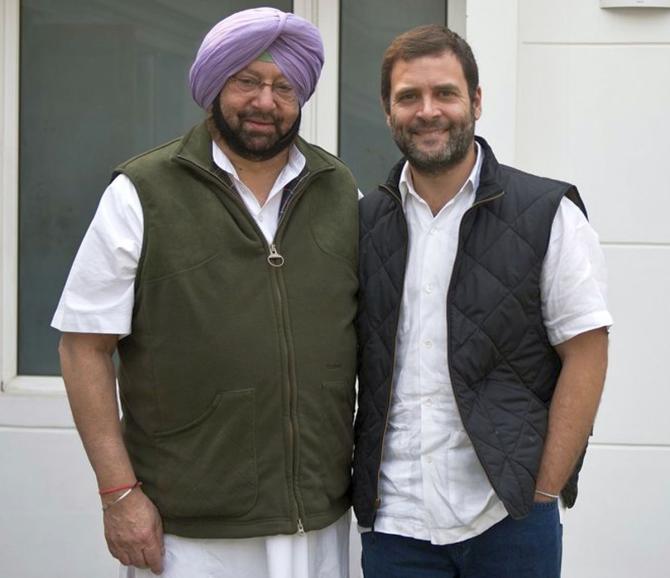 It's not often that two high-profile chief ministers in India take pot shots at each other.
So, when Uttar Pradesh Chief Minister Yogi Adityanath called his Punjab counterpart Amarinder Singh's decision to declare the state's Muslim majority sub-district of Malerkotla a full-fledged district an embodiment of the "divisive politics of the Congress", tongues were set wagging on all sides.
While Amarinder asked Adityanath to mind his own business, the move could well resonate in both Punjab and UP, which go to the polls next year.
The Amarinder government declared Malerkotla, where more than half the population is Muslim, the newest district of Punjab on Eid as a symbolic gesture to the community.
While just 2 per cent of Punjab's population is Muslim, the community comprises almost two-thirds of the population in urban Malerkotla and more than a third in its rural parts.
The Sikhs, who form a majority in the state, are a minority in Malerkotla. It was carved out of Sangrur district and will now join other non-Kashmir districts like Dhubri in Assam, Malappuram in Kerala, Kishanganj in Bihar, and Murshidabad in West Bengal, where two-thirds of the population are Muslim.
The Punjab government has stated this will bring the administration closer to the people of Malerkotla and would also fulfil a long-standing demand in the area.
"Unlike other states, Muslims consider themselves part of the Punjabi identity," said Mohammad Sadique, Congress MP from Faridkot and former MLA from Malerkotla. Sadique, a political veteran and a Punjabi singer, waxed eloquent about the history of Malerkotla.
He said, "The 10th Sikh guru, Guru Gobind Singh, had blessed the Nawab of Malerkotla when he walked out of the Mughal court over their decision to brick the Guru's two young sons alive. The genesis of harmony between Sikhs and Muslims in Malerkotla dates back to then. Empowering Muslims in Malerkotla by declaring it a district is paying respects to the Sikh guru."
This Sikh twist to a pro-Muslim political manoeuvre comes at a time when Amarinder is under fire from all quarters, including his own renegade party man Navjot Sidhu, for failing to act decisively in punishing those involved in mass desecration of holy Sikh scriptures in 2015.
"It was a promise in the Congress manifesto in 2017 and with elections just a few months away, they have implemented it. Amarinder has failed to fulfil most promises he made in 2017. This was the easiest thing for the Congress to do. In any case, the costs of forming the new district will have to be borne by the next government," said Ashutosh Kumar, professor of political science at Chandigarh-based Panjab University.
Apart from the theologically derived bonhomie among the Sikhs and Muslims, Malerkotla is also documented as the only place in undivided Punjab where no bloodshed was reported in the wake of the partition of Punjab in 1947.
While communal tensions have flared up elsewhere in the country including during the recent demonisation of the Tablighi Jamaat, Malerkotla, which has deep links with the Tablighi Jamaat, has remained untouched.
Academics have tried to decode Malerkotla's uniqueness in the past.
In a 2009 paper published in The Journal of Asian Studies, Anna Bigelow noted, "A more pragmatic explanation for peace in Malerkotla is its post-partition status as the only substantial Muslim community in Punjab. This demographic profile increases the town's appeal as a symbolically powerful electoral constituency. This prominent profile requires Malerkotla's citizens to maintain their public personae as 'good' Muslims, docile and placid citizens of India. Muslims stand for elections and belong to political parties that elsewhere would be considered antithetical to Muslim interests such as the Sikh nationalist Shiromani Akali Dal which formed an alliance with the Hindu nationalist Bharatiya Janata Party."
The sitting MLA from Malerkotla is Razia Sultana, a minister in the state cabinet.
In 2017, all candidates against Sultana fielded by major political parties, including the Akali Dal, were Muslim.
Analysts believe the Congress will be looking to leverage the Malerkotla move in states like UP and Gujarat which, like Punjab and UP, goes to the polls in 2022.
Unlike Punjab, they have a significantly higher Muslim population.
The community comprises 19 per cent of UP's population and 10 per cent of Gujarat's.
Ashutosh Kumar added, "The Congress will try to use Malerkotla to woo Muslim votes in UP. Muslims across the country have definitely taken note of this move in Punjab. But they vote only for a party that can defeat the BJP. The Congress doesn't seem to be capable of doing that."