'Forming cults around Lalus, Nitishes, Mulayams, Mayawatis and Mamatas will do as much harm to the Republic as the bhakti of the Hindus for Modi will do,' says Mohammad Sajjad.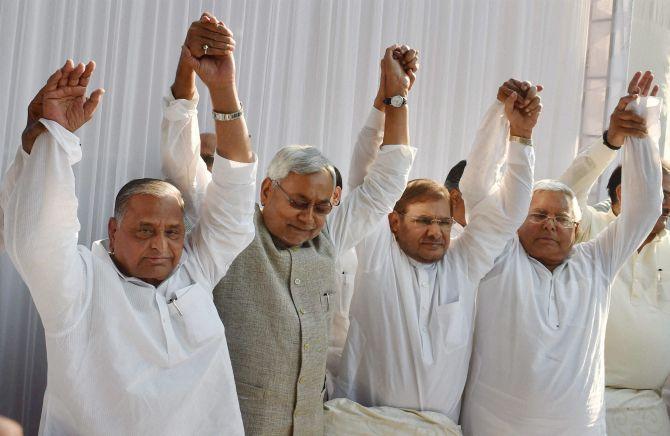 Given the multichromatic civilisational character of India coupled with pluralistic tolerant ideologies for centuries continuing to inform even the national movement, post-Independence India chose certain ideals as a way forward.
A distinctive variety of secularism and socialism came to be accepted as the life blood of our Republic.
Ironically, the Indian polity now seems to be making a fast and furious journey towards a hate-filled exclusionary nationalism as a sort of political expediency in electoral politics.
The passionate agency, in the forefront, pushing it has ideological antecedents who stayed away from the freedom movement and also from the gigantic task of nation-building in the early years of the Republic.
That is a huge irony and extremely disturbing too.
Helplessness and haplessness seem to be gripping those who wish to defeat such forces in order to build a beautiful, strong India.
It is therefore an urgent necessity to introspect how has this happened. Admittedly, there is still a great lack of understanding about diagnosing it.
This utterly disturbing deficiency on the part of liberal-secular Indians manifested most recently in Bihar.
Bihar Chief Minister Nitish Kumar has been making alliances from Left to Right, but his latest hopping shocked most liberal-secular Indians.
He aligned with Lalu Yadav in 2015 despite having pursued politics nursing a visceral hatred against the latter for more than two decades.
He went back to Narendra Modi in July 2017 despite having left the National Democratic Alliance precisely because of one individual -- Narendra Modi.
While Modi's supporters don't see any wrong in this re-alignment, the liberal-secular segments also did not see any wrong in Nitish Kumar ditching the mandate of 2010 (Nitish plus the BJP) in June 2013, and aligning with Lalu in 2015.
Catchy phrases like 'robbery of the mandate' are invoked selectively by both sides. Consequently, attacking Nitish Kumar's 'betrayal' is less likely to serve any electoral purpose.
Such criticism won't convince the electorate.
Such dubious duplicity and contradictions have been taking a price of discrediting the people and political forces identified with liberal-secular ideas.
The votaries of Hindutva too are bound to lose their magnetism somewhere down the line because of their opportunistic alignments and compromises.
Just as liberal-secular votaries have eroded their credibility by such contradictory utterances and political practices.
This is what has made secularism and socialism more a liability for increasingly large segments of the Indian population than a noble idea of making a happier, prosperous India.
Let it be illustrated with another instance. Lalu Yadav has become not only an epitome of corruption, but also of someone who cannot give a modicum of governance, a trait which he shares with a large number of BJP ministers. Yet, they are not as discredited as Lalu.
For instance, the Vyapam scam in Madhya Pradesh coupled with the mysterious killings of as many as 44 witnesses/accused in the case has not created such a furore and outrage against Madhya Pradesh Chief Minister Shivraj Singh Chauhan.
One of the principal reasons for this varying response of the electorates is: Unlike Lalu, Chauhan has probably not chosen to keep losing his social base.
Between 1997 and 2005 Lalu came to be identified as someone sitting in power to dole out state patronage to the Yadavas (12%).
His other support base -- the Muslims (17%)-- could be taken for granted just on the guarantee of protection from communal riots.
Together, the two categories formed almost 30% of the Bihar electorate. The remaining 70% remained scattered along several political formations. The day they joined together, things changed drastically.
The secularists failed to tell Lalu that Yadavisation is not secularism. Rather, they aligned with him to get his hostage vote of 30%.
And how did the non-Yadav Hindus discover 'secularism'?
They gathered an impression that their political empowerment and their share in state resources were denied in the name of an ideology veering around secularism, which they view as a favour to Muslims and nothing else.
Even though such politics in real terms benefitted mostly the Yadavas, the non-Yadavas came to develop anger against the Muslims whose support to Lalu had become a strong impediment in their way towards empowerment by dislodging the Yadavas.
This logic can be extended to the regimes of Mayawati (Jatavas plus Muslims) and Akhilesh Yadav in neighbouring Uttar Pradesh.
Moreover, corruption, identified with a single caste/dynasty in power, is resented most by the people because other social groups don't share in the largesse.
The BJP is growing as a broader social coalition of Hindus, therefore, the corruption of its government will not be resented as much as against parties like the Rashtriya Janata Dal/the Samajwadi Party/the Bahujan Samaj Party who don't have co-sharers beyond a caste/dynasty.
This is how the BJP is able to discredit such parties on the issue of corruption. Similar exposes against the BJP by the RJD/SP/BSP won't garner as much support.
Thus, a point of time has arrived when every other Hindu social group came to rally behind a party which has consistently been anti-Muslim.
This is how the 'Politics of Secularism' has contributed towards communalisation.
The perception in the majority community that this category called Muslim is more a problem (besides an impediment) came to get more acceptability when they saw that anything to do with culture is evaluated by Muslims first in the light of whether it is sanctioned or prohibited by Islam.
So much so that a section of Muslims will issue/obtain a fatwa against Sania Mirza's dress, against a cricketer's wife's dress, etc.
A Hindu MLA/minister would not have suffered a problem if he had chanted Allah o Akbar on his own, but a Muslim MLA/minister did face a fatwa of apostasy and much uproar, social boycott, even by his own family, and many more problems merely having shouted 'Jai Shri Ram'.
In an extremely communally surchrged atmosphere, all these otherwise trivial or less important issues tend to attain volcanic political saliencies.
Ironically, even a bigoted Hindu will look at this as Muslim bigotry, as a problem or impediment in the way of taking India forward.
Over these many decades this is the way stereotyping of Muslims has been done to feed Hindutva groups.
Aspirational groups of Hindu youth now look upon Muslims as the ones because of whom they are unable to move ahead in trade, services, the economy and education.
To them, Bihar, UP, West Bengal could have made greater progress had there been no politics sensitive to the Muslims.
It is this kind of jaundiced feeding of Hindus during these many decades that rather than enlisting sympathy for the Muslims on their backwardness in the economy and education, it is rationalised that they are backward because of their attitudes about their religion which guides a totality of their lives, and that their presence in certain demographic proportion holds India back.
And that liberal-secular forces have been pandering to such retrogressions of Muslims at the cost of India's way forward.
This is what is understood by aspirational Hindu youth as appeasement of Muslims.
And this is why the data of backwardness demonstrated by the Sachar Committee Report does not enlist sympathy from these groups for Muslims.
It is with this logic that they cite the examples of the shining cities of Gujarat, and that these could make progress only after the provincial government dispensed with the Muslims making them voiceless, marginalised and electorally irrelevant.
Since the 'secularist' political parties have been made to be seen as having pandered to the conservatism of the Muslims (the Shah Bano issue being one blatant example), they have now become so very suspect and repulsive that they are not able to put forward corrective ways of communicating with the Hindu electorate on any given issue.
Thus, historical falsehoods propagated by some Hindutva groups are paraded as the truth while the secularists look on helplessly.
Such prejudice and antipathy -- even hatred -- could become even more convincing to average Hindus because of the silence of Muslim and non-Muslim liberals against Muslim conservatives.
This is how most non-BJP parties came to be identified as pro-Muslim and anti-Hindu parties.
This is why when these political parties attack the BJP on any given fault (corruption, dynasty, lawlessness, economic underperformance and disasters), the 'neo-converts' to Hindutva cling on to the BJP even more strongly, as they begin to foresee, howsoever mistakenly, a polity and governance which will not let them actualise their aspirations.
The 'secularists' appear to have lost the credibility of making the youth see the reality and truth.
The more the NDA fails on the economic front, the more it will vilify Muslims to hoodwink the Hindu electorate.
How can we get out of this ominous trouble?
A long haul battle is required.
One of the many steps to be taken immediately is that liberal Muslims along with their counterparts in other communities need to come out openly against the many trivialities of Muslim conservatives.
They will have to be honest in telling the truth about wrongs committed by their co-religionists and also by their political patrons.
They may cast their votes secretly in favour of their preferred political parties, but having voted, they should turn into vigilant citizens asking valid questions, joining other citizens.
Forming cults around Lalus, Nitishes, Mulayams, Mayawatis and Mamatas will do as much harm to the Republic as the bhakti of the Hindus for Modi will do.
'Eternal vigilance is the price of liberty' is a motto they need to stick to if republican values have to be retrieved and entrenched.
Professor Mohammad Sajjad is with the Centre of Advanced Study in History, Aligarh Muslim University.
He has published two books: Muslim Politics in Bihar: Changing Contours (Routledge, 2014); Contesting Colonialism and Separatism: Muslims of Muzaffarpur since 1857 (Primus, 2014)
IMAGE: Mulayam Singh Yadav, Nitish Kumar, Sharad Yadav and Lalu Prasad Yadav at the announcement of the merger of the Janata Parivar in 2015, which fell through. Photograph: PTI