According to an insider, "Winning is all that matters to the BJP. The leaders were warned that he was an undesirable character but they said look at his victory margin." Radhika Ramaseshan reports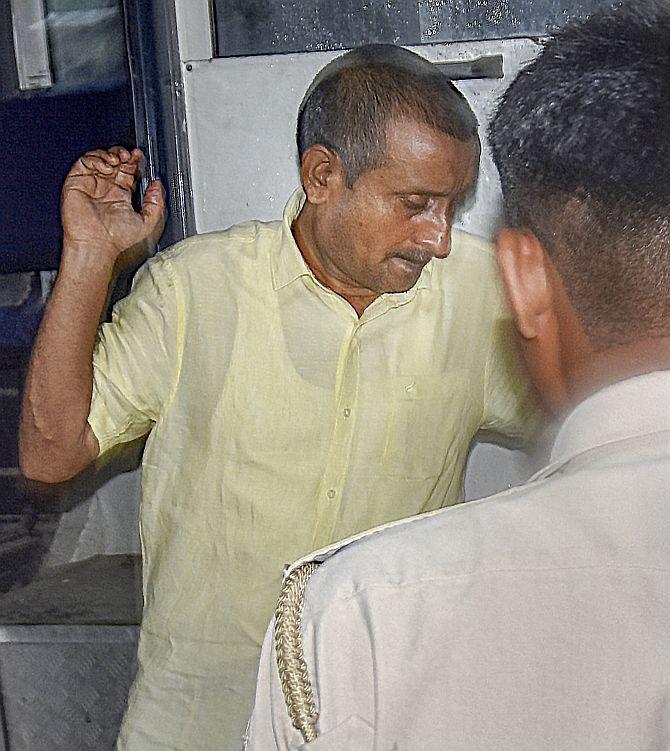 In Uttar Pradesh, Raghuraj Pratap Singh alias Raja Bhaiyya, Akhilesh Singh, Dhananjay Singh, Mukhtar Ansari and Atique Ahmed jostle for space and attention in a bizarre roll of honour that valorises the bahubali-turned-neta who nonchalantly murder, abduct for ransom, attempt rape (a crime that Dhananjay, a former Bahujan Samaj Party of Jaunpur, is accused of) and breach peace, knowing well that the Robin Hood aura they carry and the power they exude have the administration's hands tied.
To these bullies, Kuldeep Singh Sengar was small change because he drew his notoriety from allegedly patronising illegal sand mining and the operation of dagga mari or unlicensed passenger buses; these offences are glossed over because they bring in the green stuff that politicians and police personnel hanker after.
Until Sengar was arraigned and jailed in April 2018 for allegedly raping a minor, he meant little to Uttar Pradesh's Rajputs although he was politically successful in his home turf, Unnao, near Kanpur. The rape was followed by the alleged assault on the victim's father by Sengar's younger brother, Atul, his arrest and death in police custody, the girl's attempted self-immolation in front of Chief Minister Yogi Adityanath's residence and the conviction of her uncle who is in a Rae Bareli prison. Recently, the victim was seriously injured in a mysterious road accident. The car, carrying the victim and her aunts from their home to Rae Bareli, was smashed by a truck with a blackened number-plate. The aunts died and the victim is battling for life.
In UP, the events are shrouded in silence. "The past few months have brought out the worst in our politics. Caste has validated a heinous crime because no Rajput is willing to believe that Sengar raped her. There's not a murmur from anyone, including the Brahmins in Unnao," a long-time Lucknow political observer noted.
Shailendra Singh Shailu, Sengar's brother-in-law and BJP legislator from Gainsari (Balrampur), spoke for the Rajputs, saying; "The BJP decided to expel him (Sengar) in its wisdom. But the community is watching. We know what the truth is and who has been wronged."
A Rajput businessman from Faizabad, who claimed he knew the Sengars "fairly well", said: "The stars conspired against Kuldeep. The events are an outcome of 40-year-long bad blood between the Sengars and the victim's clan, which turned violent. The provocation was as trivial as a fight over the spoils from illegal sand mining or rivalry in a local body election. To us Rajputs, keeping one's honour is supreme even on the peril of shedding blood."
Housed in Sitapur jail, prison protocol was thrown to the wind for this privileged inmate. Local TV channels played footage of Sengar's callers allegedly bribing the guards to reach him. Though sequestered 157 km away from Unnao, Sengar "worked hard" to ensure that the BJP's candidate from the Lok Sabha constituency, Sakshi Maharaj, won. "Sengar has a network of loyalists in almost every village in Unnao district. He earns by questionable means but he spends money on poor people. He's accessible and available to them," a Samajwadi Party functionary said. On winning the parliamentary election, Sakshi's first mission was calling on Sengar and publicly proffering thanks to him.
Who is Kuldeep Singh Sengar and why did the BJP give him a long rope before the court intervened and constricted the political leeway? "Yogi Adityanath may be a mahant but he's as caste-obsessed and pro-Rajput as his predecessors at the Gorakhpur monastery, Avaidyanath and Digvijaynath, were," said a political source. Yogi's forebears, as political as he, leveraged their influence in eastern UP to nurture a Rajput mafioso such as Virendra Pratap Shahi to undermine the power of Brahmin gangsters Hari Shankar Tiwari and Shiv Pratap Shukla whose word was law.
Sengar started his politics in the Congress but abandoned it for the BSP in 2002. He won his first assembly election from Unnao Sadar on a BSP ticket. Before the 2007 election, he defected to the SP, helped by Arvind Singh Gope, a former MLA and MP who is also Sengar's brother-in-law. He won the 2007 election from Bangermau and the one in 2012 from Bhagwantnagar on the SP's symbol.
Sengar had a brush with Akhilesh Yadav, SP president, who was the then chief minister. He wanted to field his wife, Sangeeta, for the post of zilla panchayat president in the local elections but Akhilesh had another candidate in mind. Irked at Sengar's insubordination, Akhilesh used his political and administrative resources to defeat Sangeeta, but she won. "Sengar reinforced his clout. Akhilesh quickly made up with him," an SP source said.
The camaraderie was short-lived because, by 2017, Sengar figured the BJP was the rising star and he should hitch his bandwagon to it. Hridaynarayan Dixit, the assembly speaker, ensured his passage, principally because he required Sengar's help to win his election from Bhagwantnagar. Sengar fought again from Bangermau and won.
"Winning is all that matters to the BJP. The leaders were warned that Sengar was an undesirable character but they said look at his victory margin," an insider said.
Two of Sengar's peers, Babu Singh Kushwaha and Gayatri Prajapati, were also embroiled in unlawful sand mining and have either served or are serving jail sentences. The law never caught up with Sengar as long as he allegedly mined and transported forbidden sand from the banks of the Ganga in unlicensed trucks. Slapped with the amended Protection of Children against Sexual Offences Act, which prescribes a death sentence for sexual assault on minors, Sengar's political career may have come to a full stop.