From social engineering to bearing the cost of Covid-19 treatment to financial reconstruction of Tamil Nadu's debt, the debutant chief minister is emerging as a leader with a difference, says Shjne Jacob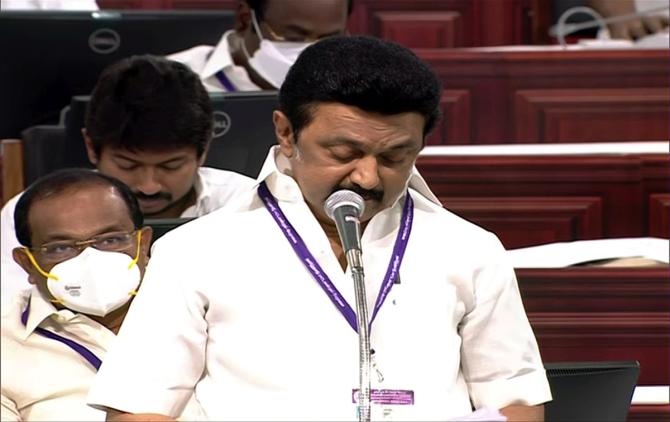 On August 15, Tamil Nadu Chief Minister M K Stalin made history by appointing 24 non-Brahmin "archakars", or priests, in temples, fulfilling a dream of the Dravidian movement's founder, E V R Periyar, who broached the idea in 1937.
Though the opening of the temple door for non-Brahmins was a step Stalin's father, M Karunanidhi, had attempted twice, first in the 1970s and then in 2006, it was stuck in legal tangles.
A lot has been talked about the way the Dravida Munnetra Kazhagam supremo has managed the pandemic in the state by containing infections, attracted investments of Rs 17,141 crore, and appointed an economic advisory council comprising world-renowned experts.
However, it is the minute aspects of leadership like appointing priests and accessibility for people through measures like "Ungal Thogudhiyil CM" (chief minister in your constituency), speedily disposing of petitions by people, is what makes Stalin a leader with a difference.
Another important decision was the announcement on bearing the cost of Covid-19 treatment for patients in private hospitals by the state, covering it under the chief minister's Comprehensive Health Insurance Scheme.
On the economy, Stalin has lined up his vision of making Tamil Nadu a "one-trillion economy" by 2030, making it the most investor-friendly region in South Asia. This intention was evident when after the decision to exit Kerala, citing a witch hunt, Sabu M Jacob, managing director Kitex Garments, the third-largest infant garments brand in the world, stated Tamil Nadu was the state that reached out to him for shifting his Rs 3,000-crore investment to the state within hours. Later, Tamil Nadu lost the project to a more aggressive Telangana.
The state announced setting up an economic advisory council -- with former Reserve Bank of India governor Raghuram Rajan, Nobel laureate Esther Duflo, former chief economic advisor Arvind Subramanian, development economist Jean Dreze, and former Union finance secretary S Narayan as its members -- to come up with suggestions to revive the state's economy and reduce its debt.
Causing concern for the Stalin government's future, the state is likely to see a debt for the current financial year at Rs 5.7 trillion as compared to Rs 4.5 trillion in 2020-21. To tide over this, the state has lined up a medium-term fiscal plan (MTFP), which set a road map of keeping the fiscal deficit within 3.5 per cent of state gross domestic product in 2022-23 and 3 per cent from 2023-24.
"The biggest challenge for the government over the next couple of years would be to lower the state's revenue deficit close to zero from over 3 per cent expected this fiscal year. This would ensure that the government borrow only for productive purposes," said Vidya Mahambare, professor of economics at the Great Lakes Institute of Management, Chennai.
Mahambare said the pandemic would require continued elevated support to the poor through direct income transfers and public distribution system subsidies for some time.
Tamil Nadu Finance Minister Palanivel Thiagarajan said the state might go for major reforms in the Budget next year, coming up with a white paper on its financial situation. Experts indicate the state might go for a hike in key components like power bills, which remained untouched for years and affected the finances of the state distribution company.
BJP Spokesperson Narayanan Thirupathy said: "The DMK is going back on its poll promises, citing the state's finances. It had promised a cut of Rs 5 a litre on petrol and Rs 4 a litre on diesel. However, it reduced it by Rs 3 a litre on diesel only. Moreover, the Budget did not give a road map on additional revenue plans and lacked ideas on bringing investment and creating employment."
To improve agricultural production, the Stalin government presented a separate Budget for the sector, the third by a state in India, showing intentions to improve the quality of spending on the sector.
While there is concern on how the state's finances will be managed, Stalin is improving his stature as a leader through his views on issues like Karnataka's adamant stand on building a dam across the Cauvery in Mekedatu, withdrawing cases against journalists, and even minute aspects like not coming in public or photographs without wearing a mask.