'With the deaths of Jayalalithaa and Karunanidhi, the BJP and Congress thought that they had a chance.'
'They have conceded that power is with the Dravidian parties.'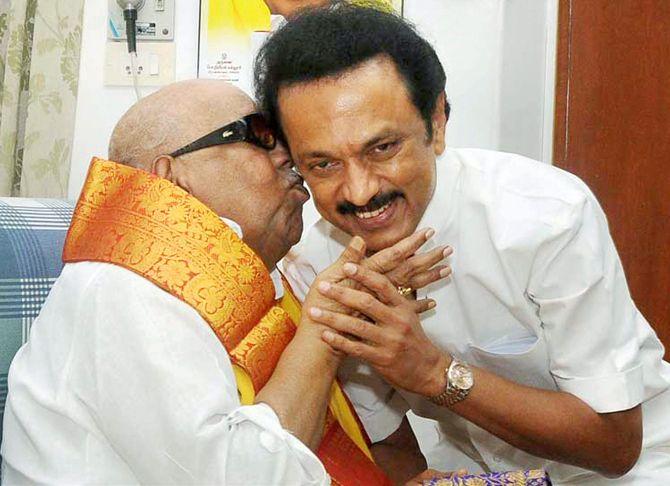 Any way you look at it, journalist A S Panneerselvan's book Karunanidhi: A Life is a must-read.
That it happened to appear on the eve of the first Tamil Nadu assembly election to be held in Karunanidhi's absence in more than five decades is a coincidence.
Through Karunanidhi's life the book traces the beginning of the Dravidian movement from the Justice Party to the Dravida Kazhagam to the Dravida Munnetra Kazhagam which C N Annadurai formed with Karunanidhi and others.
It takes us through the various splits in the DMK and how Karunanidhi overcame them. It talks about his relations with the Centre under various leaders and parties and how he used them to his and Tamil Nadu's advantage.
Though it doesn't reveal the personal side of Karunanidhi much, the book is a must-read for those puzzled by how one state has kept the national parties out for more than five decades and concentrated power between two parties espousing the Dravidian cause.
And as the person who laid the foundation of the Dravidian movement in Tamil Nadu through his writings and oratory, and through his politics, Karunanidhi's shadow continues to loom large over the state three years after his passing.
"From 1926 this state has been showing affirmative action in education and jobs. When liberalisation happened in 1991, Tamil Nadu thus had enough human capital and talent to harness the forces of liberalisation.," Panneerselvan tells A Ganesh Nadar/Rediff.com in the first part of the interview.
Why Karunanidhi as a subject, and why now, on the eve of the first election without him? What drew you to the project?
This book has nothing to do with the 2021 election. I was unable to do research for some time as I was busy with other work. I was also waiting for the 2G case to get over, so it was delayed.
Otherwise it would have come out six or seven years ago.
How would you describe yourself vis-à-vis Karunanidhi -- critic, impartial assessor, or fan boy?
I am neither a critic nor a fan, as a journalist I was curious about the way the national media looked at him and the way the regional media looked at him. Nationally he was looked at differently when he said something and the regional media looked at it in a different way.
His literary allusions were getting lost. So, I was examining this difference. I wanted to explore this, why this was happening. My curiosity to know this led to the book.
Karunanidhi created MG Ramachandran the matinee idol, expecting him to be the messenger. When and why did the protégé decide to ace his master?
Karuanidhi created three stars at that time, MGR, S S Rajendran and Sivaji Ganesan. Sivaji Ganesan left the party even before they contested elections in 1957. SSR was elected to the Theni Lok Sabha seat in 1962. MGR was nominated to the Madras legislative council. Karunanidhi was then in his second term.
SSR was a well known party face, but not a state-wide leader. He was seen as a Thevar leader. When (Congress leader K) Kamaraj emerged the Nadars were not a dominant community. People from a dominant community cannot become a state-wide leader.
MGR did not belong to a dominant community. In 1970 he was number three in the party. When he left the party in 1972 he was a two-time MLA and one-time MLC.
He had made a movie Ulagam Suttrum Vaaliban. The central government charged him under the Income Tax Act and also for foreign exchange violations. They used these cases to pressure him to rebel against the party and state government.
In a sense, the split with MGR benefitted the Dravidian movement -- for more than 50 years now power has been retained within the movement, between the two parties claiming to be true upholders of the ideology. It wouldn't have been so if MGR had not broken away to form the All India Anna Dravida Munnetra Kazhagam.
Exactly! The most important aspect of this is that there is no space for national parties in Tamil Nadu.
With the death of J Jayalalithaa and Karunanidhi, the Bharatiya Janata Party and the Congress thought that they had a chance.
After the alliance talks they have realised and conceded that power is with the Dravidian parties.
What drew Karunanidhi to this brand of non-Brahmin politics?
The idea of non-Brahmin politics came up as an inclusive policy. It included all the non-Brahmins. It talked only about discrimination. It said that the decision-making process should be inclusive and diverse. This was in the non-Brahmin manifesto which gave birth to the Justice Party.
Karunanidhi picked it up from there. He learnt it in his school days from a book about Panagal Raja (external link).
In a sense Karunanidhi was the forerunner by a long shot of what happened in the Hindi heartland much later, isn't it?
There are two aspects, self-respect and Dravidian ideology. In 1989 V P Singh came to power and in 1990 he implemented the Mandal Commission report, thus social justice came to North India.
In Tamil Nadu it came in 1956. From 1926 this state has been showing affirmative action in education and jobs.
When liberalisation happened in 1991, Tamil Nadu thus had enough human capital and talent to harness the forces of liberalisation.
Education was free and accessible to everyone. Kamaraj started the noon meal scheme and MGR made it the nutritious meal scheme. Hostels were built for students to stay in and study.
That is the difference between North Indian and South Indian politics.
What Kamaraj did, Karunanidhi improved.
What Karunanidhi did, MGR improved. Till 2001 there was continuity.
The same happened in industry. They improved each other's work. Both system and policies were improved upon.
Why did the middle castes' consolidation in the Hindi heartland take so long?
'Holding together' power is with the Centre. 'Coming together' power for the nation is with the people. That is the difference between the Southern polity and the Northern polity.
The South knows what is happening across the nation, but in the North they don't know what is happening in the South or even in the neighbouring state. They are not comfortable with the idea of sharing power in North India.
Politics obviously was more important to Karunanidhi than family, for he left both his father and his wife to attend political meetings when they were critically ill.
I think at that point of time when he was a younger leader, in the exuberance of youth, he thought they would survive and he could go and come back. As he was only 25-26 years old he was not very cautious.
When 'Periyar' E V Ramaswamy Naicker and C N Annadurai had their differences over the future of the Dravidian movement, why did Karuanidhi choose to follow Annadurai? Was it because he was interested in political power which Periyar eschewed?
The 1949 DMK split was much more layered. There were varied reasons. Periyar said the end of colonial power resulted in the transfer from one hegemonic power to another hegemonic power. From the British to the North Indian upper castes, both of which exploited the Dravidian people. Half the problem had gone away and the other remained.
Annadurai and Karunanidhi had a different idea of arts and culture -- that they have an intrinsic value for the people -- while Periyar thought it was instrumental. Periyar wanted to use it to deliver a social message. Annadurai and Karunanidhi said it could deliver a message and also give personal satisfaction.
The party split in 1949 because Periyar wanted it to be a movement and Anna wanted it to be a political party.
Annadurai and Karunanidhi wanted to be agents of change while Periyar wanted to be a catalyst.
When did the self-respect movement from which the DMK was spawned, turn into an anti-Hindi one?
Whenever there was an attempt to bring in Hindi as a national language, these people resisted. It started in 1937-1938. The Dravidian parties wanted national languages and not one. They said English can be a link language because it is equally foreign for everybody. They felt it brought about equality.
What impact did his time in jail during the anti-Hindi agitation have on Karunanidhi?
Fundamentally that was the reason for the two-language formula in the state. Annadurai, Karunanidhi and K Anbazhagan formulated this policy in 1949. They were the founding members of the DMK.
Would you say that the Dravidian movement merely replaced Brahmin rule with OBC rule, and left the SC/ST exactly where they were?
No, I don't believe in it at all. In this state reservation is a policy in local elections. So every downtrodden community member gets a chance to rule. Every 10 years every constituency has to become a reserved one, so that a Dalit can be elected.
The first propaganda secretary of the DMK, Satyavani Muthu, was a Dalit leader. She later became a Union minister. In Tamil Nadu Dalit leaders were given prominent economic affairs ministries.