Stalin has given due respect to seniority in the pecking order, but has also taken into consideration the demands of individual ministries and the suitability of individuals, observes N Sathiya Moorthy.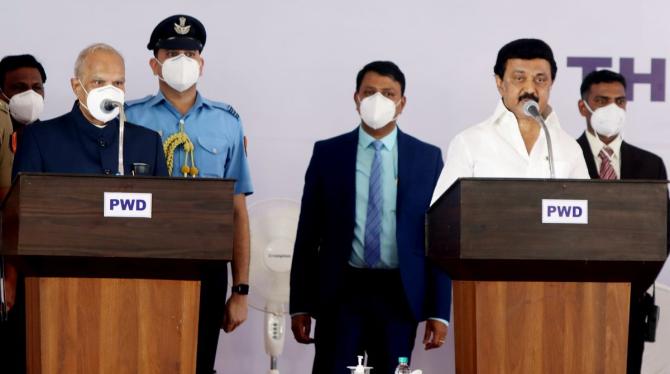 Muthuvel Karunanidhi Stalin, 68, became the 12th chief minister of Tamil Nadu since Independence, thus completing the first father-son duo to be at the helm in the state, after the parent had served five terms through three generations before breathing his last in 2018.
Governor Banwarilal Purohit also administered the oath of office and secrecy to 33 other ministers, based on the 'chief minister's advice'.
At a total of 34, this is the largest Cabinet in the state, but still one less than the 15-per cent upper-limit in the 234-member assembly, as mandated by the 71st Constitution Amendment.
While Stalin's father and Dravida Munnetra Kazhagam patriarch the late M Karunanidhi had the highest number of 31 in his time, All India Anna DMK rival J Jayalalithaa too restricted the maximum to 34.
A strong believer in astrology and numerology, she was believed to have avoided the 'unlucky' eight, which is what the two digits in the upper-limit 35 add up to.
The cabinet, as expected, is a mixture of the old and young, experienced and greenhorns. Stalin has given due respect and regard for seniority in the pecking order but has also taken into consideration the demands of individual ministries and the suitability of individuals, independent of their past experience in such portfolios.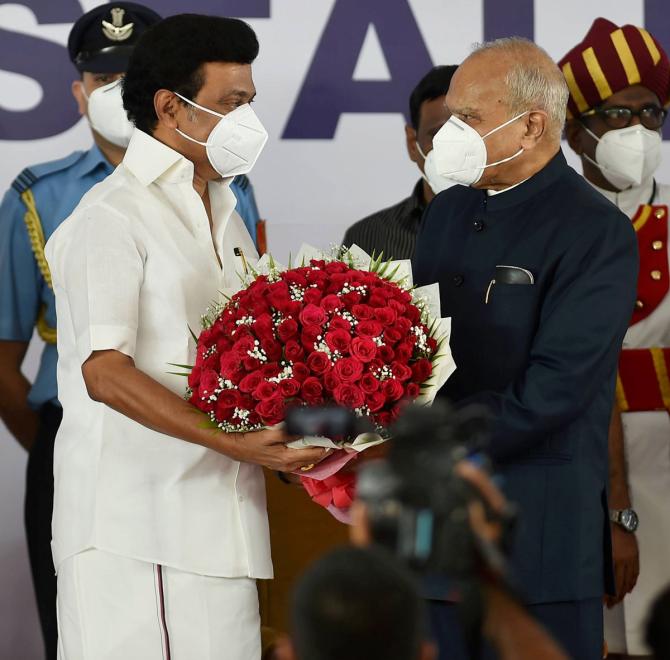 As is customary with Dravidian chief ministers over the past half-century and more, Stalin retains home/police, and also all-India services, etc. Unlike father Karunanidhi once, he has not sought to retain finance, leaving it in professional hands to handle in these times of unprecedented economic crisis, beginning with demonetisation and continuing through the current Covid second wave.
There is adequate representation for AIADMK veterans who had fallen out of Jayalalithaa's favour in or soon after her first term as chief minister (1991-96). They have been entrusted with key ministries, which some of them had held in the earlier AIADMK dispensation, while those that had held those portfolios have been shifted to other ministries with more grassroots-level contacts, clearly indicating that Stalin as CM wants to use the opportunity to make the party take deeper roots and spread across more than already.
class="rbig">In all likelihood, the ministerial choices and portfolio-matching have been done by Stalin personally, with little to no political input, lest it should have reflected a more biased allocation of portfolios for some party veterans who may now feel cheated.
Clearly, Stalin is looking at the future, where possibly before the end of the current term of the assembly, he may have to introduce some changes without actually having to remove 'deadwood', unless absolutely found useless.
Karunanidhi was too indulgent as he suffered inefficiency in juniors while Jaya became trademark 'unpredictable' by dropping and picking ministers for no justifiable rhyme or reason.
Given the spiking Covid cases, Stalin's choice to handle the crisis was being keenly watched. Without upsetting seniority, where even AIADMK 'defectors' have been suitably placed, he has put former Chennai mayor Ma Subramaniam at the helm of the re-designated department of medical and family welfare.
The new chief minister has indulged himself similarly with such re-designation of a few other ministries, too, after deeper study over the past years.
But then his camp readily admits that the taste of the food is still in the eating. They thus point to his choice of a grassroots-level person with openness and reach for the medical portfolio over the post-poll speculation of him inducting a medical doctor, who may have problems working with the entrenched bureaucracy with its rules and regulations.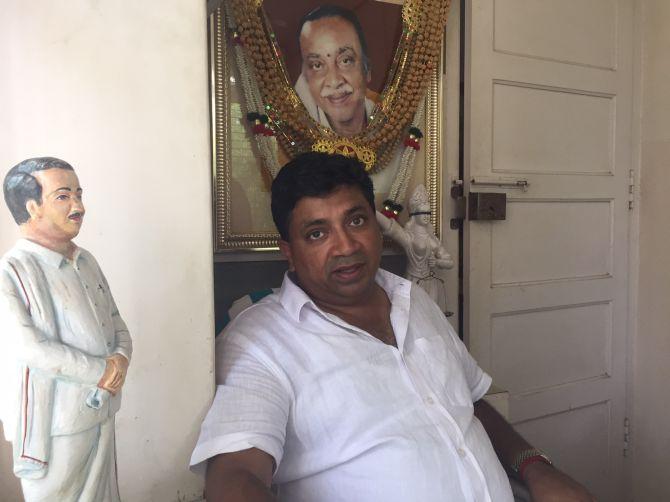 Of equal significance is Stalin's choice for the all-important finance and industry ministries. He has brought in relatively young technocrats, but not novices in politics. First-time minister Dr P T R Palanivel Thiagarajan in finance is a second-term legislator. He is a third-generation Dravidian politician after grandfather P T Rajan (Justice Party chief minister, pre-Independence) and amiable father, P T R Palanivel Rajan, minister under Karunanidhi.,
With a PhD in economics, the qualified professional who spent two decades in high positions in the US (Lehman Brothers) and Singapore (Standard Chartered), is the first finance minister in the state with solid academic and management backgrounds, required to tackle Tamil Nadu's contemporary fiscal and economic crises -- starting with the Rs 5-lakh crore government debt, inherited from the predecessor AIADMK government of Edappadi K Palaniswami.
For industries, another key department requiring greater attention to boost the infrastructure and allies sectors in these difficult times, Stalin has chosen Thangam Thennarasu, a qualified engineer who was in the mid-management level in the private sector before stepping into his late father's shoes to become a legislator first and education minister under Karunanidhi, not long after.
For IT, another crucial department in the contemporary Tamil Nadu context in terms of job creation and retention in particular, he has Mano Thangaraj, an experienced legislator but with no prior experience as minister.
From among veterans, octogenarian party general secretary S Duraimurugan, who retained his native Katpadi seat by a thin margin, gets irrigation, which Stalin promised to create as a separate department to address the unending concerns of the state's farmers.
PWD and irrigation minister under Karunanidhi, Duraimurugan is by far the best choice, he being seen comfortably reeling out names of rivers, tributaries, their starting and ending points, and the size of their ayacuts (area of land that they irrigate), across the state -- all of it from memory and with ease and poise.
K N Nehru, the DMK's Tiruchi region strongman, who was transport minister, third in the pecking order after Duraimurugan, gets municipal administration, given his grassroots-level organisational skills. The transport department that he had helmed under Karunanidhi goes (back) to S R Rajakannappan, who was heading the department in Jaya's first term.
At fourth in the pecking order comes I Periyasamy as minister of cooperation, another grassroots-level department requiring organisational and administrative restructuring, given the complexities of the nation's banking system that may end up denying the poor their share of the cake in matters of credit.
Periyasamy, a deputy general secretary of the party, has made history by winning his Athoor seat in southern Dindigul district by a record 135,000 vote margin.
Apart from Rajakannappan, earlier known by his original name Kannappan, at least three other AIADMK veterans have been inducted as ministers. Of them, Senthil Balaji who held the same positions in the outgoing EPS department before quitting midway, gets back the all-important electricity and excise portfolios.
Electricity in particular proved to be a bugbear for the last Karunanidhi government (2006-2011) more than the better-publicised 2-G scam after veteran party treasurer Arcot N Veerasamy goofed up big time, leading to 16-20 hour power-cuts in almost every town and village in the state.
Likewise, Stalin's confidant E V Velu, once in the AIADMK but which innings has been forgotten since, gets another key portfolio in public works while S Regupathy gets law and S Muthuswamy, housing and urban development.
K K S S R Ramachandran, once a Jaya confidant and promoter even during MGR's time, has been with the DMK so very completely that cadres in both parties have forgotten his political past. He is the new minister for another key portfolio, revenue and disaster management, both of which again requires grassroots-level understanding and approach.
P K Sekarbabu, another AIADMK veteran from Chennai city's Harbour constituency, is designated minister for Hindu religious and charitable endowments, over which many in the Hindutva brigade have kicked up a recent row.
Critics want the management of Hindu temples and their vast properties, taken over by the Justice Party government a hundred years ago for better administration, restored to the community.
Unlike speculated in the social media, Stalin has kept his first-term MLA-son Udhaynidhi Stalin out of the department. According to local media reports, Udhaynidhi, an actor and film producer, has signed up as hero in two more movies in recent weeks.
However, two of the younger generation leaders, since identified with Udhaynidhi, have been inducted. Of them, Anbil Mahesh Poyyamozhi, a third-generation DMK leader after grandfather Anbil Dharmalingam and late father Mahesh, a close aide of Stalin, has been named minister for school education.
Vellakovil M P Saminathan, who vacated his post as DMK youth wing leader for Udhaynidhi, is information and publicity minister.
Indications are that the new chief minister will take his time to settle down before inducting his son into the government at a different level, then roping him into the cabinet.
Independent of criticism about 'dynastic rule', Udhaynidhi's worth among the star-campaigners for the party, apart from father Stalin and paternal aunt Kanimozhi, MP, was seen both in the Lok Sabha polls of 2019, and now the assembly polls.
His acceptance level, both inside the party an also outside, has thus been tested, he having been named as the party's youth wing leader between the two polls.
Though the Stalin department has across-the-board representation in terms of regions and communities, there are many important districts that remain unrepresented. Included in the fairly long list are the Thanjavur delta district and the southern Tirunelveli district. It remains to be seen if representatives from these regions will be chosen for the posts of speaker and/or deputy speaker, which post, too, the DMK is most likely to retain.
Likewise, it also remains to be seen if Stalin would be his own Leader of the House, or will choose a veteran like Duraimurugan, with a deep sense of repartee and humour, apart from a command over ministries and House procedures, for the position.
Barring Karunanidhi, other Dravidian leaders, comprising Annadurai, MGR and Jayalalithaa, as chief ministers, preferred a senior member and minister to be the leader of the assembly. In the case of Annadurai (1967-1969), it was necessitated by the fact that he was a member of the legislative council, which MGR got dissolved in his time.
Even as the poll results became known, Stalin had his hands full. With the outgoing EPS government acting as a lame-duck for all practical purposes between polling on April 6 and counting on May 2, the civilian bureaucracy was overburdened with decision-making on the crucial COVID-19 management, which was going out-of-hand as the pandemic itself.
Stalin ended up meeting senior civil servants and police officers to get a briefing first and give certain informal directions, which he hoped to follow up on after assuming office now.
Despite popular sentiments to the contrary, the government has since decided to extend the Covid lockdown across the state, to include grocery and vegetable stores, which are now allowed to function only from 8 am-12 noon, even while continuing with local lockdown over the weekend with larger shops and malls.
A significant and welcome decision included the limiting of government-monopoly liquor shops' working hours, too, to the 8-12 schedule. Under the predecessor regime, easing of the Covid first wave lockdown was thought to be essential, also to shore up government revenues from liquor sales.
Ahead of assuming office, with Stalin's okay, the government named senior IPS officers to man lockdown enforcement cells across the state. As the topmost priority of his leadership just now, the chief minister is scheduled to meet with all district collectors on the very evening of his assuming office.
Detailed notes were sent out to the collectors to prepare for the meeting, as the new chief minister is likely to formulate his own strategies over the weekend and unveil them in the following days -- even if it meant the continuance of the status quo or parts thereof.
It is not going to be easy on Stalin, as unlike in the other three 'big states' in Assam, Kerala and West Bengal, he is a first time chief minister. More importantly, he is returning to Fort St George, the seat of state government's power, after a 10-year gap, when he and his party were in the Opposition. It is not about learning the ropes, which experience he has had as deputy CM under his late father, 2006-2011.
Instead, it is about organising his teams -- ministerial, bureaucratic and police -- with medical personnel and their leadership too becoming a top priority. He will also have to ensure that the Covid management supply chains do not come under further strain, as in most other states. Such a turn could demoralise the state's population, starting with the lower-end officials and the rest who mattered the most just now.
This apart, there are a dozen or more administrative decisions that could not wait for long. On the top of it is the DMK's poll promise of distributing Rs 4000 per family on Karunanidhi's birth anniversary, which is less than a month away, June 3.
This is not about a populist measure getting implemented. Instead, it is even more about putting money in the hands of the consumer, especially during this second-wave lockdown period, if only to ensure that the local economy did not suffer further -- but hoped to revive, in whatever way possible.
On the political front, he has to chart out a new course for the state in the government's relations with the political Opposition -- unlike under Jayalalithaa and EPS, as that has also been the expectations of the middle-class voters, who swung the DMK's way this time.
As party leader and chief minister Stalin has to ably manage relations with the BJP-led Centre, which was antagonistic not only to the DMK but also purportedly towards the state.
Having flagged strong opposition to NEET, NEP and a host of other decisions of the Union government while in the Opposition, Stalin cannot be seen as bending backwards like EPS while in power now.
Of immediate concern is also the Salem-Chennai eight-lane greenway and the reopening of the Sterlite copper factory (going beyond its oxygen plant in this Covid times).
The Sterlite row is linked also to the report of the Justice Aruna Jagadeesan Commission, appointed to probe the death of 13 protestors in police firing in end-May 2018.
Then there is the Justice Arumugaswamy Commission, whose work on probing Jayalalithaa's death (December 2016) has been delayed by a pending Supreme Court case, initiated by the Apollo Hospitals, Chennai, where the late chief minister had her last stretch of treatment.
In all such cases, the DMK and Stalin had aired specific positions and had repeatedly reiterated them, too.
N Sathiya Moorthy, veteran journalist, political analyst and author, is Distinguished Fellow and Head-Chennai Initiative, Observer Research Foundation.