What worries health experts is that Bihar's testing rate per million is less than one-third of the national average of 6,622 tests per million, reports M I Khan.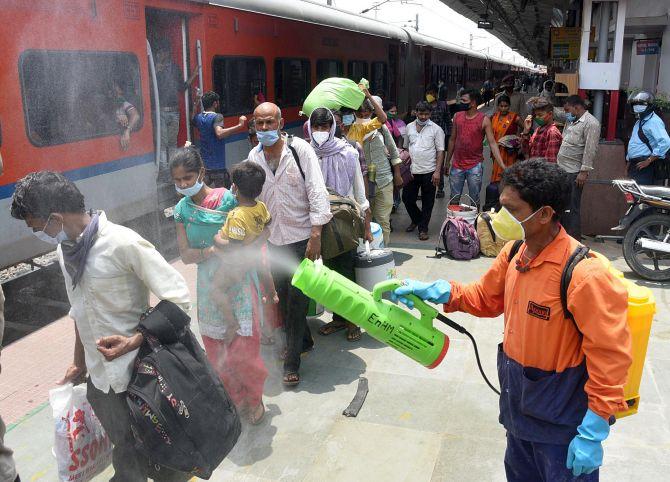 Despite the rising graph of Covid-19 positive cases and deaths in Bihar, the state is still lagging in its testing rate so far.
Even after Chief Minister Nitish Kumar's repeated instructions to scale up testing for Covid-19, the state is yet to reach the target.
Three days ago Kumar asked top officials to scale up testing to 15,000 per day to contain the spread of Covid-19.
However, Bihar with an estimated population of 12.5 crore, including thousands of migrant workers who have returned from other states, is currently testing between 6,000 and 8,000 per day.
Sensing a difficult challenge to combat the spread of coronavirus following reports of positive cases now pouring in from rural areas, Kumar instructed concerned officials to test more and more people to identify and trace positive cases to contain the infection.
After Unlock 2 began from July 1, the state government has made it mandatory for people to a wear mask outside of their homes.
Bihar reported 478 positive cases on July 2, the biggest single day spike till date after the first positive case was reported on March 22 in the state.
So far 81 people have died due to coronavirus in the state.
Bihar had total confirmed positive cases of 10,682.
This may be less than other states but health experts pointed out that it is due to the low testing rate.
"If Bihar manages to ramp up testing per day to few thousands more than it has been testing currently, the number of Covid positive cases will go up. It is less now mainly because the testing rate is low. Going by official data, Bihar is slowly increasing its testing rate since early April," said a senior doctor working at the Patna-based Nalanda Medical College and Hospital, one of the three designated hospitals for the treatment of coronavirus patients in the state, on a condition of anonymity.
Till July 2, Bihar had tested a total of 2,28,689 samples at seven government-run test facility centres, where Covid tests are being conducted by RT-PCR, and three in the private sector.
Besides, Trunet test and cartridge based nucleic acid amplification facility are available at different districts across the state .
Bihar started testing from mid-March itself.
However, after more than three and a half months, Bihar managed an average daily testing of a little over 2,000 samples.
This is one of the lowest in the country.
The state has been conducting 1,767 tests per million, which is the lowest when compared to its neighbouring states.
Jharkhand is testing 3,566 people per million while West Bengal is testing 4,645 per million.
Even a small state like Odisha is testing 5,449 people per million while a big state like Uttar Pradesh is testing 2,841 per million.
What worries health experts is that Bihar's testing rate per million is less than one-third of the national average of 6,622 tests per million.
The Indian Council of Medical Research has been supplying the kits for test.
The state government has also purchased kits and RNA extractors from a Singapore-based firm and others.
But the ground reality of testing rate is poor so far.
According to official data, testing increased from mid-June after a hue and cry by opposition parties.
Earlier, the testing of samples was much lower.
Bihar health secretary Lokesh Kumar Singh said the government is increasing the testing rate.
However, he admitted that more testing was needed to contain the spread of coronavirus.
Singh claimed that the infection rate is low (of positive cases tested) and the recovery rate in Bihar is more than 77 per cent, which is higher than the national average of 59.43 per cent.
He said the fatality rate in Bihar is 0.72 per cent, again better than the national average of 2.97 percent.
Till the third week of June, government officials had attributed the spike in Covid positive cases to the return of thousands of migrant workers to Bihar since early May.
They said the sudden rise in coronavirus cases in the state was related to the arrival of a large number of migrant workers,w ho accounted for nearly 70 per cent of the total Covid positive cases in May and till June 21.
Singh said there is no doubt that migrant workers' return has increased the rate of positive cases in the state.
According to top officials of the state government, more than 30 lakh migrant workers had returned to Bihar from other states, including 21.50 lakh by special trains and others by buses, trucks, and other modes of transport.
It was also reported that thousands reached Bihar by on foot, on cycles, tricycles and motorcycles as well.
In the last week of May, Nitish Kumar made it clear that random tests will not work any more, but to start an intensive test of migrant workers.
Early this week he ordered that all migrants should be subjected to Covid-19 test instead of random test, saying it is necessary to break the chain.
More than anything, Bihar's poor health infrastructure cannot be ignored as everything depends on this to face the real challenge of tackling the growing cases of Covid-19.
Bihar has one doctor per 28,391 people and one hospital bed per 8,645.