Foreign policy experts in New Delhi do not expect any major policy shift towards India under Donald Trump with a few feeling New Delhi could hope to derive "some benefit" from his stand on radical Islam.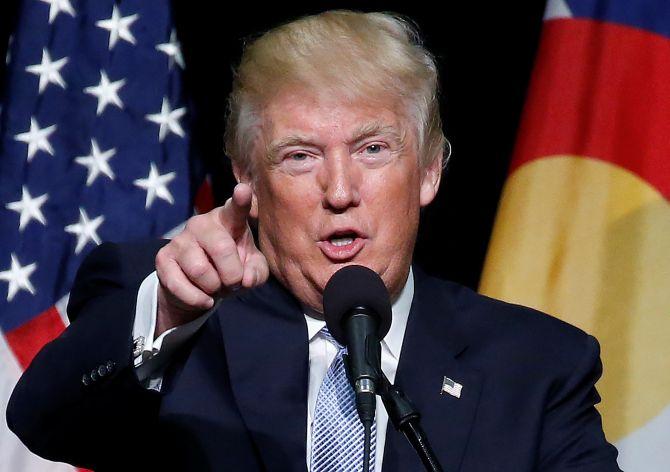 Most, however, said they would like to wait and watch to get greater clarity on how the Trump administration goes about giving shape to the various positions he had publicly taken during his election campaign.
Noting that Trump's "real policies" were still not very clear, former Foreign Secretary Kanwal Sibal said his team would also be new in dealing with India.
"So, once the transition takes place, which may slow down the momentum of current Indo-US ties, and they evolve policies after dealing with real situations, there would be clarity (about the future of bilateral ties)," Sibal said.
While the former foreign secretary maintained that Trump's victory was unexpected, another seasoned diplomat G Parthasarathy said it seemed a close fight.
Trump views on immigration led to the consolidation of those "disgruntled whites who felt marginalised" and were looking for a candidate who would address their issues, Parthasarathy said.
Echoing Parthasarathy's view, former Indian Ambassador to the US Arun Singh said the middle class whites felt that they had not benefited from the globalisation happening around them and were concerned over illegal immigration and high unemployment.
Maintaining that he does not expect any major shift in the US policy towards India, Sibal said there were very "limited concerns" as far as Trump's presidency was concerned, while Parthasarathy noted that there was nothing adversarial in Indo-US ties.
Trump has made clear that he is willing to work with any country in a cooperative manner, Parthasarathy said.
Referring to Trump's position on Islamic extremism, Sibal said though his comments were with regard to internal security but India could hope to "derive some benefit" from it.
Attending a Hindu-American event as part of his election campaign, Trump had said he appreciated "great friend India in the fight against radical Islamic terrorism."
India has experienced first-hand "brutality of terror" in the past "including the mayhem in Mumbai," he said and described the 2008 Mumbai terror attack and that on Indian Parliament in 2001 as "absolutely outrageous" and terrible.
"We will defeat radical Islamic terrorism. We will stand shoulder-to-shoulder in this fight. This is so important in the age of ISIS," Trump had said.
Trump will have a "clinical approach" towards Pakistan and how it impacts on the security of his people, said Parthasarathy, who was also India's to envoy to Pakistan between 1998-2000.
Reacting cautiously to Trump's victory, former foreign minister Salman Khurshid said it would be better to "wait and watch" for his policies to unfold.
"It is not a government of one man. So, it will also depend on his team and how they function. Let's wait and watch before commenting on how he will be for India," Khurshid said.
Both Sibal and Parthasarathy expressed hope that under Trump's presidency, there was a possibility of good US-Russia ties, which in turn would result in India getting more geopolitical space.
Sibal also expressed hope that under Trump there was a possibility of enhanced Indo-US economic ties as he was a businessman first.
If India plays its cards well, the prospects of reinvigorated commercial ties can be on the cards as Trump is a businessman and would like to take advantage of a good business relationship for his country, Sibal added.
During his election campaign, Trump had said India is the world's largest democracy and a natural ally of the US.
"Under the Trump administration, we are going to become even better friends. In fact, I will take the word even out because we are going to be best friends. I look forward to working with Prime Minister Modi, who has been very energetic in reforming the economy and bureaucracy. Great man. I applaud him," he had said, calling Modi a "pro-growth leader".